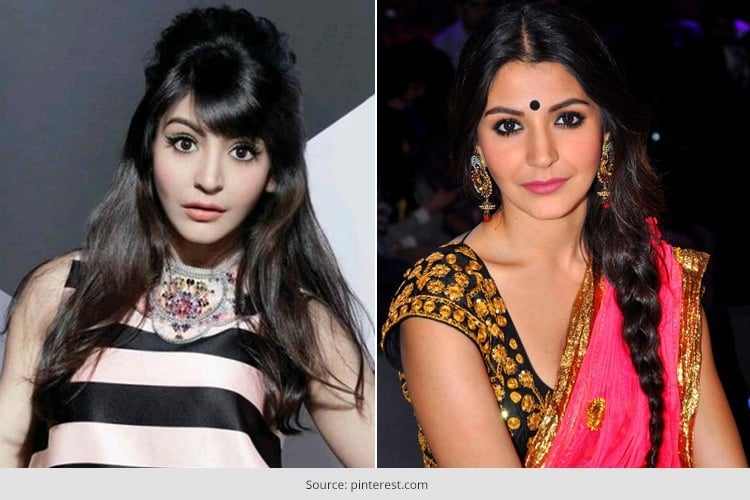 She started off walking the ramp and then landed a role in a Yash Raj Movie opposite King Khan. If dating India's cricket star was not enough, the 27 year old has even turned a movie producer. Yes, she is an achiever and has bagged the best of everything in less than a decade.
It's been 8 years since the lady made her debut with Rab Ne Bana Di Jodi. While many newbies came and went, Anushka Sharma continues to restore her reputation as one of the top actresses in Bollywood.
One important quality that has enabled Anushka to maintain her standing amidst her equally talented counterparts, has been her will to constantly re-invent herself. The woman not only attempts to play different characters, but also puts herself through frequent makeovers in the pursuit of pleasantly surprising her audiences.
[ Also Read: Big Forehead Hairstyles ]
The lady is fearless when trying new looks, with her hair playing the most versatile part in her makeover journey. She goes above and beyond when it comes to experimenting with tresses. We have to admit, most of Anushka Sharma's haircut and hairstyles have added onto her vivacious and positive persona.
Anushka Sharma Haircut And Hairstyle Roundup
While she continues her attainment of the best, let's check out some of Anushka Sharma's haircuts that got her buzzing in Bollywood, and hair updo's that gave some serious envy to her peers.
1. Short And Sweet Pixie
First time Anushka shared screen with the perfectionist Aamir Khan in PK, she made sure everything about her was perfect. This was the first time we saw Anushka in short hair, and we have to admit that we have never seen a pixie so perfect before. This Anushka Sharma haircut had the whole Bollywood buzzing.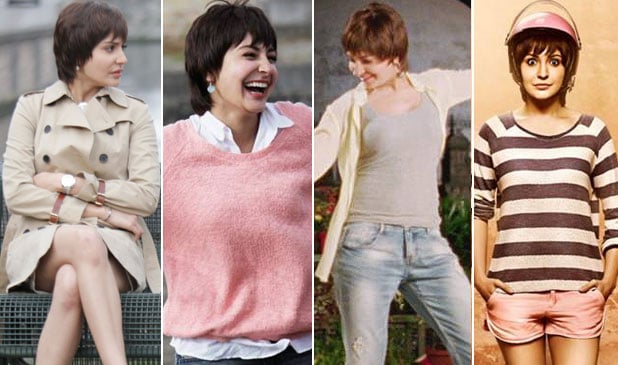 2. Wavy Bob
Known for lustrous long manes, seldom do we see the model turned actor turned producer in short dos. But at a recent press conference she showed up wearing her hair is a short lob. The striking quotient about this lob was the twists and turns in her strands which flawlessly framed her face. Also take a moment to admire Anushka Sharma's hair color in this one.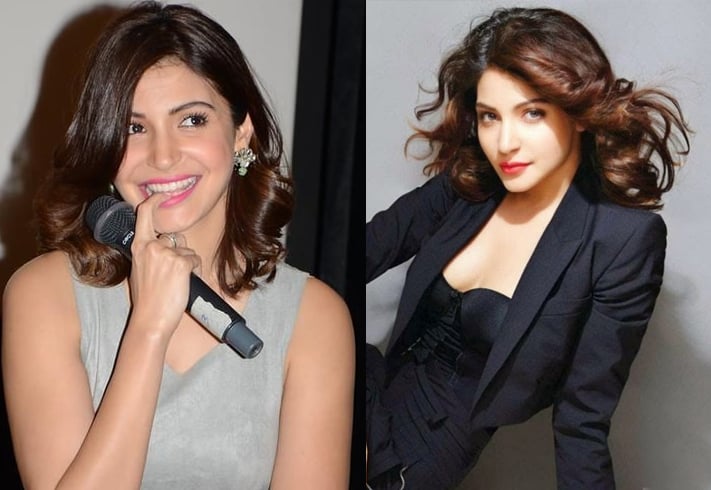 3. Side Bun
With hair swept at the back from a deep side partition, the arrangement of Anushka's hair style in a side bun is exotic. What is remarkable about this hair do is the feathered texture of her professionally styled bun tied for a photoshoot. With this kind of a hair style you have enough room to wear your diamond studs, and that's exactly what the actors is flaunting on her ears.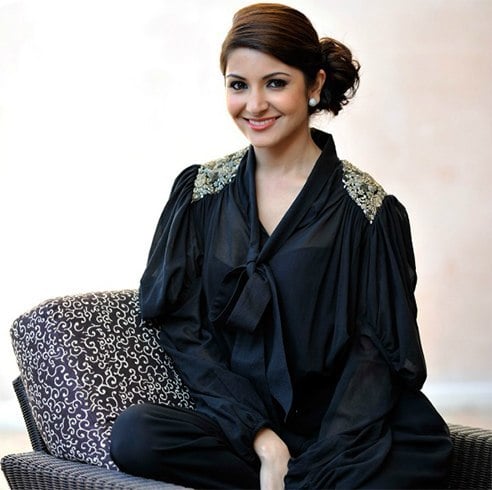 4. Carelessly Beautiful
This moment captured from Anushka Sharma's life stimulates some serious research, no I am serious. Her carelessly messed up curls are cut short unevenly and parted at the side. I don't think she has spent even one single moment combing them, and that makes this edgy look all the more interesting.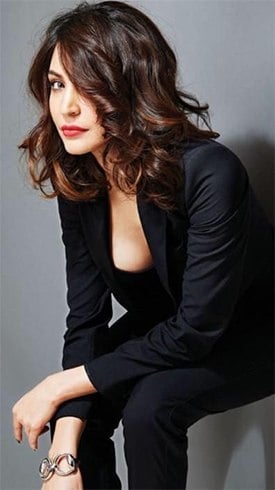 5. Clean Swept
Anushka Sharma's hair secret lies in its simplicity. In an event the actress turned up rocking the most impeccable middle partition in the history of civilization. Do you see that not a single strand of hair is out of the lane? Clearly, Anushka has used some major hair gel to keep the hair tight and sleek. Her face looks vibrant and undisturbed by fringes unlike the other looks. And because she keeps her hair, make up and dress simple, the chunky pair of earrings grab all the attention. Not sure if that was the purpose of keeping it simple.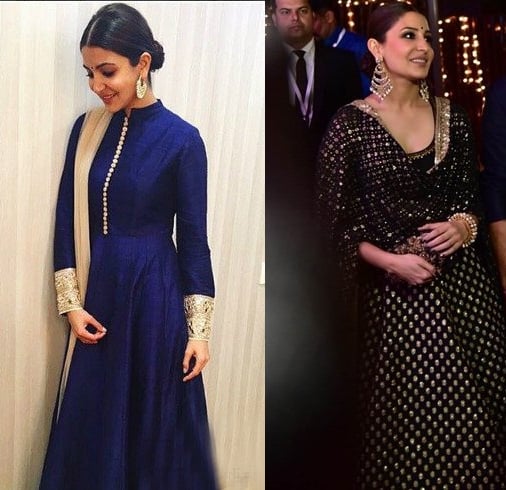 6. Pouf Ponytail
All right people, look who we have here at Koffee with Karan! Yes this is Anushka rocking her brand new lips. Well, she had been denying the plastic surgery rumors and credits the change in appearance to make up, but girl, who are you even kidding? We got training from the Kardashians and we can tell what is plastic, and what is make up. Anyhow, bringing the focus back to hairstyles, is that pouf a 'hashtag' goal or what? While the hair has been secured in a low pony, that pouf does add an inch or two to her height and brings a lot of signature to the look.
[sc:mediad]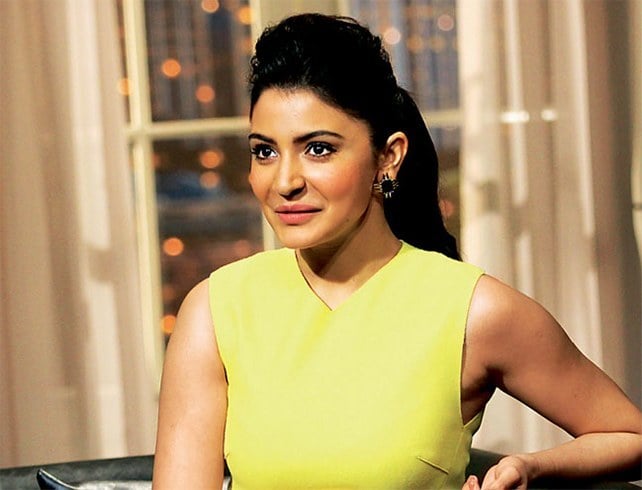 7. Messy Braid
Though Anushka's debut role was very grounded and Indian, we don't get to see the actress in typical Indian hair or make up. So it was a pleasant surprise to see her in 100% desi avtar complete with heavy kajal, gold earings and bindi. Her hair wasn't really side swept, but was knitted in a loose braid that she brought over the shoulder. This is a look from seventies bollywood that Rekha or Jaya Prada would rock, but Miss Sharma rocks it with equal penache.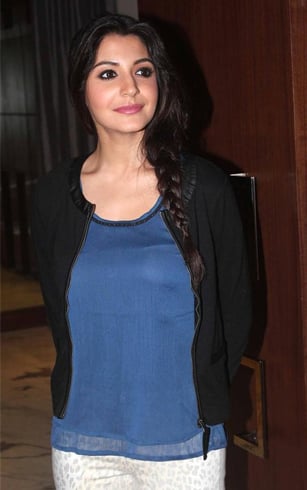 8. Just Another Pony
Well, even the simple pony transforms into a high fashion do when a star rocks it. So we have seen Anushka Sharma embracing a pony tail more than often and we totally get why! Not only is it super easy to form, it is equally comfortable to live in. But unlike the pony she featured on Koffee with Karan, this one is a bit low key. The ex – "could have been" first lady of Indian cricket team divides her bangs at the side and pulls them into a pony. She must have done this super easy hairstyle by herself but we can't even complain.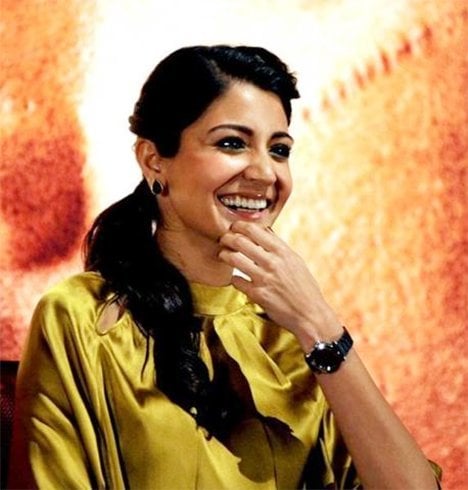 9. Poker Straight And Corporate Look
Continuing with the trend of simple hair styles, this one is again a work of efforless genius. Out of all the hair styles of Anushka Sharma is the one any girl next door can pull off to her office. Anushka's wearing a layered cut and has used a powerful iron to straighten her hair. Also take a note of that little fringe falling on her forehead, which actually brings about the difference.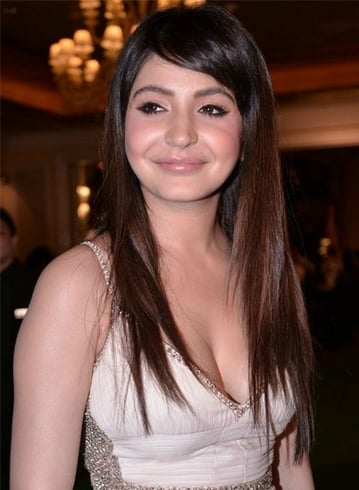 10.Side Swept Curls
Anushka Sharma's haircut lookbook got an instant upgrade with her entering the bob club. With that killer bob and that slaying hair color, Anushka rocked an absolutely gorgeous vintage look, sporting side swept curls. Anushka carried this hair updo for her sequence , Girls Like To Swing, from the movie Dil Dhadakne Do. The stone studded hairpin played a crucial role in adding some extra retro charm to her hair updo.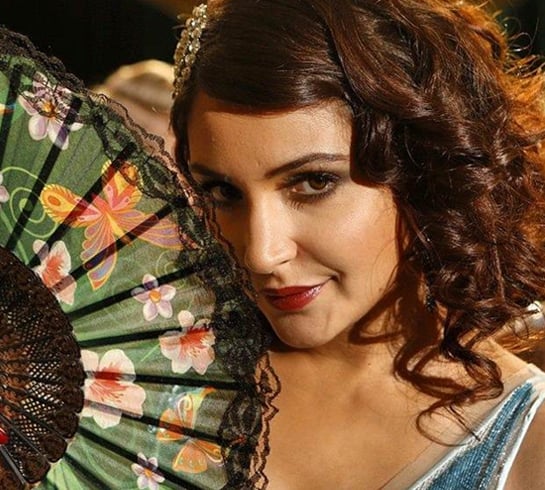 11. Tousled Hair
Now how many celebrities can carry this Anushka Sharma hair style? Anushka swept us with her just out of bed look. Her tousled tresses were in perfect compliance with her pretty and innocent face. With her fringes falling casually this one was cuteness overload.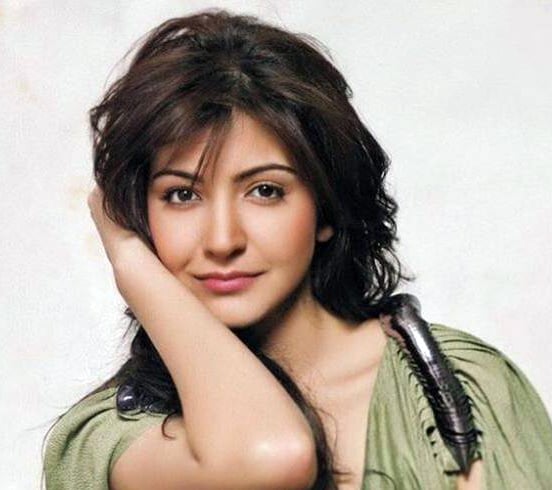 12. Medium Length Hair
Anushka Sharma long hair stories got a major makeover when the lady decided to chop her hair short. Anushka Sharma's hair style graph saw new highs when the woman sported medium length hair. With a host of hair styles, Anushka wore her tresses with utmost confidence. Her blow dried look with her front side parted and neatly pinned, rendered a divalicious look to this beauty. WIth the wavy look trending high, Anushka tweaked her hairstyle to flaunt casual waves with her medium length locks.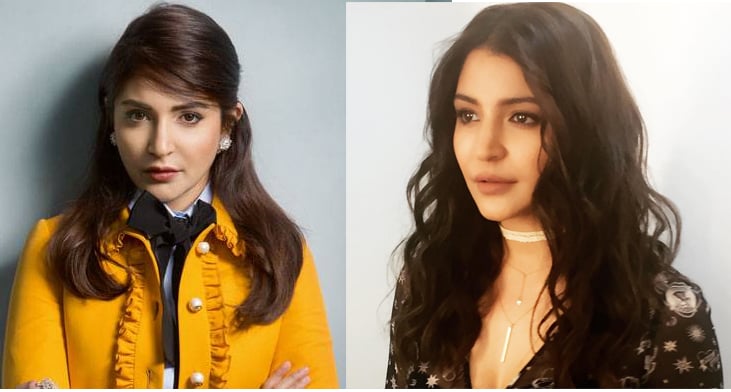 13. Front Bangs with Beach Waves
The woman gave her face a cutesy lift sporting front bangs. This Anushka Sharma haircut took all her fans by surprise when the lady opted to experiment with fringes. The front fringes accentuated Anushka's chirpy and fun persona. When her team of hairstylists complimented Anushka's latest haircut with luscious beachy waves, the resulting hairstyle gave even her Hollywood peer set, some serious envy.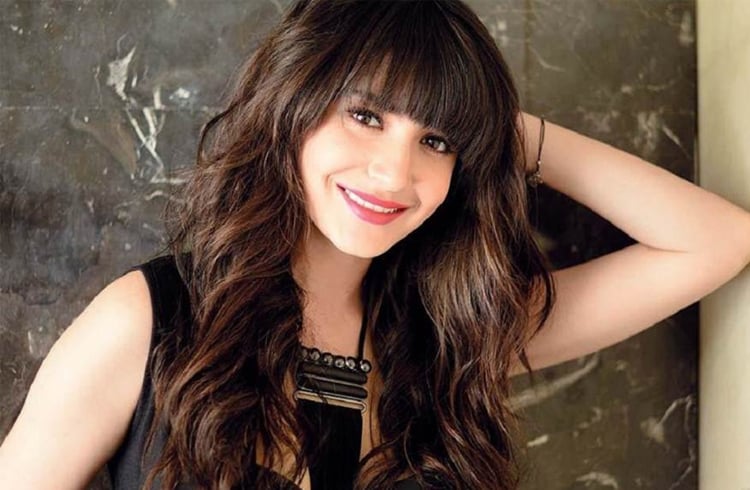 14. Sharp Front Bangs
Anushka experimented with her bangs and lived them to the fullest. For a more edgy appearance, Anushka Sharma hair cut diaries boasted of front fringes carried with poky straight tresses, rolled up in a messy bun. The nerdy glass addition elevated the look a notch higher, and Anushka posed for the shutterbugs pleasing not only her fans, but even her critics.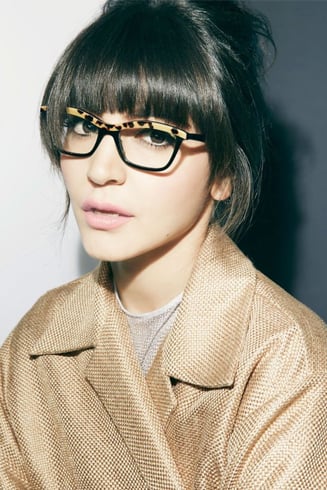 15. Classic Layers With Blow Dried Tresses
A trending fad can rarely out do a classic. Anushka Sharma's haircut history includes one such classic haircut, layers. We have to admit that, the long and luscious tresses of this diva looked even more flattering in layers. Giving more structure and bounce to her locks, this hairstyle allowed her layers to set beautifully when simply blow dried.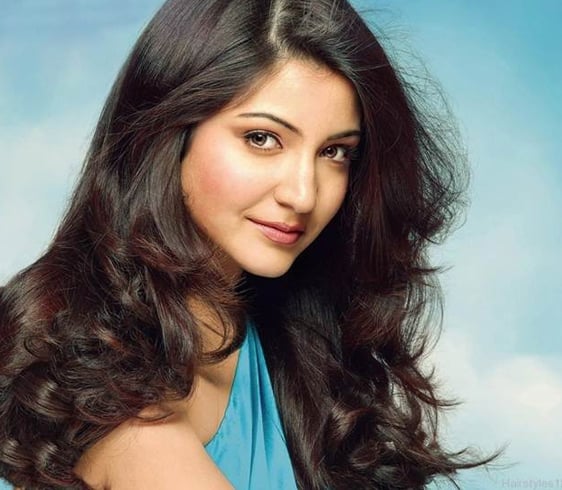 16. Long Side-Parted Wavy Hair
In her most recent release, Ae DIl Hai Muskil, Anushka Sharma hair color observed all the limelight. This time the usually experimental woman played it safe when it came to hair updos. Letting her hair down, Anushka's character in the movie flaunted loosely set waves. Excess volume and healthy looking mane seemed like the focus areas for the hairstylists.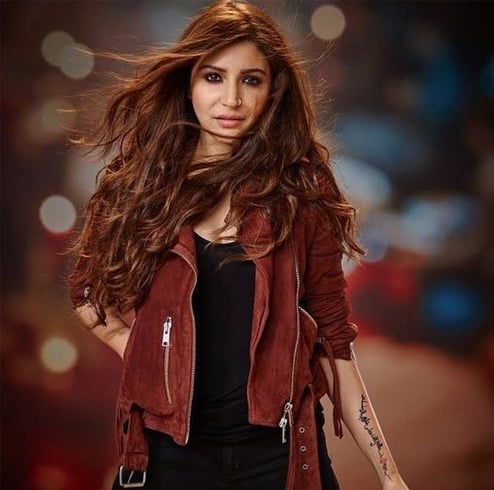 17. Retro Bun
Buns are the new found bff's of Bollywood queens, and hairstylists are putting in continued efforts trying to create their more contemporary and chic versions. One look from Anushka Sharma style files had her doing a puffed bun with her front neatly tucked in a side parting. So vintage and so elegant, this one surely took us back to the 70's. The woman topped her look with a winged liner which kind of sealed the deal for us.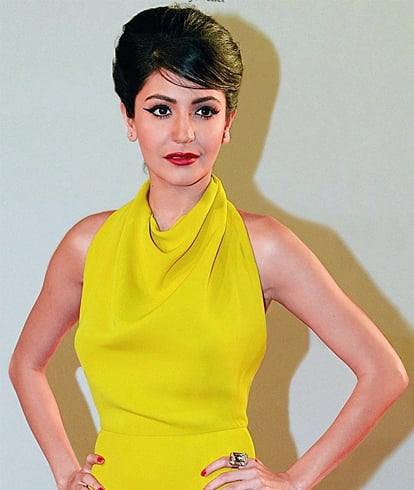 18. Twisted Bun
While many of the tinsel town beauties were working braided buns, Anushka's twisted bun was like a breath of fresh air. Having her front manes neatly twirled, twisted and sealed with her low bun rendered much gorgeousness to the fashionistas desi avataar. The bindi and jhumkas played perfect partners to this Anushka Sharma hair style.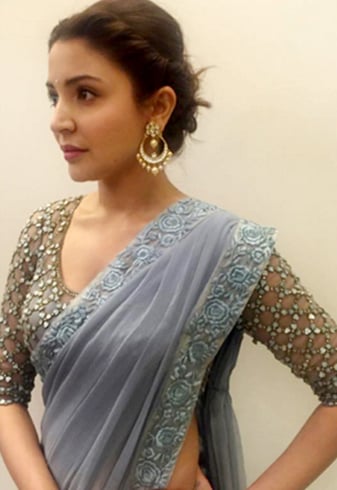 19. Top Knot
Top knots are for the brave hearts, or rather to create a more bold personality illusion. The pretty and innocent looking actress also binged on this trending hair style to exude a more audacious vibe. Although this one featured sparingly in the Anushka Sharma hair style archive we are hopeful to see more such spottings by the diva.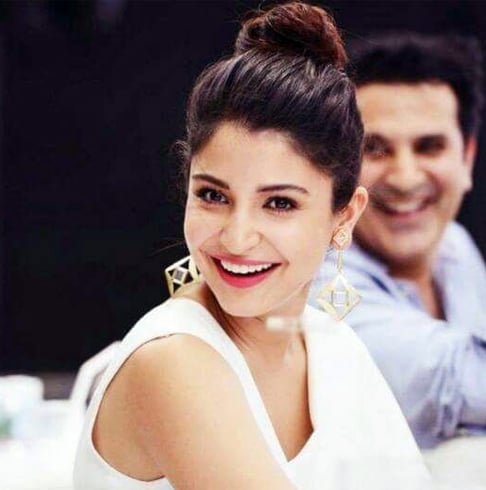 20. Sleek Hairdo
Sleek hairdo's literally swept the industry. With every actress working the sleek hair look, it was one of the most prominent hair styles in the past two years. Anushka too worked this look at numerous occasions rendering a more charismatic feel to her appearances. The lady worked this one like a boss and had us swooning most of the times.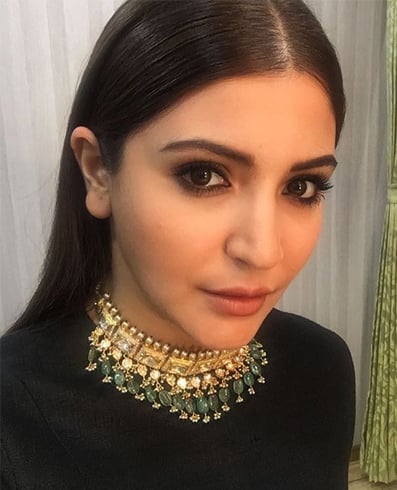 Right from Anushka Sharma's haircut, the arrangement to the hair colors, the girl believes in keeping things simple and uncomplicated. The beauty of her hair style is that we all can wear them in our regular lives.
So which of these hair styles are you wearing to work tomorrow?