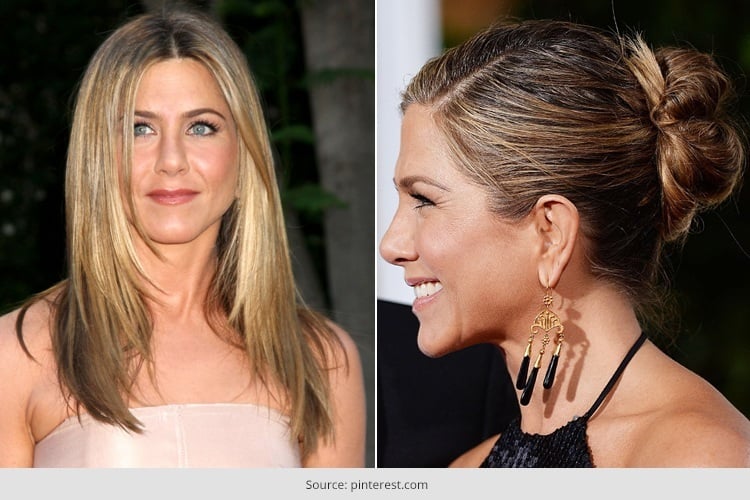 Jennifer Aniston, best known for her role in the extremely popular TV series "FRIENDS", has one of prettiest faces in the industry to back up her acting skills. Apart from her commendable acting skills, Jennifer has been popular for the fashion front as well. Throughout the 16 years in Bollywood, Jennifer Aniston has flaunted a myriad of hairstyles, which can inspire girls with simple girl-next-door looks to experiment with their hair. For all of the girls out there, with a face shape similar to that of Jennifer Aniston's oval face shape, we have compiled a list of top 25 Jennifer Aniston Hairstyles.
Jennifer Aniston Short Hair Fascination
For all of the girls out there, with a face shape similar to that of Jennifer Aniston's oval face shape, we have compiled a list of top 25 Jennifer Aniston Hairstyle, which include Jennifer Aniston Short Hair, long hair and various other hairstyles.
1. Peppy Waves
This Jennifer Aniston hairstyle was sported during her FRIENDS days. This peppy look enabled her to look every part of the timeless beauty Ms. Rachel Green.hel Green.
2. Sprightly Chop
Being one of the sexiest Jennifer Aniston Hairstyles that we have seen over the years, this Jennifer Aniston pixie cut look had to make it to the list.
3. The Good Old Bob
Jennifer Aniston revealed her newest hairstyle on Instagram and made her first public appearance with the dramatic Jennifer Aniston haircut. She rocked the short bob hairstyle as she stepped out for an appointment in LA.
[Also Read: Anne Hathaway Hair]
4. The Cutest Bob
This Jennifer Aniston haircut is one of the cutest that she has sported by far. Which is a huge statement, considering the big time "Hair Icon" she has always been.
5. The Blunt Cut
Though Jennifer Aniston's long hair looks are amazing, this Jennifer Aniston blond hair color blunt cut had become a top favorite among teenage girls back in 2001. The cut seems to compliment her face perfectly.
6. Wavy Bob
This Jennifer Aniston brown hair has a slight formal touch to it. It is a perfect cut for women edging on the late twenties.
[Also Read: Easy Hairstyles For Long Hair]
Jennifer Aniston's Love For Long Tresses
7. Elegance Personified
Jennifer Aniston went for the straight glossy golden locks in a textured blonde, for the Critic's Choice Awards
[Also Read: Kate Winslet Hairstyles]
8.  A Formal Pony
Jennifer Aniston was spotted wearing a perky yet formal ponytail at the L.A. premiere of Cake. This Jennifer Aniston hairstyle with natural hair color look with the few beautiful blonde locks left astray complimented her face well.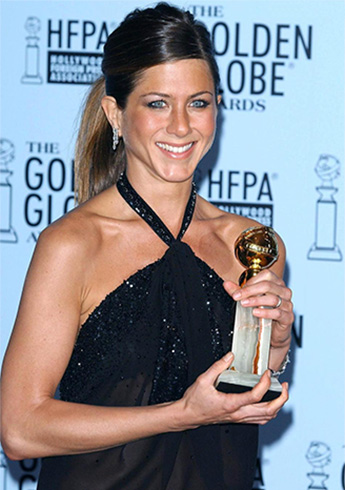 9. Beautifully Long
A photo from her ravishing photo shoot album, where Jennifer Aniston's hair color looks stunning, bright and vibrant in her long mane.
[Also Read: Signature Hairstyles]
10. Long And Wavy
Jennifer Aniston looked great at the Calvin Klein event, where she took a break from her generally straight hair.
11. Layers
In this particular photo shoot, the Jennifer Aniston's Blonde hair looked effortlessly styled and luscious. The long Layers seem to create that enhanced bouncy effect on her hair.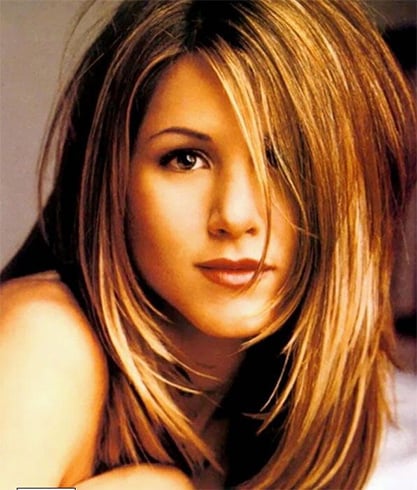 12. The Perfect Holiday Look
Jennifer pulled off the perfect Hawaiian Holiday look in style, wearing her blonde hair in a loose sexy side braid.
13. Cutest Bangs
In her movie the Horrible Bosses, Aniston sported long wavy honey tinge hued tresses with cute short frontal bangs.
[sc:mediad]
Here are some of her other looks where she sported the bangs hairstyle
14. Braids
Jennifer Aniston was seen sporting the toughest braids, the fishtail braid. This type of braid goes great with the formal attire.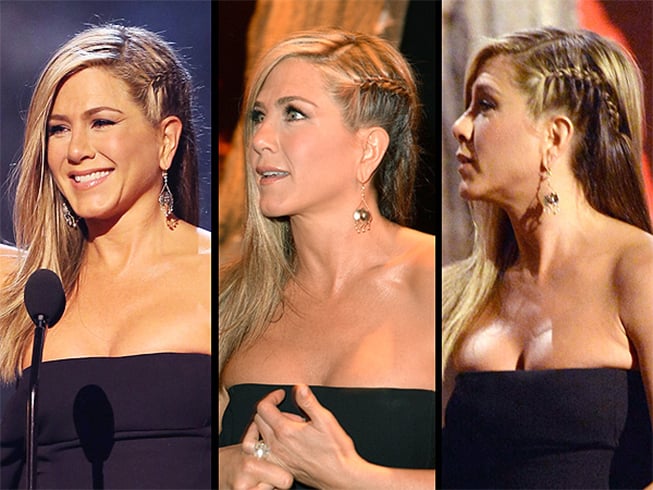 15. Dainty
Aniston sported a very clean and chic signature Jennifer Aniston Hairstyle on the Ellen DeGeneres show.
Jennifer Aniston Likes To Experiment
16. A Sleek Updo
Jennifer Aniston showed us how to wear a sleek, elegant Updo effortlessly at the Governors Awards 2014.
Another sleek updo that she rocked at the Golden Globes Awards
17. A Chic Messy Bun
Jennifer Aniston sported this beautiful and sexy messy bun at the Golden globe awards. This hairstyle that perfectly complimented her dress is described as a spontaneous last moment decision by Hairstylist Chris McMillan.
18. A Beautiful Mess
Jennifer Aniston looks pretty as a picture with her wavy side-parted hair secured with just one clip. This Jennifer Aniston Hairstyle seems to bring some additional volume into her tresses.
19. A Two-Way Style
With a slight braid covering the area near her forehead and soft curls near the ending of her blonde hair, Jennifer Aniston rocked the red carpet at the Oscars ceremony.
20. A Braided Updo
Jennifer being the style icon she is got Mcmillian to do a braided Updo for her. This Jennifer Aniston hairstyle definitive describes the phrase "the best of both worlds".
21. Highlights
Aniston has a great stylist, which is clearly indicated by Jennifer Aniston hair highlights. These highlights are even-toned and look almost natural and sun-kissed.
22. A Different Hue
For an event, Jennifer Aniston was seen in highlighted strong tresses, which were dyed a bright ombre.
23. Mid Length
For one of her red carpet appearances, Aniston was seen in mid-length layered haircut which suited her face structure well.
24. Darker Highlights
Jennifer Aniston was seen adorning the Cosmopolitan magazine cover in her honey shaded darker highlights.
25. Go Brunette
This Jennifer Aniston haircut was all brunette with a mid-length hairstyle with high layers.
Hairstyles Of Jennifer Aniston As Rachel Green From FRIENDS
Jennifer Aniston has starred in a number of movies but she will always be remembered for her iconic character Rachel Green in the show FRIENDS. Her 'Rachel Hairstyles' or the "Rachel haircut' something we are all obsessed with, so we have listed down some of her looks form the show.
Rachel Green hair style started with the below tousled waves look.
By Season 3, Jennifer Aniston's FRIENDS hair style grew long and straight.
She was also seen sporting a cute two-braided look in one of the episodes.
As new Seasons were aired, the Rachel Haircut was updated and Jennifer was seen sporting super long, straight and layered hair.
And this is how Rachel said goodbye to all of us!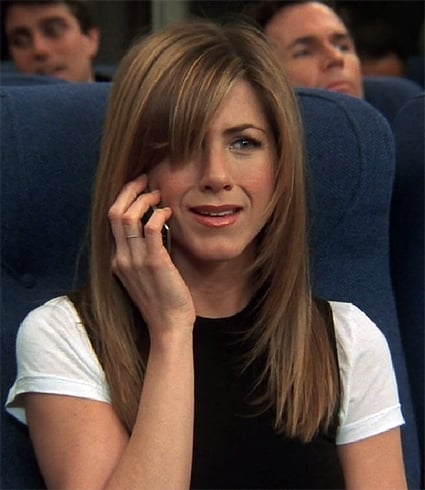 Jennifer's blonde tresses with darker hues gives her face warmth and ups her style quotient. If you too have an oval shape face like Aniston try the aforementioned hairstyles for a chic look.