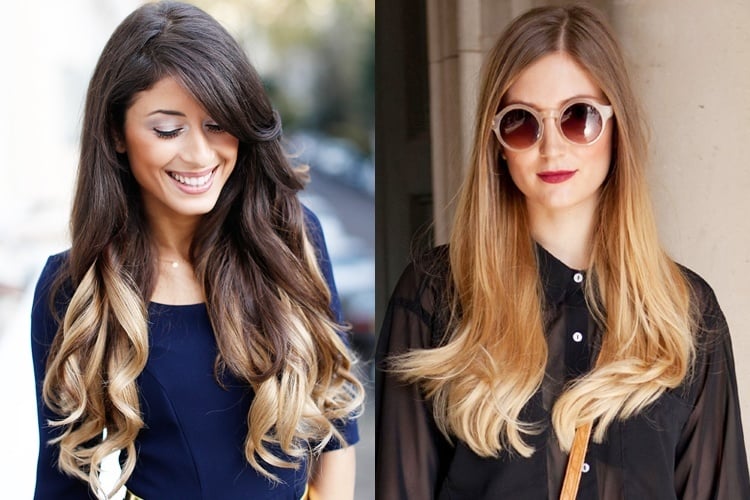 One of the latest trends when it comes to hair coloring is the Ombre hair trend. Ombre is a French word which basically means 'to shade'. The trend refers to colouring the hair from a dark shade at the roots to a light shade towards the end. The color gradually moves from dark to light, making for a very smooth transition. There are two option when it comes to hottest Ombre hair trend. You can either go for a subtle shade that works well with your natural hair color and does not look too OTT. Or if you are feeling frisky and want to be a little adventurous, then you can opt for a funky color such as purple or red to Ombre your hair.
[Also Read: Re-Introducing OMBRE]
Another cool twist on the Ombre look would be to go from a light shade to a dark shade. This new upcoming trend has been termed the 'Reverse Ombre' and is a little more edgy than the traditional Ombre look.
Hairstyles For Ombre Hair
As far as hairstyles for ombre hair are concerned, there are certain styles that work really well with Ombre hair and help show it off splendidly.
Poker Straight Hair
If you have long hair, then you can straighten it out with a straightening iron and use a smoothing serum to keep your hair looking shiny and frizz-free. Poker straight hair is a great look to sport when you have Ombre. Just make sure your Ombre is done well and the transition from dark to light is subtle and smooth without any hard lines or patches.
Beach Wave/Loose Curls
Another hairstyle that you ought to try is the beach wave look. Create loose curls or waves using either a curling iron or large Velcro rollers. Makes sure the curls are loose and look natural as opposed to tight springy curls. This is hands down one of the best ways to show off your Ombre hair.
[Also Read: Granny Hair Trend]
Fishtail Braid
Be sure to try out some cool braids and buns. The Ombre effect adds depth to your hair and so when you braid it, your hair looks awesome and the braid looks textured. Braids and buns look awesome in photographs when done on Ombre hair. Fishtail braid is a relatively simple braid to try and the result is so totally worth the effort.
[sc:mediad]
Ombre Hairstyles For Short Hair
If you have short hair, then you might want to try out these ombre haristyles for short hair.
Textured Hair
Use some mousse or gel to scrunch up your short hair to give it a messy look. The textured hair is a great look on short ombre hair as proved by a lot of Hollywood celebrities who seem to love this look.
Feathered Out Hair.
This is great if you have a layered haircut. Use a curling iron to gently curl the ends outwards to form a sweet feathered-out look. This is a sophisticated look and goes really well with dressy attire.
Spike or Faux Mohawk
If your hair is really short, then you might want to give the spiked/Mohawk hairstyle a try. All you need is a teasing comb and some strong hold hair spray or gel. Sweep up your hair and set it with the spray.This is an edgy, cool, so-full-of-attitude look. Perfect for those who like to experiment and are not afraid to stand apart in a crowd.
Now that you've had a look at all the awesome hairstyles that you can opt for, it's time to decide which one of the hottest ombre hair trends catches your fancy.