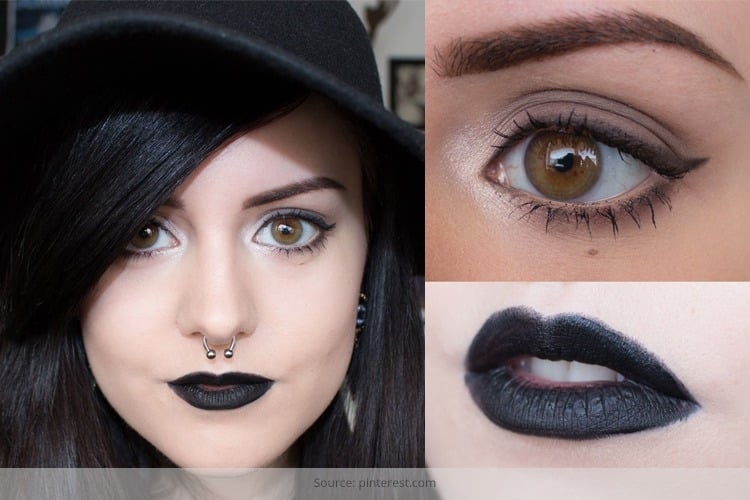 The season of spooks is just around the corner and it's time to get your makeup game up. And believe us, when it comes to Halloween Makeup, there are a few staples that are indispensable. One such is the trend of black lips! Yes, don't be shocked! Black lips are not just for punk rockers! In fact, it is a very vital part of Halloween Makeup.
[Also Read: Crazy, Fun and Interesting Halloween Fashion for You and Your Family]
Believe it or not, when you are considering a lipstick for Halloween, the only colour that should come to your mind is black. It gives off a very spooky and vampy look which is oh-so-perfect for a night out with the ghouls!
Check this out!
Now that we have established that nothing says Halloween better than black lips, let's start talking about the different lipstick brands available and how to wear black lipstick like a pro. First things first, you have to keep in mind that black lipstick is only suitable for colder months of the year. Using black lipstick during summertime is an absolute no no!
Let's talk about black lips, shall we?
The quintessential look for Halloween makeup when it comes to lipstick shades is black and purple. Let's just focus on black lips alone.
Lime Crime's Opaque Lipstick in Styletto | $15.99
This one is a real winner when it comes to black lipstick. Creamy and very pigmented, this lipstick's got an upbeat feel to it. This one is a very good choice for long wear because it lasts for a really long time. If you are looking for something which will not dry up your lips or fade easily, then this one is one long wear lipstick that you should be looking at.
NYX's Round Lipstick in Penelope | $4
If you are looking for the cheapest bet around town, then this is the lipstick you should be looking at. Not only is it very pocket friendly, it will also give you the feel of a very high quality brand. In other words, it is highly pigmented and stays on for a really long time. What's best about this lipstick is the fact that it gives a very luminous finish and once you have applied it, you will see that it will shine from all the angles. It's the best bet at the drugstore, but if you have an option, you can certainly look at other brands as well.
[sc:mediad]
Urban Decay Lipstick in Oil Slick | $22
Don't be fooled by its dewy and creamy appearance. On first look, this one looks like a brown lipstick, but on application, it gives off a wonderful and dewy grey colour. Unlike all its pigmented brothers and sisters, Urban Decay's Oil Slick is perfect for day wear. The slick lipstick will not only pump up your lips, but it smells wonderful and just like Halloween candy! Isn't that nice and spooky?
Rimmel London Stay Glossy Lipgloss in Black Diva | $5.99
If you are looking at something which is not too expensive, but at the same time serves the purpose of a gothic and spooky look, this is the Halloween makeup item of your dreams (or shall we say nightmares?). The colour is pretty nice and the feel is not matte like the other brands we discussed, but at the same time, this one is actually not too opaque either. Also, after a few hours, the colour starts bleeding too. So, if you are looking for something non-heavy duty, this one would be your perfect choice!
Now that you have everything on a platter, and also know how to wear black lipstick, let's start and sort out your Halloween Makeup!