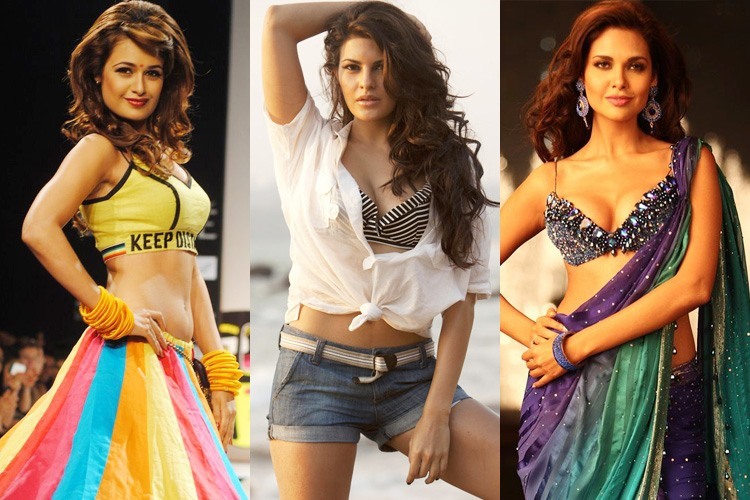 Gone are those days of stocking the lingerie drawer with a dozen of white bras that looked identical twins to each other. The lingerie stores have a wide variety of cuts and designs of bras at display. And being very honest with you, it is actually a pain to hide those glamorous inner wears beneath sheets of fabric. WE have for you a few ideas on how to wear a bra stylishly and show them of confidently.
[Also Read: Most Beautiful Bras, You Wouldn't Want To Cover Them Up]
Here Are a Few Tips On How To Put On a Bra In Style
Follow these tips on how to put on a bra in style and you can show them off with grace and panache.
1. Wear Bra as a Saree – Blouse
Did you take a notice of how sassy Priyanka Chopra looked in the 'Desi Girl' song? How could you even afford to miss it? No wonder she has been crowned as Bollywood's official Desi Girl post that show. Don't worry gals! Even you can carry it like Piggy Chopps. Ditch that boring blouse. Get a designer bra that goes well with a chiffon saree. Or just get a cute colorful one and try out some patterns on it yourself.
Check out Aishwarya Rai (before transforming into the coy Bachchan bahu) in this super sexy avtar.
[sc:mediad]
2. Wear Bra as a Choli
Try using a bra as a Choli with a Lehenga and you will be the prime attraction of a grand and glitzy wedding night. Your bra wearing style can just become the talk of the town for that night. Or perhaps you should not be this mean to the bride by stealing away all the focus (hahaha – evil laugh***). If do not get a bra that goes with that dazzling lehenga of yours, just get the choli stitched in a bra pattern. You may go for a matching color like the one below.
[Also Read: Types of Bra]
Or try out a sensual contrasting number like this one.
3. Wear Bra With Jeans
If you know how to wear the right bra in style and can pull it off, a designer bras can actually make for great tops. You don't have to wear a shirt over it, just a pair of well fitted jeans under it you may accessorize your bare abs with a few chunky waist bands. Statement belts will also make up for a great embellishment to complete the steamy look. If you are a beginner with this style, try to cover up with a sheer barely there shirt. A jacket or knitted poncho can also help you in getting your confidence back.
[Also Read: How to Wash, Dry and Store Your Bras?]
Wear Bra With a Skirt
Here is another way of how you can wear your bra sportingly. Gorgeous printed bras also make excellent uppers for skirts. They look great with short skirts, if you have a body and more so an attitude to carry it off. A little apprehensive about too much skin show? Wear a long skirt rather! With those legs covered up, the bra won't shout out the reveal much. It will be a classy combination of sexy yet modest. Now how much modesty you want to express, depends on the cut and style of bra you select.
Wear Bra on Hot Pants
Imagine a warm day at the beach. How would you imagine your silhouette? One word – Erotic. Put that sea shore on fire –team up those short, super short hot pants with bright, florescent and printed bras. Complete the look with matching flip-flops and accessories to go with. By the way, Sports bras or halter necks go perfectly with hot pants. Multi-color bangles, bracelets, neckpieces and hairbands will help you pull it off gracefully. This is one look that will cut down at least 5 years from your appearance. Scorching Hot is all I can say.
Precautions***
Sporting this look isn't a piece of cake. Make sure you have boosted your mind with tons of confidence and self-assurance.
This is one combination that will lead to a hell lot of aunts wagging their never-ending tongues. Especially if it is a family get together, wedding or engagement. You have to imbibe the 'I don't give a damn' attitude in yourself.
Though I am no advocate of morale policing, I hate to say that the cultural demography we belong to doesn't applaud daring ensembles open-handedly. It is only safe to avoid these trends on streets, unknown and unfamiliar locations, and I wouldn't suggest you to wear them when you are travelling alone.
Wearing a bra as a top will lead to extensive display of your mid riff/waistline. It is only preferable that you work out for a couple of months and get those abs toned before you flaunt them in the open. It will only add to your confidence.
So I guess, with all this gyan, now you are absolutely ready to rock this look. But do spend some time in the trial room and buy the one that suits your body type. Remember – the idea is to look sexy not cheap. So buy the one that only brings up the best in you. Keep in mind the bra fitting, bra measurements and also how to wear bra perfectly as a top, blouse or choli. If you are only a beginner, you would rather go for one that doesn't expose your assets generously.
The wedding season, the festivities and the New Year's Eve are almost knocking at the door. Go Bra Shopping girls!