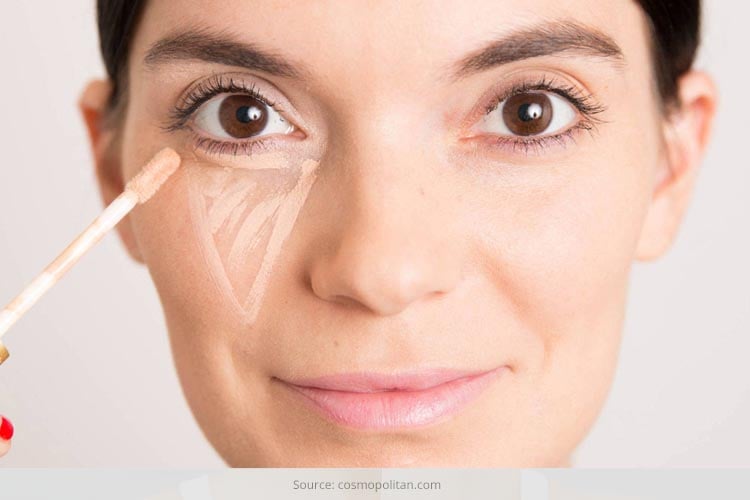 Before we tell you more about concealer makeup tips, how to choose and apply them too we must smash the myths about the role of concealer.
What Is Concealer Used For?
As the name suggests, concealer is meant to cover up flaws and discolorations, especially under the eyes, the nose, the blemishes and spots, red marks and sunburns etc. You do not need to use concealer all over your face, but just on the areas that need to be concealed, with a little foundation. This is one of the best myth smashers and the most important concealer makeup tips to be aware of.
[Also Read: How To Apply Concealer On Eyebrows]
Types Of Concealers – How To Choose The Right Concealer
Now this is one of the concealer makeup tips, which you should very clearly be aware off. When choosing concealer, you must know your own skin type and what concerns you want to hide. For example;
For dry skin, you shouldn't use concealer which is dry and matte
For oily skin, you shouldn't use concealer that comes in a stick form or cream based
Concealer that helps provide medium coverage would be best for dark circles
Concealer in green shades are best to cover acne and pimples
Concealer that is yellow would be best for pigmentation
Remember the color wheel: you choose colors complimentary to one another to conceal flaws and hence choose the right concealer too.
Problems Under The Eye
To cover dark circles and dark hues under the eyes, you would want to look for types of concealers, which aren't more than two shades lighter to your skin tone. And for the rest of the face, you would then need foundation which is the same shade as that of the concealer.
What Type Of Concealer Should I Use?
For Indian skin tones that range from pale fair to the dark ebony hues, there are various types of concealers that one can choose from. From discoloration to pigmentation, acne to age spots and dark spots too, some of us would need to use more than just one concealer to camouflage the flaws.
[Also Read: How To Apply Colored Concealers Flawlessly]
As explained, when choosing the concealer to use, you would need to understand the issue of the flaw and the color of the concealer you would want to use. For example, kryolan D303 is for dark circle coverage, since dark shades have a tinge of blue in them and hence yellow or orange concealing should be done- once again, following the color wheel when choosing concealer to camouflage the flaws should be done. If you use any other lighter shade, it would make the problems stand out and not cover it.
Concealers chosen should be fragrance free, and here are types of concealers available in the Indian market.
[sc:mediad]
1. Liquid Concealers
They are best for combination, oily, normal and acne prone skin. Coverage is medium to excellent, and can bring about a matte to shiny, dewy to radiant and very shimmery look. Why we love the liquid concealer is because the coverage is commendable and can work on every skin type, but not dry. The application is easy and quick, and can be used with the finger too. Acne too can be covered using concealer, since it wouldn't bring about a cakey look.
2. Stick Concealers
Best for dry to normal to sensitive skin- The coverage with stick concealer is good and can be from medium to full range too. From powder matte to dewy satin, a finish so perfect comes through with them. Stick concealers are richly pigmented and creamy in texture, and with a swipe on the face, the coverage can be done too. For anyone with red spots and issues on their face, following the color wheel here would be best, using a stick concealer.
[Also Read: How to Get Rid of Red Dots on Skin]
3. Cream Concealers
Ideal for skin types from combination to dry, sensitive to normal and the coverage for the same is medium to full. From creamy to satin, the coverage is amazing and the product comes in compact, pot and palette forms. Cream concealers are best used to cover under eye issues, severe discolorations and port wine stains too.
4. Cream-To-Powder Concealers
Best for all skin types, including sensitive skin too. the coverage here is excellent and provides a very smooth to powdery finish in mist cases. However, if you have acne and skin cuts or burns, please do not use this concealer type since it would make the skin flakier than before and cause more breakouts to happen, because the powder content in it would make the skin drier.
5. Color Correcting Concealers:
For those who have discolorations on the face. For example, you would use this concealer only to hide dark circles or redness on the face and around the eyes. While this is a last-resort concealer to use, even when the flesh-tone concealer doesn't work its magic, the color corrector helps neutralize severe discoloration issues. You would find color correcting concealers in the market in stick and cream forms.
[Also Read: How To Apply Concealer For Different Skin Types]
Follow The Color Wheel
When picking concealer makeup, we would advise to follow the chart below
To cover yellow problems, use lavender concealer
To cover deep dark bluish to purple problems, use yellow concealer
To cover red acne issues, use green concealer
To make pale skin brighten up, use pink concealer, and
To hide dark grayish tones on dark skin, use orange concealer
We hope you understood the role of concealers, the types and how to use concealers very well!