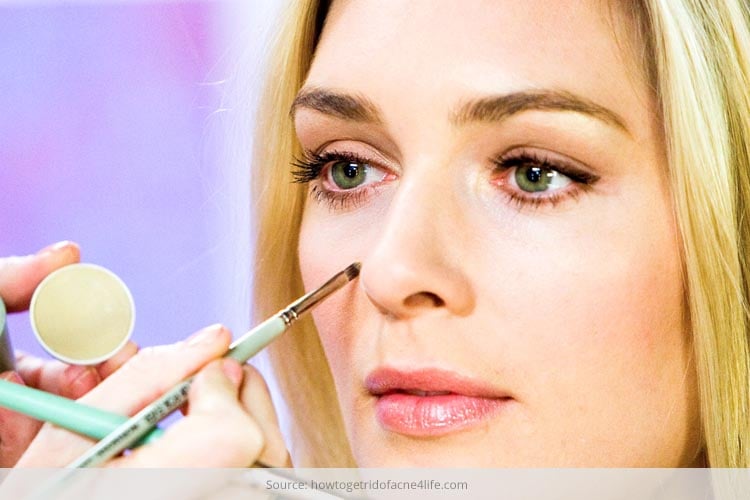 Given the current scenario, life is stressful. Stress accounts to internal upheavals in the normal functioning of our body. Facial blemishes, dark spots, pimples and dark circles are the body's way of telling you that something is wrong somewhere. But, in this fast paced world, not many can afford to wait and figure out.
If that wasn't enough, every day you grow a day older, which again shows up as on our faces as fine lines, crow's feet, wrinkles and patchy dull skin. So, what now? Do we accept fate and stop looking pretty? Not at all! Here is where our concealer makeup comes to our rescue.
Available in a variety of formulas and shapes, Concealers are a prominent part of our lives. Some prefer the liquid concealer, some prefer the stick concealers and other the powder based concealers. There a lot of suggestions on choosing the best concealer on the net today, but you should choose wisely considering your skin type when it comes to buying one. Another important factor while using concealers is mastering the art of how to apply concealers. All these are important if you want to get that perfect look on your face.
Having said that, we thought you should know that today there are colored concealers available to target specific problems types and problem areas on your face. You can choose colors according to your needs.
[Also Read: Concealer For Different Skin Types]
If you still can't decide, you need not worry. In this article we are going to bring you all the know-hows about how to apply colored concealers.
HOW TO APPLY GREEN CONCEALER:
Green is the color of nature and the color of natural healing. The green concealer is used to reduce redness of the skin. Used specifically for spots on the skin that are reddish, including ache, blemishes, rosacea, windburn and even sunburn; the green tinted concealer is an absolute life saver. For memory, always remember green and red are opposites on the color wheel, thus applying a green based concealer over a red area will reduce the redness. The best green color concealers available right now are the Camouflage Cream Pot by Make Up For Ever, the Laura Mercier Eye Basics and Pixi Correction Concentrate. Now, you can forget about all those red marks and spots on your skin that irritated you on a daily basis.
[sc:mediad]
HOW TO APPLY YELLOW CONCEALER
Yellow the color of sunshine, the sign of brightness. Yellow concealers are best for hiding dark circles, bruises or protruding veins. The yellow based concealer can actually be used on any body part to cover up bruises or surface veins, that is, any area that shows tones of purple or purple grays are easily camouflaged with a yellow shaded concealer. Now, you can kiss those zombie-eyes goodbye!
There are many types of yellow concealers available in the market today so to name the best would be difficult. Thereby, we are giving you names of few of the best yellow concealers. They are Bobbi Brown Creamy Concealer Kit, Clinique Redness Solutions Targeted Corrector, Physicians Formula Gentle Cover Stick Concealer, NYX Concealer Jar, Maybelline Cover Stick Corrector/Concealer and the NARS Concealer.
HOW TO APPLY PURPLE CONCEALER
Purple the color of the lilac, a darker shade to overpower the lighter tones. Due to its darker shade, most people might have questions like what is purple concealer for, wouldn't a dark shaded concealer ruin the entire look, and so on. In reality, purple concealers are actually pretty amazing; they are used to overshadow any yellow under-tones that appear on your skin. Purple based concealers are especially very effective, if you have a shallow, dull, yellowish complexion. This concealer will help brighten up your face almost instantly.
Again, purple and yellow are exact opposites on the color wheel and this makes the purple concealer use so effective on yellows. Some of the best purple concealers are Jane Iredale Corrective Colors, the NYX Concealer in a Jar, the Make Up For Ever-5 Camouflage Cream Palette or the NYX Concealer Wand.
Colored concealers are becoming quite the trend now days and every girl should actually try these once. Colored concealer are more effective than general ones since they target specific areas and work wonders on the camouflaging of the area. With this extensive list of the top three colored concealers, we hope we have answered all your queries on colored concealers. We hope now you can choose better and use these concealers hassle free.