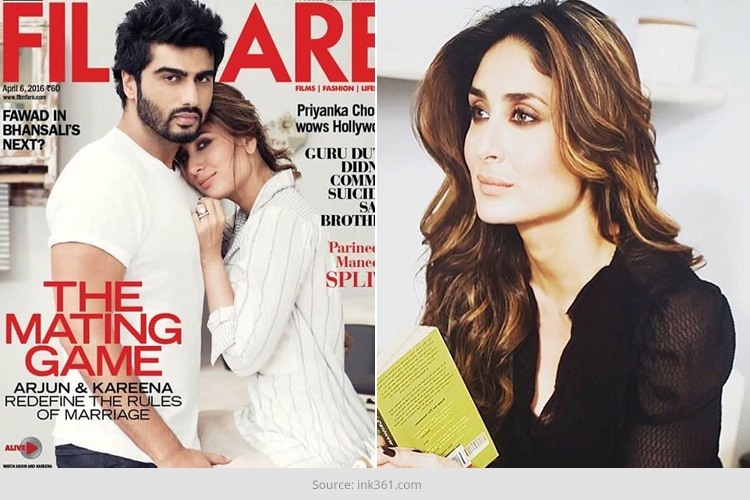 After the 'Kapoor and Sons' pair sizzled the Vogue cover ,the Ki & Ka stars, Kareena Kapoor and Arjun Kapoor have become one of the hottest onscreen pairs of the season.
The lovey-dovey stars featured on the cover of the Filmfare April 2016 and cast their magical, romantic spell. The hotness of the 'heroine' blew us off in this exciting photo shoot.
On the cover page, the lovely lady is seen sporting an ILovePero shirt. Kareena kapoor is one actress who believes that fashion is all about attitude and she did proper justice to her belief on one of the cover page looks with an air of possessiveness in her gaze. The ruffled hair and the simple eye kajal intoxicated her mien. Simply love the chocolate brown manicured hands.
The photo shoot locations were picked as such to promoting the homely aspect of the movie and hence the diva is seen lazing on a kitchen counter looking as pretty as a wax doll. She donned an Asos cardigan on a J Brand Denim Jeans. She left her hair side parted, rolling in perfect waves to one side.
[sc:mediad]
The actress, who keeps her demeanor always very casual, poses in a Nimish Shift silk midi dress with slip, looking extremely comfortable and confident. The slight opaqueness of the dress upped the heat of this summer to the peaks. She added a faint blush like the shadow of a rose and perfectly lined her magnetic eyes. We love the hair with its bouncy curls and waves. Again the sparkling look in her eyes spoke her style entirely.
Tanya Ghavri, the celebrity stylist did an amazing job with Kareena bringing out the goddess's personality, strong and effective with her styles. Styling the heroine casual with an elegant touch, the stylist showcased her skills.
Good job, Tanya!!!! Kareena looks absolutely lovely. We wish you luck with 'Ki & Ka'.