Today, in making a woman beautiful, the eyebrows have acquired a whole new meaning. If the eyes are touted as windows of the soul, the eyebrows are supposed to be its frame. They can in reality make or break your entire facial beauty. Surprised and Dismayed! Yes, I can understand especially since not all women are blessed with perfect shaped thick lush eyebrows.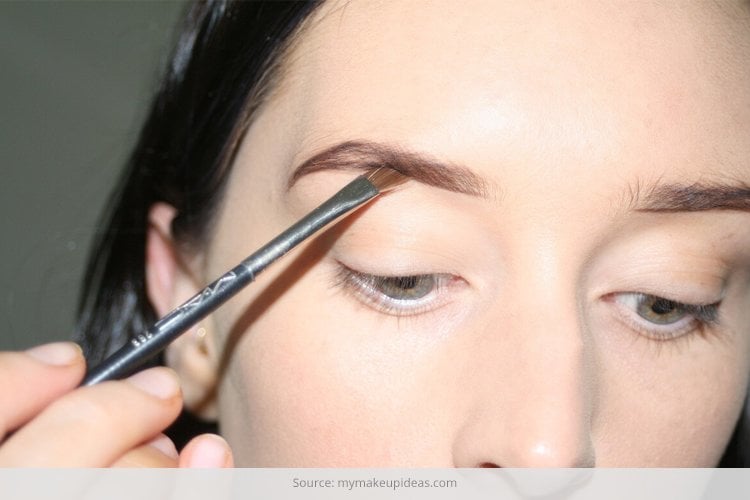 The situation is made even graver with the 90s full, thick and bold eyebrows making waves at the runaway. Thankfully, beauty products have something called concealers without which no woman can imagine being perfect! Let's enlighten ourselves about how to apply concealers on eyebrows to remain trendy and acquire drop dead looks with picturesque arched eyebrows!
[Also Read: Apply Concealer For Different Skin Types]
What Are Concealers And Why Use Them?
Available in five forms, concealers are fantastic make-up assets that help you accentuate facial contours, cover skin blemishes, spots, discolorations, under eye circles and set corrective highlights. You simply cannot dream of getting the picture perfect look without it! They are available in any brick-and-mortar stores or online in a wide variety of both light and dark shades for both light and dark tine skins. When used on and around eyebrows, they give magical results in defining and giving structure to your eyebrows and lend them a clean and sleek look to make you look stupendous. They are terrific in camouflaging any marks arising out of shaping the eyebrows. However, the trick lies in selecting the best Concealer for eyebrows based on your skin type and eyebrows and mastering the art of how to apply Concealer on eyebrows. As far as eyes are concerned, they provide dual benefits- as a blemish eraser as well as highlighter.
[Also Read: Thick Eyebrows Trend]
Concealer For Eyebrows – The Color Rules
Selecting the right Concealer for eyebrows based on the skin type and the issue you want addressed is the key to the ultimate successful or disastrous end result. Nothing can save the result of you go wrong here. If you wish to use the Concealer as a blemish eraser, its best to go for the same shade as your complexion exactly or one shade lighter. However, if your purpose is to highlight, it best to opt for two nuances lighter. On both occasions, the base tone must be your complexion tone. Additionally it needs to be paired properly with your foundation for a smooth even look. You don't want your eyes to come across as patchy! Do you? Generally, it is two shades lighter than foundation. To achieve it, you may sometimes need to mix two different Concealer shades.
Base Rules To Follow
Concealers should always be applied on top of foundation and not below it, though it's a common mistake most do. You should avoid it at all costs irrespective of using it as an eraser or highlighter. Applying foundation over it only sabotages your efforts of perfect placements!
[Also Read: Home Remedies For Eyebrow Growth]
[sc:mediad]
One of the best eyebrow makeup tips is getting the eyebrows in proper shape prior to using makeup. Further, lining the eye-brows before putting eye-make-up defines and provides structure to eyebrows without damaging eye makeup. Always use a brow brush to comb your eyebrows before you even touch the brow pencil. Lastly, never ever apply Concealer on top of eyebrows. That's a sure shot road to suicide!
Correct Technique Of Applying Concealer On Eyebrows
Once your face has been washed and foundation applied evenly, line your brows using a brow pencil, a shade matching your skin and hair tone or a shade lighter. It's best to start from the inner edge and then follow the shape. Now fill in the brow with a cream, brow powder or pencil to lend it the perfect structure. Always ensure a light gentle stroke in the direction of the hair growth of the brows.This ensures natural looking brows. Finish off with a light brush over the eyebrows with a mascara wand or spoolie stick to get the perfect soft look! You are ready to use your Concealer now.
Now using an angled eyebrow brush (my preference) or flat synthetic brushes, apply some Concealer underneath your brows along the lower edge. Go tightly to get the perfect Concealer highlight line underneath the eyebrows. For best results, blend it by pulling the color into the eye area and blending it with eye-shadow to prevent it from appearing too light and acquiring a streamlined finish. Similarly use a Concealer closer to the eye color on top of the eyebrows. It fantastically carves out the outer arch. Finally, dust some light finishing powder to set the Concealer and blend it to perfection. A final brushing over the brows clinches the look! Congratulations, you now have neat and symmetrical flawless brows to flaunt!
Flaunting well-shaped brows, opens up your eye area and makes them look brighter and more put together with more definition and structure. Follow the tips above on how to apply Concealer on eyebrows and inculcate it in your daily make-up regime to stay beautiful and in vogue with latest trends!