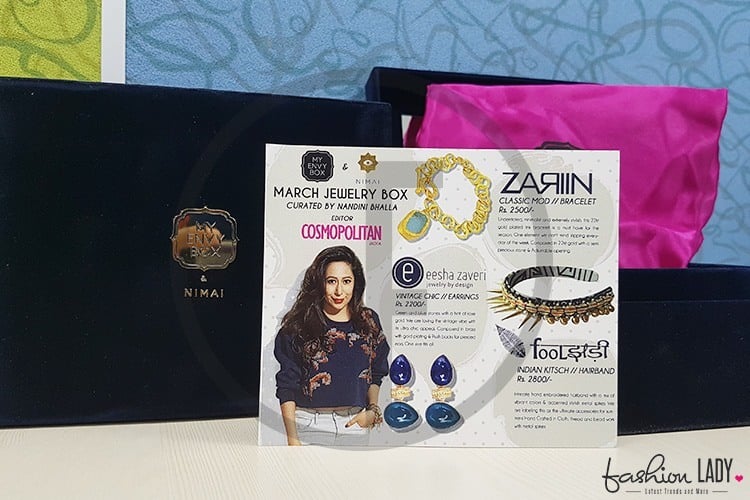 FashionLady while on their journey of discovering upcoming trends, had the pleasure of connecting with 'My Envy Box', a leading discovery commerce platform dealing in beauty, grooming and lifestyle products. They very sweetly shared their explicit collection with the team and we are here to disclose how treasure-able we felt about their collection.
The products shared with us include beauty boxes and jewelry boxes.
Take a look here:
Jewelry Box
Every woman would like to have a timeless treasure when it comes to her jewelry, and with the Indian designers breaking the mold embracing unique mediums and acknowledging new techniques to create jewelry, we often get strayed in finding a fashion faithful piece of jewelry. Nandini Bhalla, Editor of Cosmopolitan curated exclusive and exotic collection of hand-picked jewellery from various designers.
The Jewelry box had an intriguing collection of earrings, bracelets, rings and what not.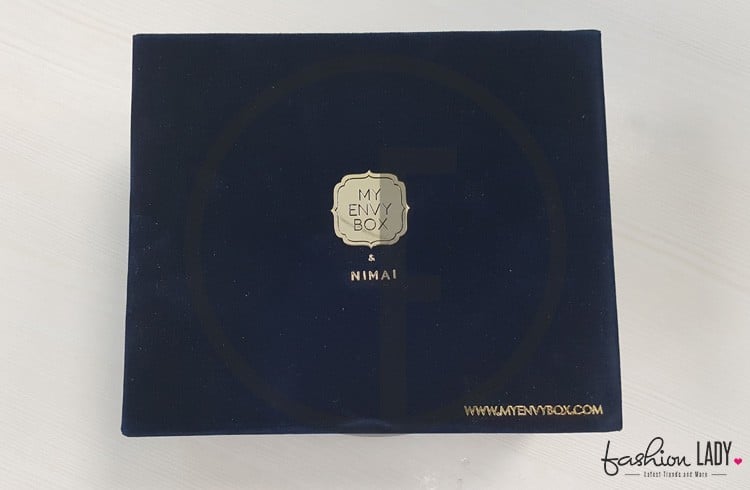 Let's take some time here to admire the collection.
[Also Read: How To Be The Absolute Show Stealer At Your Best Friend's Wedding Functions]
Earrings
The brass base earrings exhibit an eclectic beauty from the Malleka Studio. With the chains dangling till the shoulder, they look sheer magical and definitely will suit any grand occasion. They have an antique allure about them and also the design is pieced together by hand and a smooth fabric support is given which is quite innovative.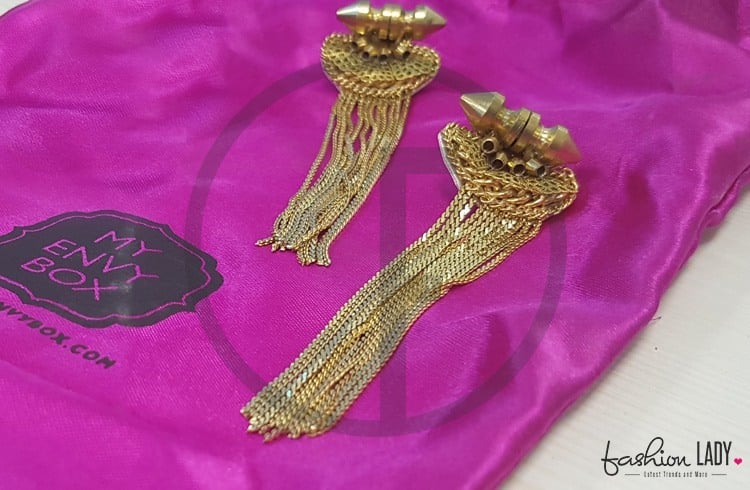 For people who love to keep it simple and subtle, the earrings from Eesha Zaveri will be appealing with green and blue stones embedded with a hint of the all famous rose gold. Wear them for any occasion or even for work and feel light and stylish.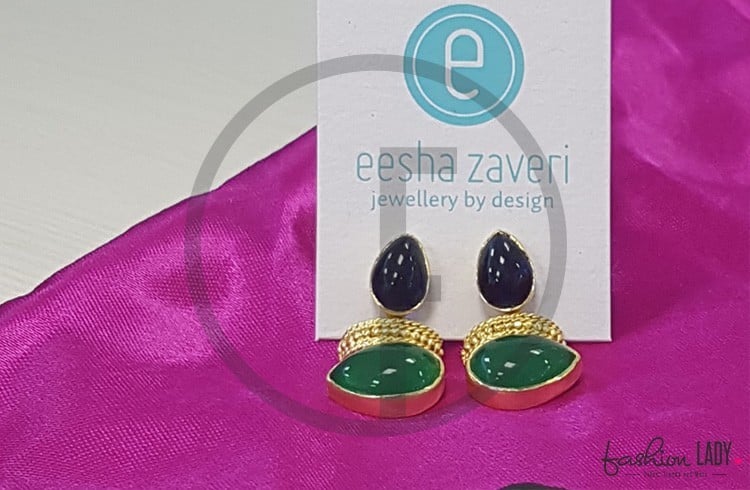 Bracelet, Chain And Ring
The gold plated link bracelet with a precious stone from Zarin is definitely a unique piece making a bold chic style statement. So is the ring from Zarin which includes black Onyx and howlite stones set in gold plating. From Dhora, a neckpiece with a brass pendant was also a part of the box.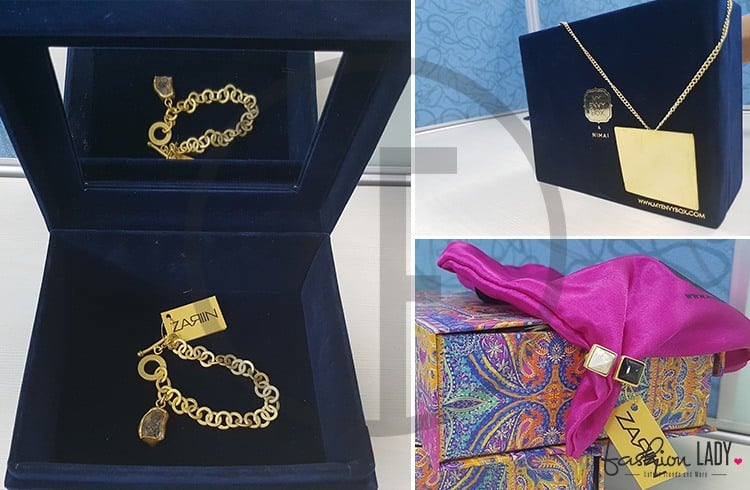 [sc:mediad]
Hairband
We were completely surprised at this unique piece from Fooljhadi; a hairband intricately embroidered by hand with metallic spikes, pearls and gold toned tassels. The summer can now be eventful, colorful and stylish with a combination of these interesting jewels.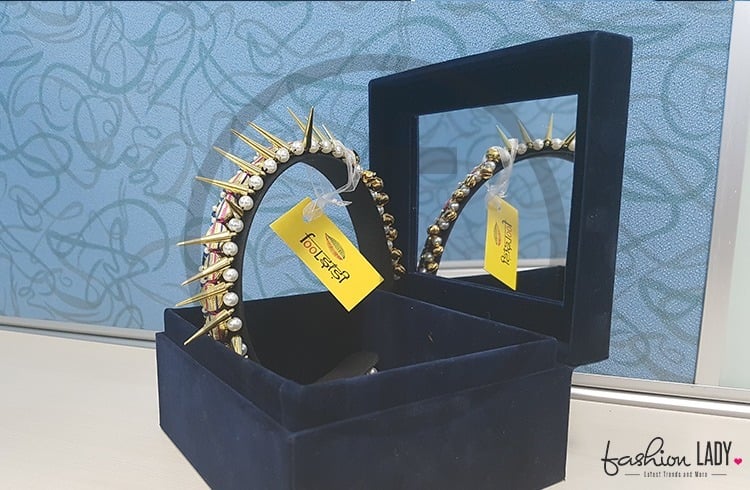 *My Envy Box Coupons for Jewelry Box – MEBJEWEL15 – 15% off, valid until 16th Apr 2016.
Beauty Box
When we travel a lot we often find ourselves fretting over assembling our beauty products and definitely miss out one or two in the end. My Envy Box have formulated a beautiful concept around this and designed a box which would include every essential need of women. Their boxes have products of different brands, and that shows how vast and big their brand collaboration is.
In the box, we had a volumizing shampoo and a conditioner from L'Occitane, A body moisturizer from AVA, a sunscreen from Bioderma, an anti-frizz leave-in cream from Bblunt and finally a frozen ittar from Hedonista. Taking one look at the beauty box, we felt such satisfaction that every beauty need is embedded in sufficient measures.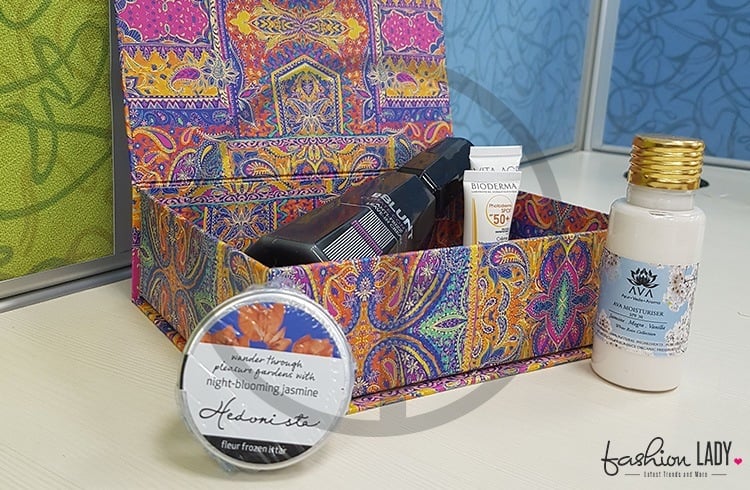 Their subscribers get a box of samples of leading beauty products which can be purchased in full-versions directly from the boutique. They have their own set of in-house beauty experts who can guide us through the latest trends in beauty.
All FashionLady followers, we are happy to share a discount code with you and we thank them for such a sweet gesture. Avail this opportunity while it lasts and enjoy the products.
*My Envy Box Coupons for Beauty Box – FASHIONLADY – 10% off, valid until 16th Apr 2016
Again if you are an ardent fan and follower of FashionLady, avail their discount coupon and try the most innovative products and feel like the queen of the world.
We thank 'My Envy Box' for sharing with us their beautiful collection and we celebrate this union for years to come in great joy!!!!