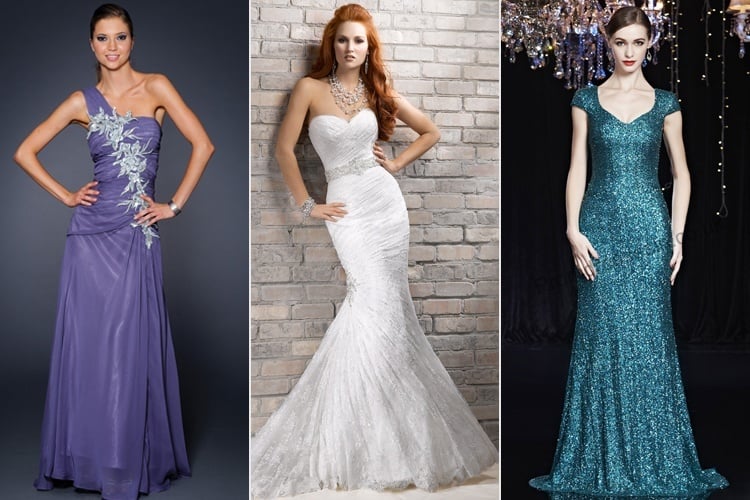 Right from a quinceanera to your wedding chapel, the red carpet of a big event or your prom, a good gown is basically all you need to shine out loud. The fashion arena is continuously expanding and we have hordes of gown patterns to choose from.
[Also Read: Backless Wedding Dresses And Bridal Gowns]
Wedding Gown Patterns To Choose From
The practice of choosing the perfect wedding gown patterns becomes all the more difficult when the spread is so wide. We bet you could use some suggestions.
Being the Classical Sweetheart
One of the basic patterns of gowns are the strapless flared cuts. Most of these numbers will feature a sweetheart neckline. The absence of the strap or sleeves accentuates the neckline and brings out the sexy in your personality. These gowns typically hug you at the waist. The flared bottom half of the dress as opposed to the well fitted top half adds a lot of drama to the posture and are one among the most popular wedding gown designs. One can never go wrong with these classic gowns.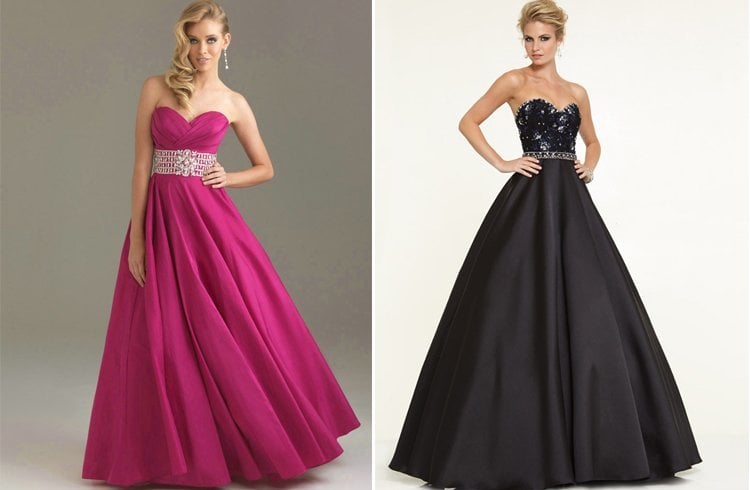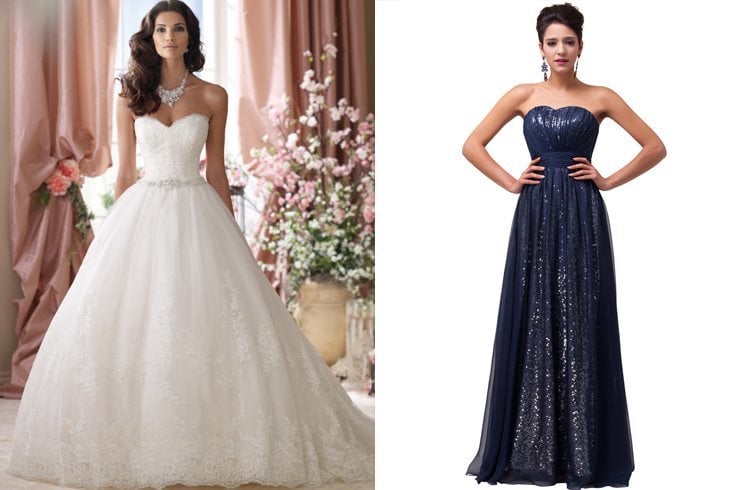 To The Alter In Halter Necks
Another option for keeping it simple yet stylish is to go for the gowns with halter necks. In fact it is the best option for those who wouldn't take the chance of going completely strapless. Halter necks come in various patterns, some necklines are bejeweled to work as a neck piece, some rock a sexy key whole and you will also find a few with a plunging necklines as well. You can thus give a serious consideration to the halter neck while brooding over gown designs for wedding.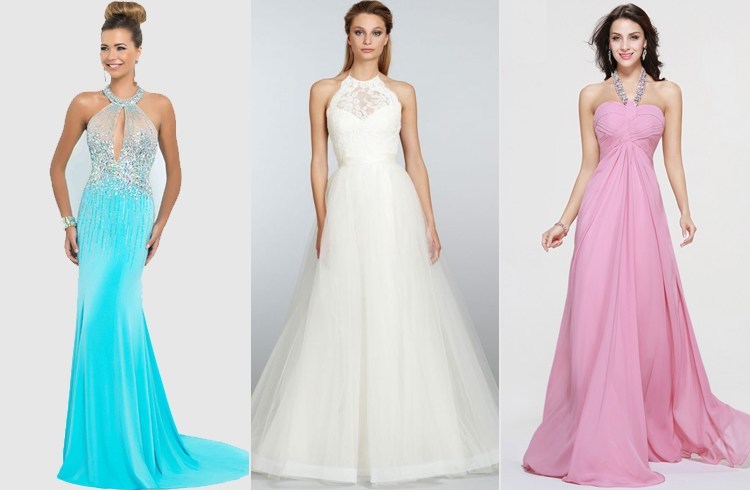 One Does More Than Two
Moving on let me show you a few gowns with single sleeves. These gowns are a perfect mixture of the best of both the worlds. They will give you a feel of wearing a strapless, and still secure your dress with that one sleeve it features. The sleeve can be a full sleeve or a strap across one of the shoulders and mostly they are accessorized with a loads of crystals and sequin work. These gowns look very glamorous and if paired with some big chandelier earrings, they claim all the lime light in the venue.
[Also Read: Victorian Vintage Gowns We Love]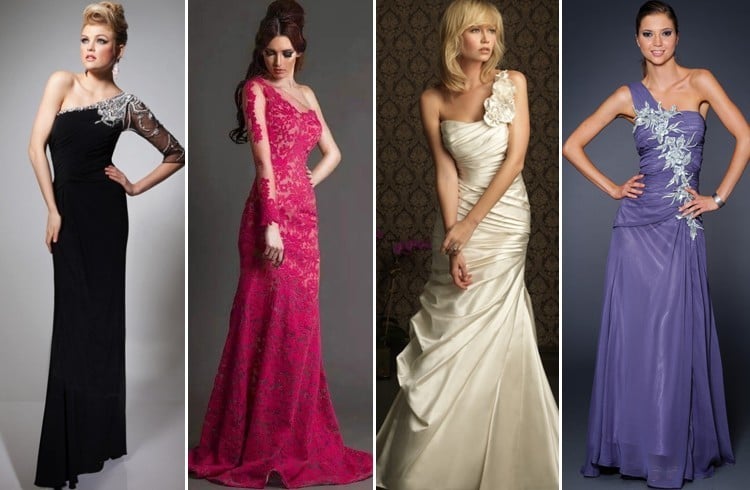 Show The Angelina Jolie Leg
Let us all now talk about some uber sexy gowns. If you are a proud owner of a pair of never-ending legs, why not flaunt them, huh? Again nothing is more fun that concealing a little and revealing a little, so I say go for some risqué high slits, slits that run up to the end of those legs. Check out Kylie Jenner showing off some sexy legs through the floor-length gown with a slit to die for. One of these gowns immortalized Angelina Jolie's leg too, remember?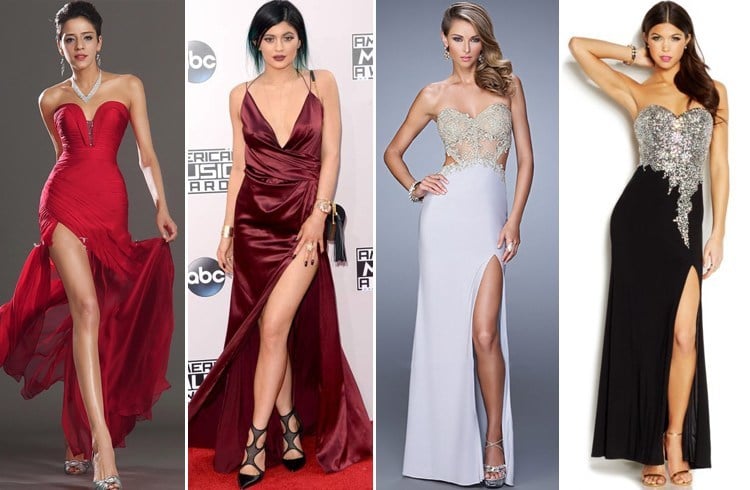 Be Your Fairy Tale Princess
Moving on from sexy let's bring some drama back with these princess-esque ruffled gowns. These gowns again hug your top half but explode into some fairy tale magic below the waist line, because that is where all the drama is happening. Ruffled gowns were traditionally built out of multiple layering and frills, but these days you get to choose from a range of interesting ruffle patterns. You can stick to the traditional layers or pick up one in rose motif, sea waves or asymmetrical layering. This would be my favorite bridal gown pattern because, come on now, what girl doesn't want to look like a princess on her D Day? By the way, they also work perfectly for prom.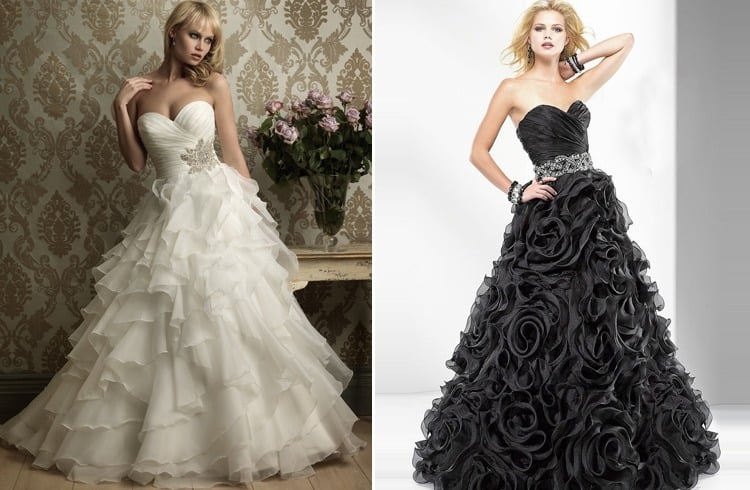 [sc:mediad]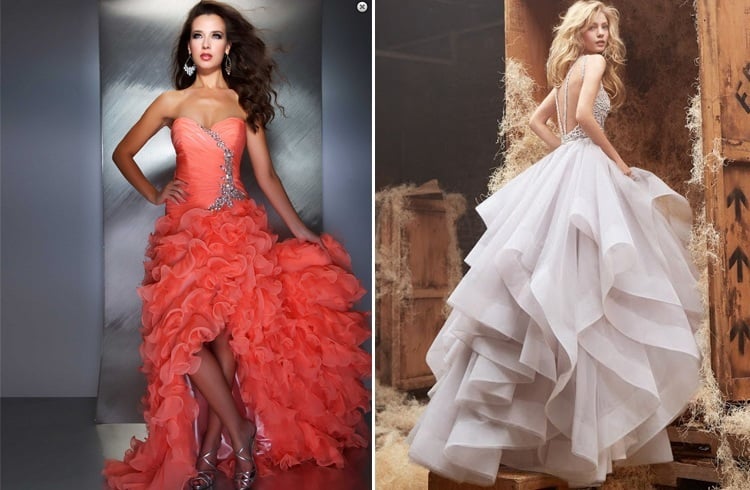 Show That Booty, Be A Mermaid
Mermaid gowns are yet another variation of the traditional full length gown. The mermaid gowns characteristically hug the entire body and flare up from near the knees. For those who have a great booty, and have no plans of hiding it under layers of fabric, would rather get themselves a mermaid gown for a special evening.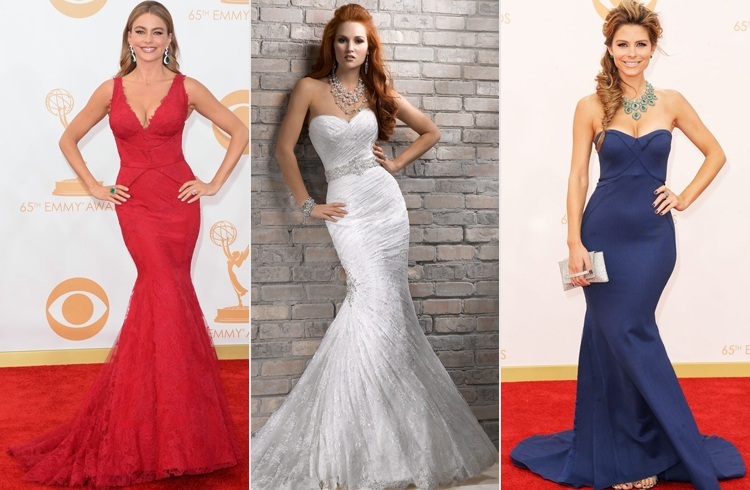 Let Them Talk Behind Your Back
So you have the mermaid gowns to highlight your curves, but how to put that sexy back on full display? Why not going for some of the best backless gowns from the store. These backless gown patterns are ideal for any event, and you get to choose exactly how much skin you want to show. However for your own wedding you might want to approach any of the wedding gown designers to make you that perfect backless number.
[Also Read: Evening Gowns Worn by Top Bollywood Celebrities]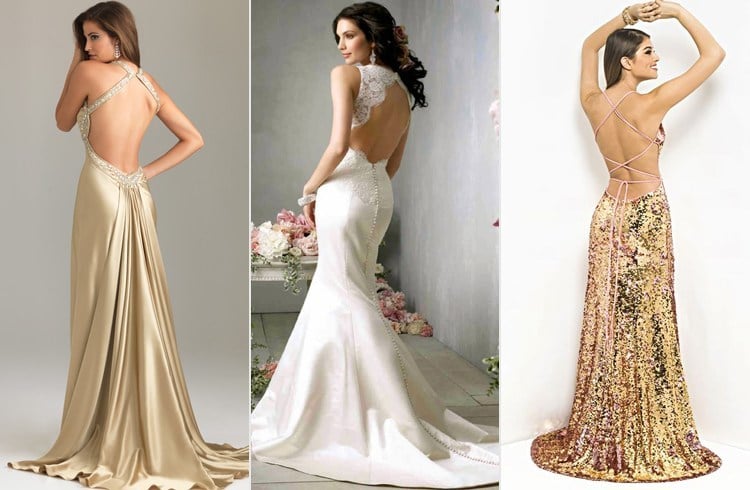 Shiny Belle Of The Ball
There is a reason why Taylor Swift has a love of sequins, because sequins will never fail you- like never. You can be wearing the simplest gown on planet earth, but as long as you are covered with zillions of crystals dazzling on you there not a chance in hell for anyone to miss you.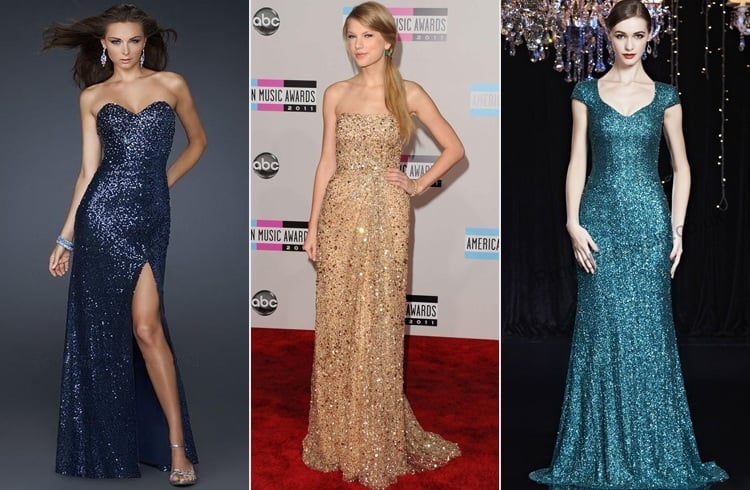 From the classic sweetheart gown to the sequined shiny ball gown, the choice is going to be a tough one. Not only is it sweating to choose from the collection bridal gown designs, but even for a prom or a special evening? Take your time, ladies.
Images Source: pinterest.com