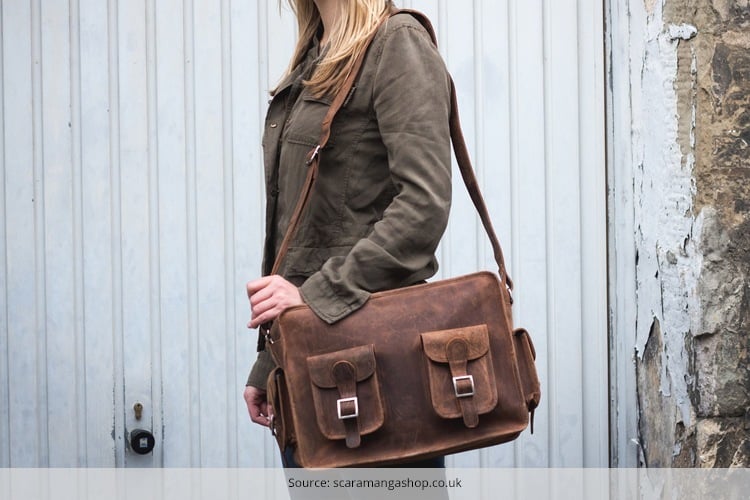 Be it the stress of the week or the summer heat, the best way to beat it and get recharged and revitalized, is a weekend trip. Nothing is more distressing than spending a relaxing weekend, having fun. However, packing for it can be quite confusing and overwhelming. Chances are you would end up over-packing. An easy solution to it lies in choosing one of the best leather travel bags designed especially to cater to weekend packing needs. These are ideal fashion statements blended with practicality and usability.
[Also Read: Tod's Wave Bag Is In Vogue This Season! Especially While Travelling!]
Leather Bags For Holidays
Let's check out some of the leather bags for holidays which provides enough room, yet are very stylish to carry:-
Rolling Leather Bag
The biggest advantage of a rolling leather bag is that it relieves the shoulders and back of any weight. Fashion magazines tout it as the best leather travel bag pattern. All one needs to do is pull the handle and roll the wheels attached to the bottom of the case. These are ideal if you need to carry some heavy luggage like laptop with no compromise on support, style or comfort. Available in a variety of designs, styles, patterns and colors, they facilitate speed and easy movement, especially for your last minute decision of a weekend getaway. Apart from being fashionable, their various compartments make for organized packing.
Weekender Leather Bag
A big soft sided tote, these bags have generally larger length than width or height. These bags are not only functional and spacious but they can easily be carried in one hand or thrown in the back of a car with no worries. Being lightweight due to absence of any wheels or other accessories, they can pack into themselves, plenty of gear of a rushed or careless packing. Packed with all benefits, style and elegance, weekender leather bag is a perfect choice for short trips.
Donner Style Cross Shoulder Bag
The biggest advantage of this leather bag pattern is its practicality and health benefits. Normally medium sized and with a long strap, they are worn on the back in such a manner that they distribute the weight evenly between the shoulder and back. Because of leather, they are quite well built and durable. Their sturdiness and hands free design makes them a very convenient choice for a day or two getaways.
[Also Read: Leather Briefcase Bag]
Shape-Shifting Leather Bags
Inspired by Origami, these constitute the best leather travel bags because of their multiple usable properties. These can easily transform to different shapes and sizes to suit varied situations. Ideal as tote bags for weekend getaways, they can be folded into comfortable and secure purse for the day use. Further folding turns it into a clutch ideal for evening dates. These geometrical shaped bags are commonly referred to as multiple bags in one. Its shape can be changed to meet any kind of packing needs. With a zip for extra security, the bag's straps are easily adjustable to suit the occasion. Little uncommon currently but once you own it, you can't help but be addicted to it.
[sc:mediad]
Leather Tote Bags
These are spacious handbags whose handles are often large enough to easily be worn over the shoulders. Normally they have two straps. As they can carry a multitude of items, they are perfect for short trips. Normally rectangular in shape, they may or may not have inner compartments. Against open totes, the ones with zippers or magnetic snaps are preferred. Sometimes featuring decorative studs and tassels, and available in variety of designs and colors, they are a perfect light pack bag.
[Also Read: How to Pack Makeup while Travelling]
Leather Backpack (Rucksack)
Rugged looking and extremely stylish, their comfortability and convenience is unmatched. Various fashion articles for men's luggage claim it to be more spacious than a briefcase. Most of these have ergonomic designs and padded shoulder straps which takes adequate care of your back and shoulder by distributing weight evenly. Their various compartments not only facilitate organized packing but they are also a good protector of sensitive materials like laptop or other electronics. Ideal for varied environments, they are definitely one of the best leather travel bags for any weekend trip.
[Also Read: Bollywood Celebrity Fashion While Travelling]
All leather bags are versatile, durable as well as functional. They are an ideal blend of style and practicality. However, while shopping for a weekend leather bag, the type of leather should also be an important consideration because each shows different characteristics. So, which of these is your personal favorite bag for weekend getaways? Do share your views and experiences with us and our readers on the topic by writing in the comment box below.