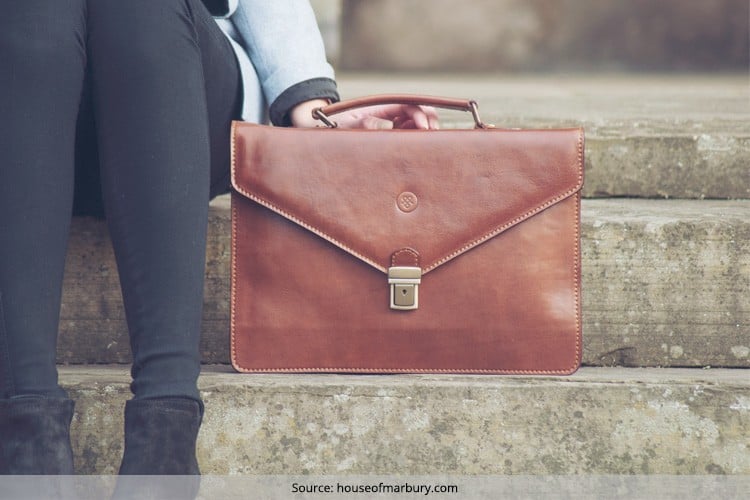 This article is dedicated to beauties with brains. Carry your fashion quotient even to your workplace. Ditch the humdrum backpacks and exchange them with feminine versions. We are not talking about carrying your handbag separately and hanging your laptop sleeve on another shoulder – well that's too much to balance along with home and work.
Opt for a leather briefcase bag that allows you to keep your laptop, make up essentials, official documents and other accessories all in one place. Better still opt for compartmentalized bags for better organisation.
[Also Read: Different Patterns Of Cross Body Leather Bags To Opt For]
Best Womens Leather Briefcase Patterns
Here is a list of 7 best womens leather briefcase patterns you can opt for your daily use and official meetings.
1. Floto Milano Briefcase
This Tuscan Red Floto Milano Briefcase can be an ideal companion for any beauty with brains. Fashioned in calf skin leather, stitch pattern edges and golden clasp the bag lends a rich, luxurious appeal to any office ensemble. Contemporary twist on the traditional briefcase, this designer bag comes in classic silhouettes but urbane finish. Slim and compact, the briefcase is designed for women to carry around their workstation in a smart and chic manner. This Italian women's leather briefcase comes with stainless steel and brass hardware for enhanced longevity.
2. Chanel Quilted Classic Leather Briefcase Bag
This attaché from Chanel comes with a classic contemporary appeal charming the beauties with brains. Functional, stylish, luxurious and designer this leather briefcase bag comes with all the right essentials. Great for the working urbane women who go places, this bag is ideal to carry documents, portfolio, ipad and more. Twist lock and compartmentalised interiors further enhance the convenience. Quilted exterior finish in luxurious leather further adds to its aesthetic appeal.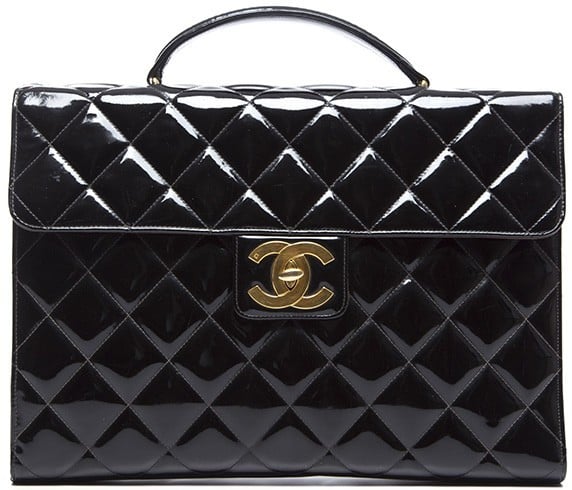 3. Ohba Cordovan Leather Briefcase Bag
From the house of Japanese luxury bags, this Obha briefcase looks ravishing in cherry red. With a front flap clasp closure. Compartmentalized pockets help to keep stuffs sorted and organized. The briefcase also comes with zipped pouch attached inside for enhanced protection and safety of important documents. Classic appeal handsomely coupled with loop handles and metal hardware lends the briefcase a daunting appeal. Pair it with your short or layered dresses for a glamorous appeal.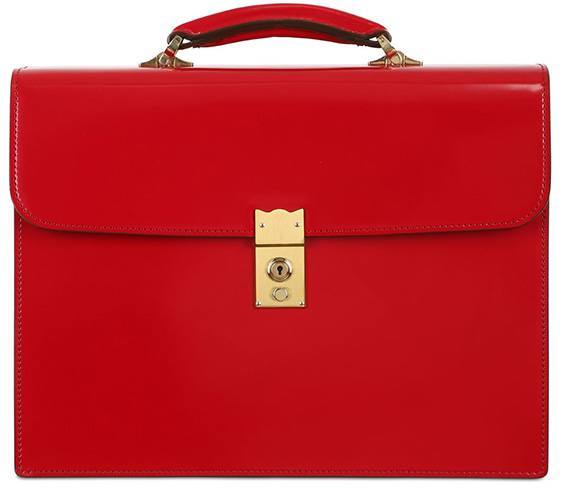 4. Shadow Briefcase From Aspinal Of London
For a timeless and classic appeal opt for this traditional satchel briefcase from the house of Aspinal of London. Compartmentalized interiors and practical features help the brained beauties keep her docs well sorted and organized for easy and quick access. Fashioned from high-quality, soft calf leather this ladies business leather bag boasts of smooth and silky interiors. Ideal for office use and moving around for meetings and work related travelling the bag is ideal to carry along your workstation essentials with you. Monotone shade allows you to team it up with any ensemble at all.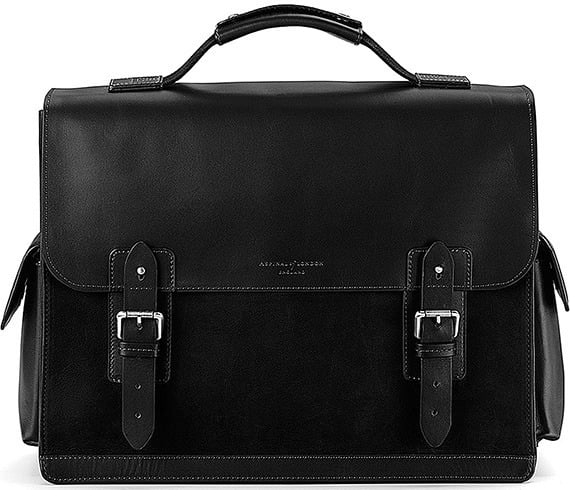 5. Givenchy Leather Briefcase Bag
Stylish and printed, this women's briefcase pattern is sure to allure every onlooker. High quality leather and constellation print make this black beauty a highly fashionable accessory. Team it up with your office ensemble for a classic chic appeal. Detachable shoulder strap allows you enhanced flexibility by allowing you to give rest you to your hands when some load is shared on shoulders. Take it to your office meetings, conferences and official trips and leave a remarkable impression on your clients with your style quotient.
[Also Read: How You Can Preserve Your Expensive Leather Bags]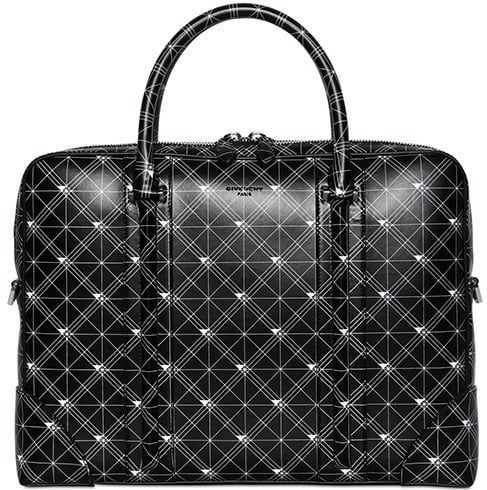 6. Pratesi Polished Briefcase
When all you need to carry is some official documents and small accessories but got an important meeting to attend, you can never fail to make an impression with this small but significant Pratesi Polished Briefcase. High-class leather and rich auburn colour with thick sturdy handle lends your personality a signature style. Made in Italy, polished surface the bag further heightens its appeal.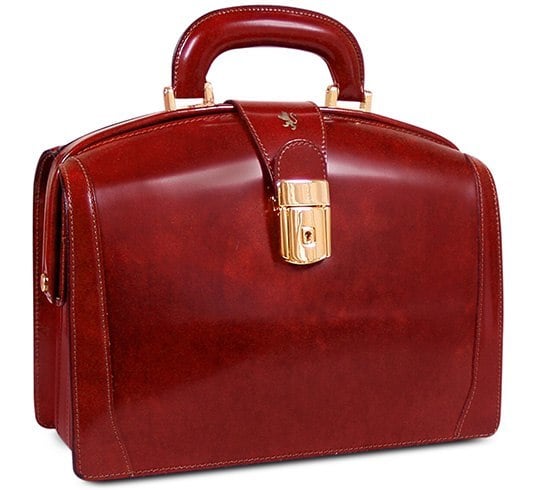 [sc:mediad]
7. Lulu Guinness Eddie Briefcase
In a size that is practical today, this briefcase from Lulu Guinness is a sophisticated choice for your office. This polished and high in fashion Eddie briefcase features Perspex cut-out pout shaped clasp that further accentuates the aesthetic appeal of this office bag. Decked with vintage gold hardware, this stylish leather briefcase will perfectly complement any office ensemble. Cut-up logo print dictates the designer brand's presence. Along with superior functional appeal, the bag is highly functional too with its single handle and detachable shoulder strap.
[Also Read: Leather Office Bags Every Working Woman Should Own]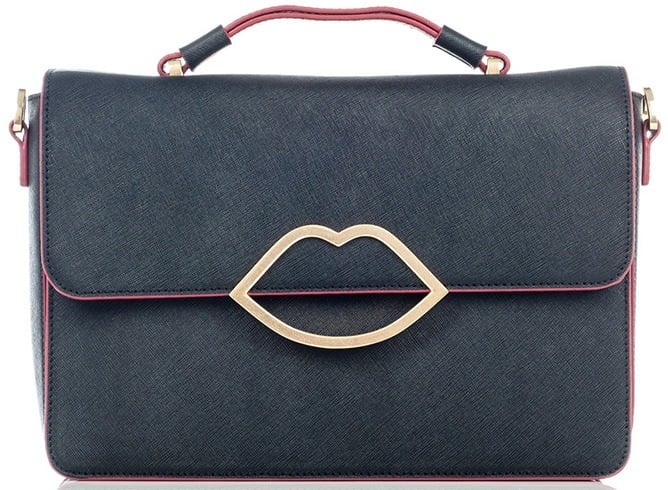 These designer leather briefcase bags are an eye candy – a delight to carry and highly functional. Look professional, suave, powerful and daunting by making small changes to your office style quotient.