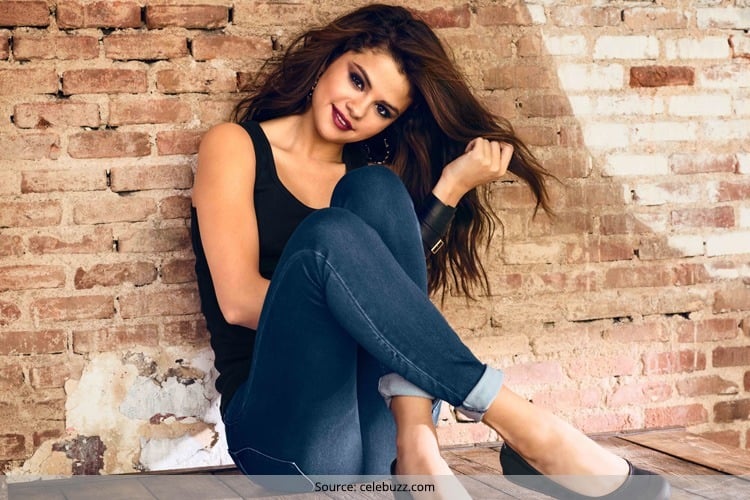 She sang many songs on the ballads of love and won the hearts of teens and PYTs across the world, and in India too she has quite a fan following. We are talking of the cute and innocent looking Selena Gomez, who doesn't need a man to create an identity. Blossoming into a woman and showcasing her sense of style through Selena Gomez fashion, we now bring to you her various look which you could seek inspiration from and wear for college.
[Also Read: How To Do Selena Gomez Hairstyles]
All About Selena Gomez Fashion Style
Read on and get inspired by the various Selena Gomez fashion style looks that could turn many heads at your institute when you wear them right. We encourage you to carefully look at the style statement the trends of Selena Gomez fashion makes, and customize them as per your needs.
1. Knotted Tops And Black Skinnies
Perfect for any month of the year to wear, a knotted top in gray and black skinnies for the legs with sneakers would be an apt street style statement, don't you think?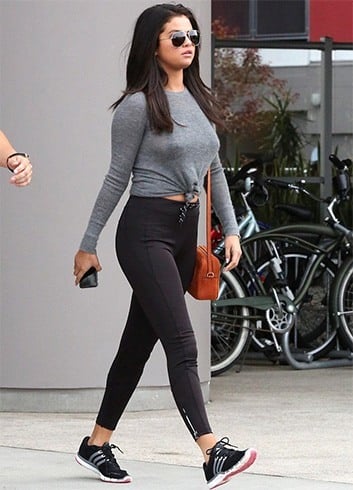 2. Bell Bottoms For The Feet And a Stole
Try the retro touch by wearing bell bottoms for the legs and a singlet or a strappy number for the top. To keep warm, you could throw around a pashmina or a crocheted shawl.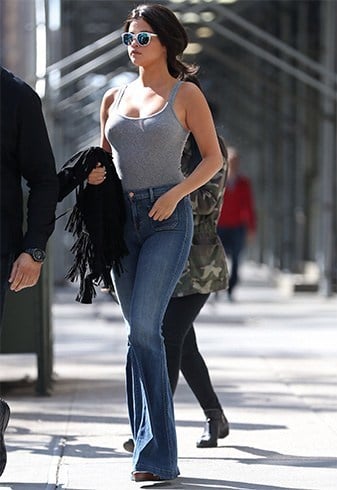 3. Ripped Denims And A Coat
College functions are a glam sham affair and you wouldn't want to dress down, or else the eyes around wouldn't be on you. Sporting a black top with ripped denims and a white coat for cover, Selena makes herself profoundly beautiful.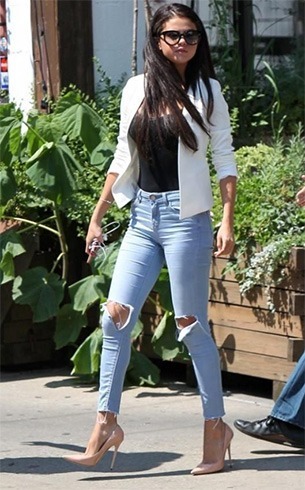 4. Hot Pants And a Statement Necklace
Pretty much a coffee with the girls affair down the road, the statement neckpiece and hot pants are eye grabbers for sure.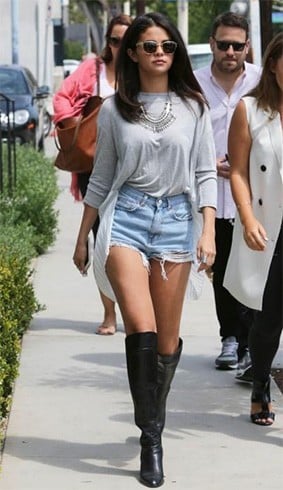 5. Boots And An Oversized Cardigan
To keep warm and look chic at college, you could wear gray leggings with boots below and a simple flowing tee in batik prints on top with an oversized cardigan for cover and warmth.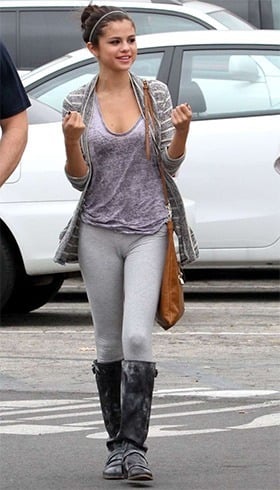 6. Net And Lace Rompers
Ditch the boring old printed rompers or the batik and bandhini printed ones we usually see around. Let's take a twist and turn the tables on fashion using inspiration from Selena Gomez fashion style files this time. A net and lace romper for the college pool party gathering is a haute statement, don't you think?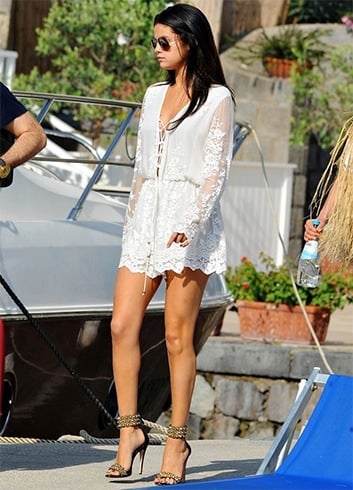 7. Black Long Sleeved Dresses
A must-have in our wardrobes, especially when prince charming in college is ready to take you out on a date! A black long sleeved dress speaks of sophistication and glamour like no other ensemble can!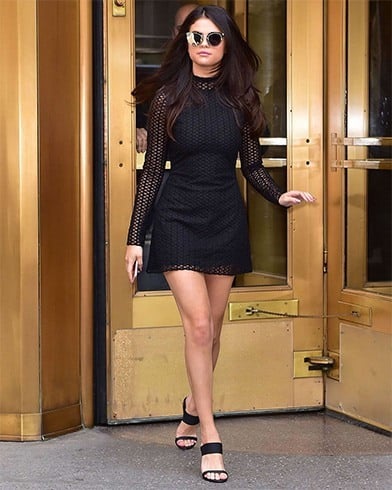 8. Party With The Girls In a Black Cardigan
Planning to party at your friends place tonight? Hot pants with a black oversized cardigan would be one of the best ways to stay warm and chic this winter.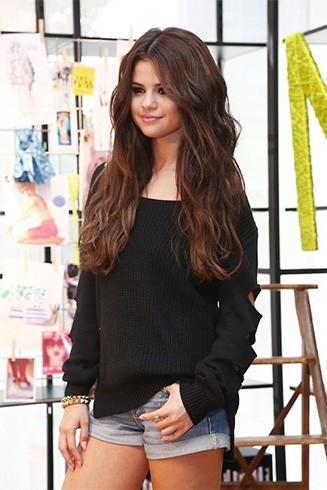 9. Internship Dressing
Interns need to be taken seriously, which is why dressing up right for the workplace is a must. A tartan shirt with black opaque leggings helps keep the chills away for sure, and ups the ante when it comes to fashion and style.
[Also Read: Selena Gomez Red Carpet Looks]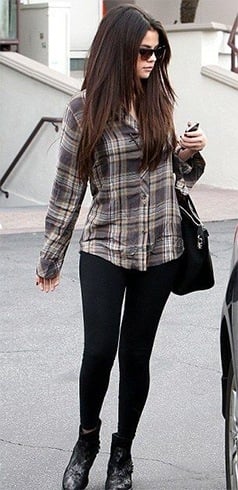 10. An All Black Jumpsuit
For a formal do at college, an all black jumpsuit gracefully adorns the body and makes the fashionista in you highly pronounced.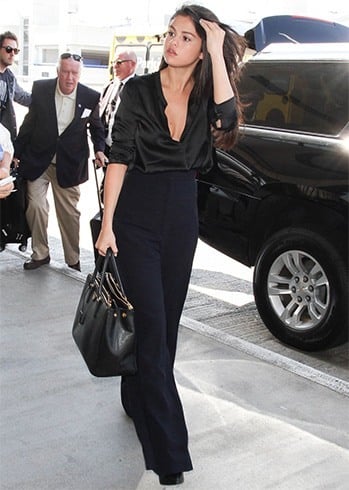 11. Tasseled Spaghetti Tops
Tasseled spaghetti tops can work like magic when paired with skirts, shorts or leggings.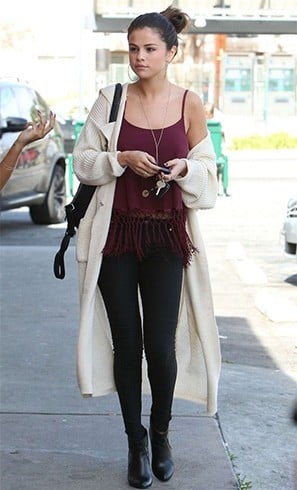 12. Printed Jackets With Hot Pants
Try out a range of metallic printed jackets to wear with hot pants or denims and a sleek white top!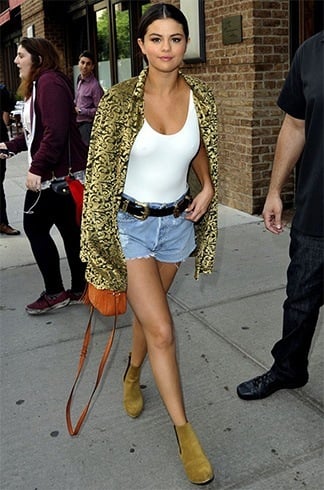 13. Retro 70s Rompers
Bring back the retro 70s with a bang, in rompers with psychedelic prints and quirky shapes
[Also Read: French Women Style]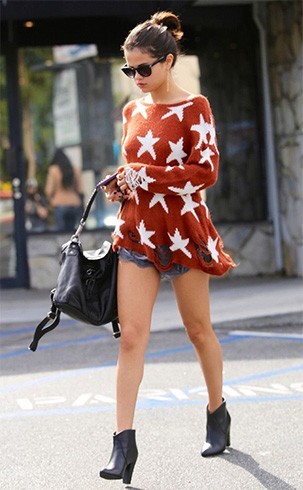 14. Pleated Leather Skirts
The ultimate in fashion- pleated leather skirts with heels and a crop top in gray or beige, sensual we say.
[Also Read: Taylor Swift Red Carpet Moments]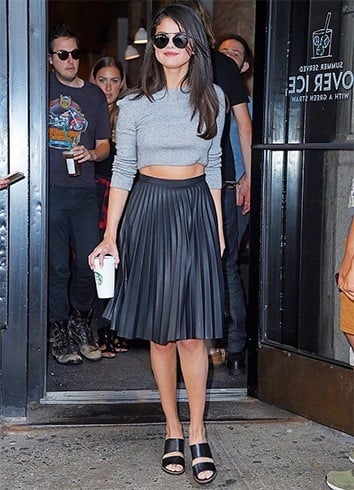 15. Harem Pants And a Crop Top
Solid coloured harem pants and a white crop top as seen on Selena Gomez gives us an idea on what to wear for the summer months, doesn't it?
16. Tan Sweaters And a Beige Skirt
We wonder who made this style statement for Selena, but it sure works like magic to up the ante when it comes to the various looks of Selena Gomez dresses for an idea to steal from.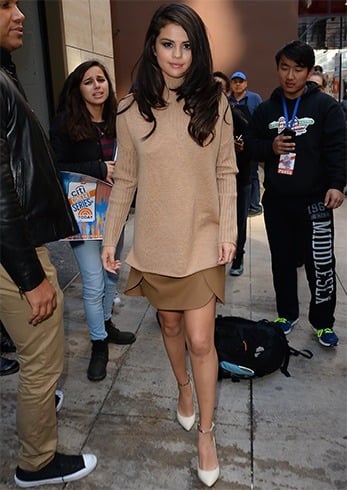 17. Black Pants And a Plunging Top
What do you get when you pick a pair of black dress pants and deep plunging top? A divaish style of course!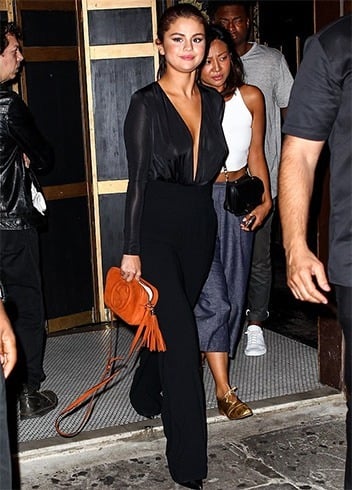 [sc:mediad]
18. Aztec Printed Long Skirts
Following her roots, Selena flaunts the Aztec printed long flowy skirt in all her feminine ways and completes the look with a knotted top!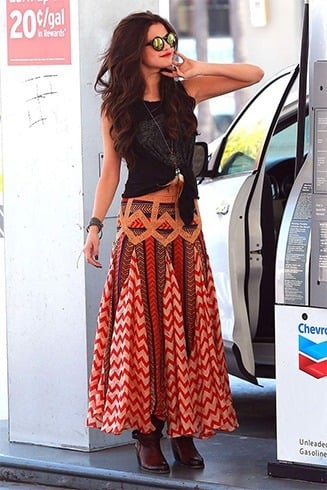 19. An Emerald Dress Skirt For The Party
Parties would happen many times when you are in college, and for that you need to have a dress skirt as well.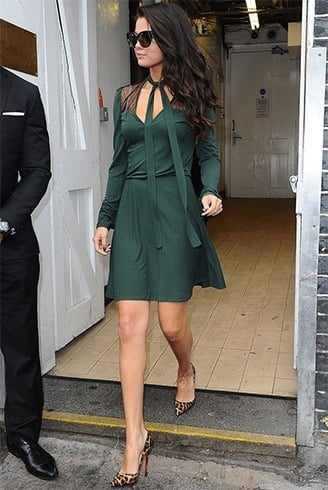 20. Topknots And a Dress
Not just any dress but a red circle printed one with blue base. Topknots for sure make her look haute, but this is one of the many Selena Gomez outfits you could try to wear next year for the spring festival season in college.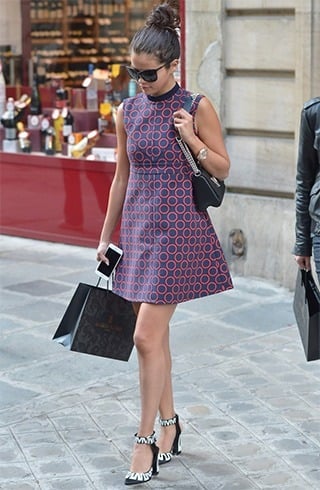 Had fun with the twenty chic and casual numbers that are so elegant? If yes, please do use the various Selena Gomez fashion tips on styling right and make 2016 the most happening one.
Image source: pinterest.com