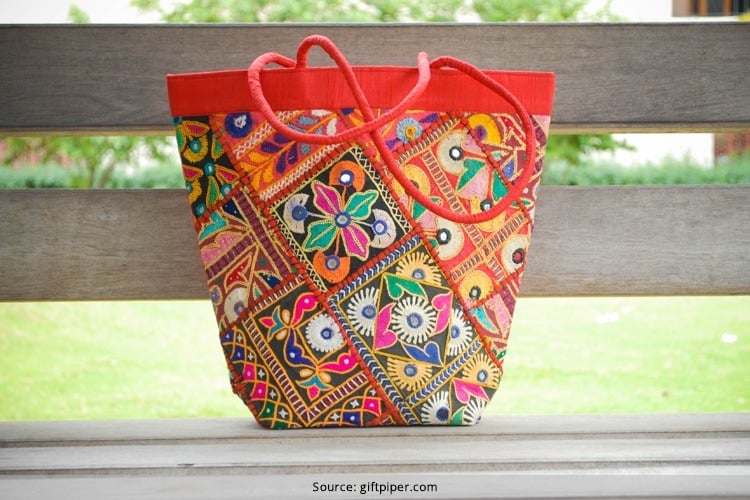 If you think needlework is a traditional art which has its place only in artistic mantelpieces and linens which are now being classified as vintage, well, think again. It is a craft which is much in fashion and revamping old stuffs to lend a renewed look. Moreover, it is changing addresses every day, from adorning your sarees, kurtis, blouses and tunics, thread work has come a long way to give new dimensions to modern day accessories, and its new destination is bags! Got old, boring bags stashed in your wardrobe? Give them a new life with contemporary handbag embroidery designs, patterns and crafts. Wondering how handmade embroidered handbags can gel well with your chic attire?
WE WILL GUIDE YOU ON HOW YOU CAN PEP UP YOUR ENSEMBLE WITH COLOURED YARNS AND FEW POINTED NEEDLES: HANDBAG EMBROIDERY DESIGNS
How Bags Embroidery Design Can Jazz Up Your Look
Ribbon Embroidery for Vintage Charm
Give your old tote bag a new leash of life with ribbon embroidery technique. This beautiful antique decorative stitch lends a romantic touch to accessories with its delicate folds and sophisticated finishing. This old art can be used to create beautiful floral arrangements on your handmade embroidered handbags. Use silk ribbons to add a touch of elegance. For that extra bling effect you can add some rhinestones and beads too. Easy and fun to do, even a novice needlework artist can work wonders when creating handmade embroidered bags.
Mix the ribbon embroidery technique with straight stitch, lazy daisy, stem stitch and French knots to create that perfect floral enigma on a flat coloured tote bag. When combined in different stitches the ribbons give a different effect each time. You can even tie a silk ribbon bow around the width of the edge for an enhanced aesthetic appeal.
[Also Read: Tips For Hand Embroidery Designs]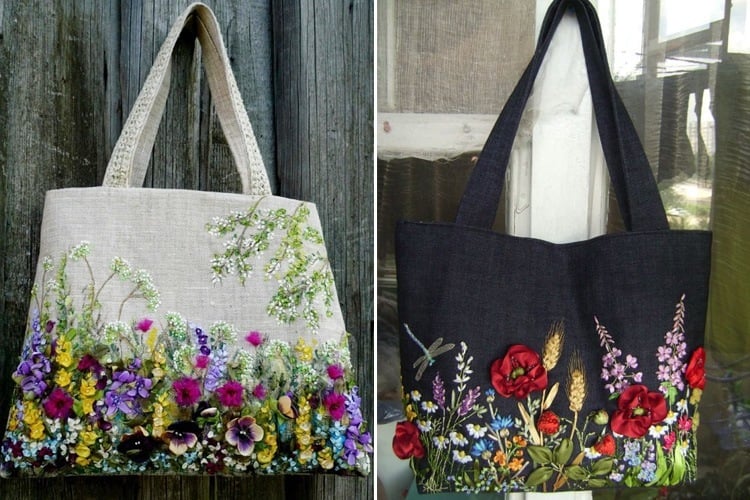 Monogram It
Give a personalized touch to your old tote bags, envelope clutches, weekender bags or cross-body purses with your name initials embossed on them in a stylish manner. Not only will the embroidery bags look unique but beautiful too. You can sew in the pattern with pre-set machine embroidery patterns or draw your own design and carve the initials.
[Also Read: what handbags do celebrities carry]
You can use this personalized DIY technique for your bridal gifts, holiday presents or for personal use. This memorabilia will secure a spot in cupboards and hearts forever. Stencil with a grease-proof paper doily, carve a border design, add an initial and voila! You are good to go. Make sure that you use only mono-coloured thread, using colours in vivid shades can give a very tacky look to your handbag.
[sc:mediad]
Thread in Leather
Embroidery can be boring and mundane, but it may not be. Why not give your worn out leather bags a dose of imaginative incentive and revamp its look to chic-urbane one? Are you wondering what has embroidery got to do with leather? Hell yes, it can work magic on leather. Plain background, boring pattern but rich texture and luxurious to touch – that is what leather is about. Create a stylish personalized piece with purpose using colourful threads and hand embroidery stitches. Trace a pattern and work your thread in chain or stem stitch. Alternately, you can choose a crochet pattern or an embroidery patch and sew it through. Give your mundane leather bags a vibrant touch and chic appeal with simple tucks.
[Also Read: Embroidery Designs For Kurtis]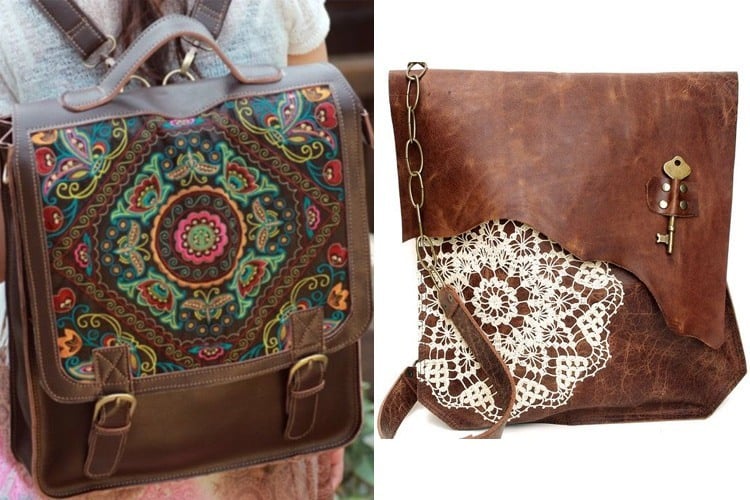 French Embroidery Style
Got old sachets, jute bags, bottle holder cases or coin purses? Revamp the pouches with French embroidery stitch and use them as gift holders or as presents itself this holiday season. Handmade embroidered bags hold a special place and are much appreciated by all. So why not clear up some space in your wardrobe, hone your artistic skills and save some money, all at the same time this season.
Take out discarded, old, unused and stashed bags from your shelves – work colourful threads in some needlework crafts to create artistic gifts for your near and dear ones. French hand embroidery patterns are simple, easy-to-do and chic to look at. Minimalist thread patterns lend the accessories a gorgeous look – use shaded threads for best results.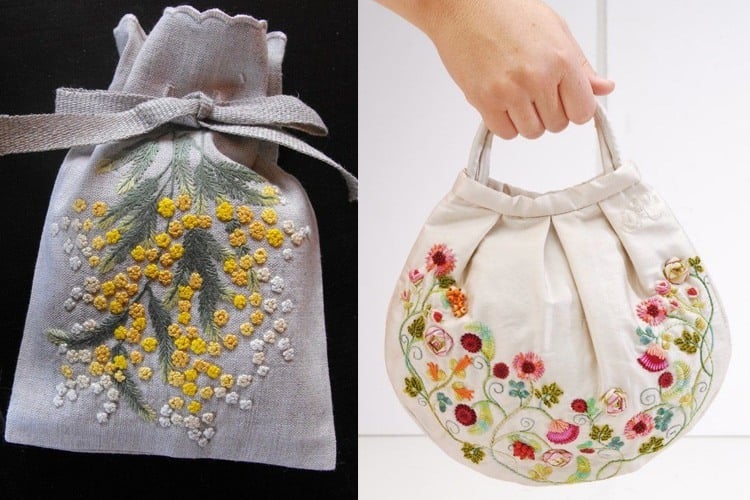 [Also Read: Embroidery Stitches]
Crewel Thread Work
Worked with woollen threads it lends an ethnic charm to your accessories. Handmade embroidered handbags in crewel stitch are classic beauties. So why not turn your old, mundane handbags to beautiful accessories by working needles in crewel pattern which uses 4 simple stitches in perfect coordination – stem stitch to give boundary, satin stitch to fill in, long stitches running perpendicular to add dimension, short stitch to nail down long ones. Trace any design lightly on the handbag surface and work your threads through in crewel pattern.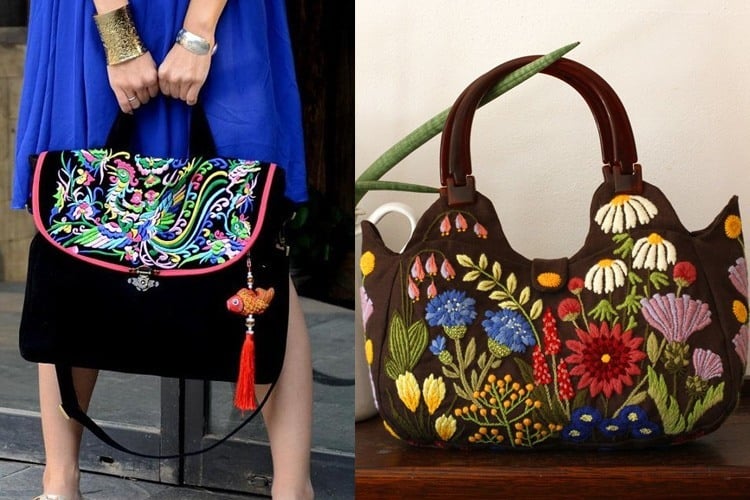 Handmade embroidered bags are the latest fashion around. Why spend thousands on something when you can refurbish old bags to uncover new trends.