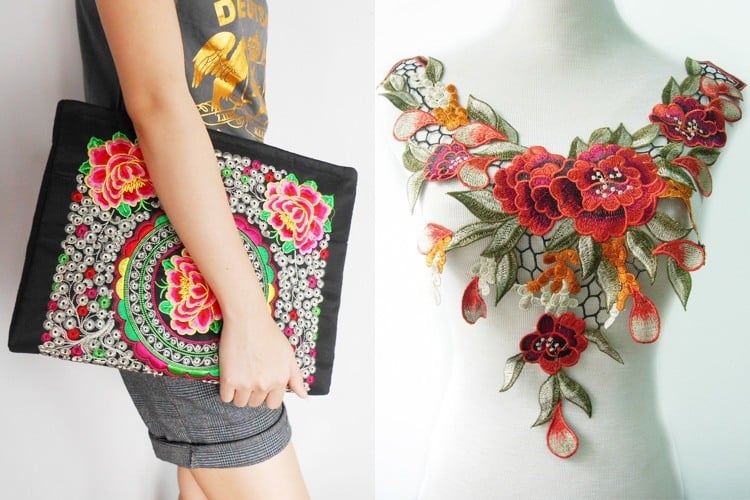 DIY crafts have always been a cool way to innovate and renovate stuffs around. Add a touch of personalization and make things look unique with simple needlework projects. This inexpensive way of prepping up items can add a dash of cool quotient to your creations and personality.
Machine embroidery designs can be used to make tons of things and we not talking about just aprons, cushion covers or likes. Here are some cool embroidered accessories for women that you can curate using some vibrant threads and a sewing machine! Gift it, flaunt it or simply preserve it. These cool embroidered women accessories can sure make you famous between peers and family.
LET'S CHECK OUT WHAT'S TRENDING UNDER EMBROIDERED HAIR BANDS, BRACELETS AND MORE:
DIY Embroidered Women Accessories
Embroidered Hair Bands
Jazz up your hairstyle with cool, funky latest fashion hair accessories. Create your own style statement with accessories that truly speak of your persona. By using less than one yard of fabric and few colorful threads you can glamourize your entire look, wondering how? Let embroidered headbands show you.
Fashion classic retro tiara look, curate an elegant monogrammed headband with initials in metallic yarn or simply work the thread to create its own magic with trendy machine embroidery designs. Take a headband that is not more than 20 inches in circumference and measures not more than 3 inches at its widest point when finished. Choose a stretchy material like spandex or jersey which has natural stretch. Express your spirit in style. Sew fonts, pre-set patterns, emblems or designs of your choice and voila you are good to go!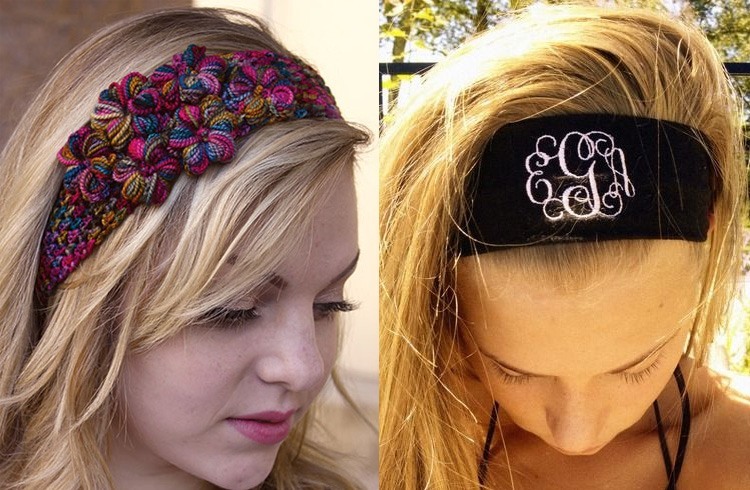 [Also Read: Tips For Hand Embroidery Designs]
Embroidered Bracelets
Make your own embroidered bracelets with some spunky beads, colored yarns and small pieces of cloth. Spice up any outfit with the right mix and match of bracelets. Whether it is a casual or an elegant affair, whether you are dressed in your mini black dress or slacks, bracelets can pep up the look just right. From slumber parties to street style fashion, you can now design your style statement. Cuff up your arms in sleeveless or mini sleeve dresses or don it on your wrist for adding the final touches to your look.
Unleash the mushrooming vintage heirloom jewellery trend by giving it a contemporary twist with embroidered additions or sew in a pattern with an array of blings and beads for a chic quotient. Handmade gifts always hold a special place, gift it on Christmas or on other occasions as a token of love and affection.
[Also Read: Handmade Embroidered Bags]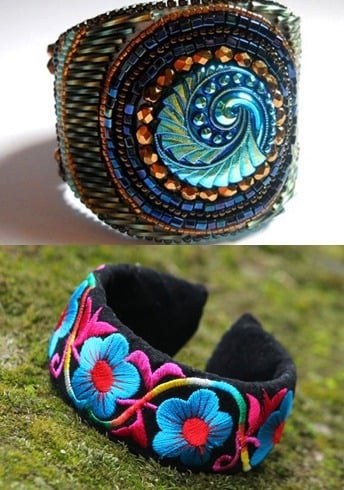 [sc:mediad]
Embroidered Purse and Bags
Pep up denim bags, add a touch of uniqueness to old clutches or simply enhance old-fashioned purses with needlework arts. Customize handbags to your liking with colored threads, a sewing machine and multiple needles. Easy, cheap and creative way to jazz up your handbags; choose from vast pre-set designs when using machine embroidery or use mixed embroidery techniques to create a unique pattern. If you are not a pro with ribbon techniques or sewing machines, simply trace design lightly with pencil and let the coloured yarns work easy needlework arts on the surface.
With cool crazy embroidery craftwork you can add typeface, change style and add a touch of bling to your bags. Turn any plain bag to a masterpiece with embossed monogrammed pattern, by adding a quote or simply adding a witty line! Instead of working directly on the bag you can also use a fabric and sew in a pattern then stitch it on the bag.
[Also Read: Embroidery Designs For Kurtis]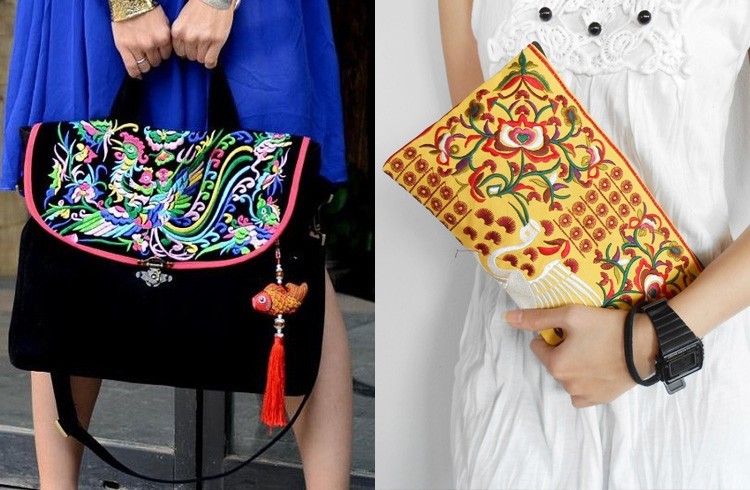 Embroidered Jewellery Designs
If you like to play around with fabric and thread you can create your own embroidered jewellery. It is incredibly delightful and fun when someone can curate their own customized ornaments. Well, you need not be a sewing enthusiast to make these tinkers all you need is some willingness and raw material, being good at embroidery is not a prerequisite at all.
Take wine-corks sliced to the thickness of buttons or simply opt for button kits with removable shanks. Cover them with fabrics and sew some fun patterns, however, instead of using plain fabrics take printed ones and work your needle to draw some cool stitches. Now assemble this assorted collection to finished pieces, string them together to form bracelets or necklaces.
Wasn't that fun? But, did you know you can create your personalized pendant sets too? Take 3 piece pendant frames available in any craft store. Sew in loved designs, monogrammed initials in a heart or any beautiful pattern. Work your thread in simple basic stitches to finish the embroidered design, cut the fabric to fit the frame and seal it close, voila! Your embroidered neckpiece is ready, sling it in a chain and flaunt your creativity.
[Also Read: Embroidery Stitches]
I hope the aforementioned fashion tips will help you curate one-of-a-kind embroidered women accessories. If you plan to try any of these do let us know, we'd love to hear the process it underwent. If you have any other personalized creation, share your click here in the comments section. Thank you for reading through!