Kurtis have become must-have attires for most Indian women. From college going girls to working women to middle-aged housewives everyone adorns this wonderful and comfortable garment. Of course, the design and the pattern for a kurta differ pertaining to age and body type.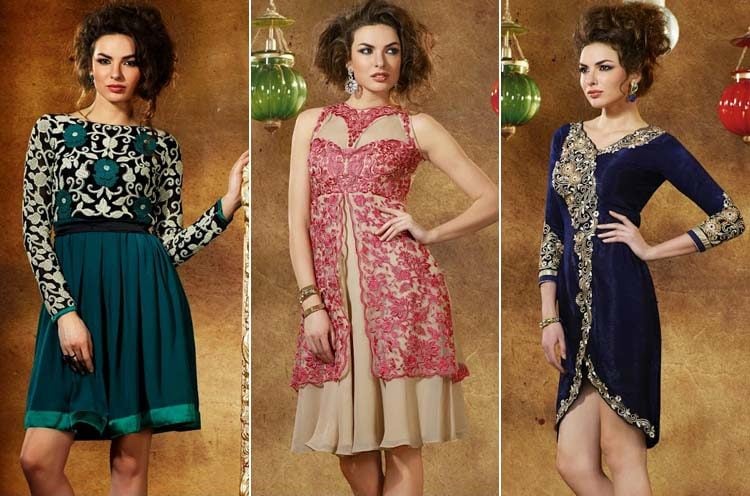 However, what is common and remains inseparable is the artwork or embroidery kurti designs. You can easily make a simple and plain kurta into a party wear or a chic outfit simply by adding some embroidery to it.
Latest Embroidery Designs For Kurtis
Being au courant with the latest embroidery designs is a must for any fashionista. To give you a low down on the trending designs that will turn your casual wear kurtis into haute couture, we conjured up a list.
Take a look:
Hand Embroidery Kurti Patterns
Let us show you some beautiful types of hand embroidery designs for kurtis to give it an extraordinary look.
From neckline to sleeve border to back design, embroidery can be adjusted anywhere in a dress. Embroidery is an art and an embellishment to add charm to a dress and it can look all the more charming if the colour combination is taken into consideration. Embroidery patterns can be extremely intricate and heavy to simple and casual.
Here are some different types of embroidery design which you can try for your kurtis.
1. Zardosi Embroidery
It literally means to sewing with gold thread in Persian language. Also, it is the most beautiful and elaborate embroidery work. If you try this hand embroidery kurti designs it will surely turn heads. For a heavier look for your kurti you can even have your entire kurti embroidered with beautiful motifs while, if you want some simple look go for the embroidery designs for kurtis neck line. Zardosi work is mostly done in gold and silver or other metallic colours. It can further be decorated with stones or pearls.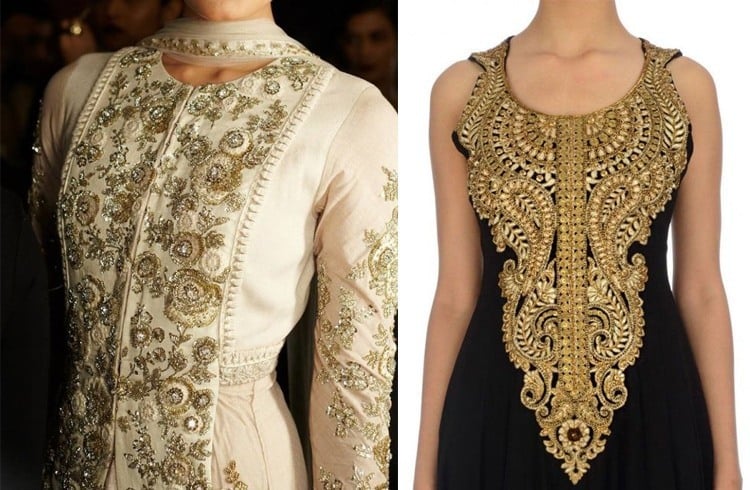 2. Mirror Work Embroidery
Mirror work or Shisha embroidery on kurtis is a very traditional kind of embroidery and can be found in different types of apparels. Though it is very simple, it looks beautiful on any fabric. This hand embroidery kurtis designs can be done artistically. Also the mirror can be of different sizes and shapes to suit your kurti. By a simple line around your neckline or on side cut of your kurti can certainly look charming. It can also liven up a boring kurti and make your attire shine.
[Also Read: What To Wear In Las Vegas]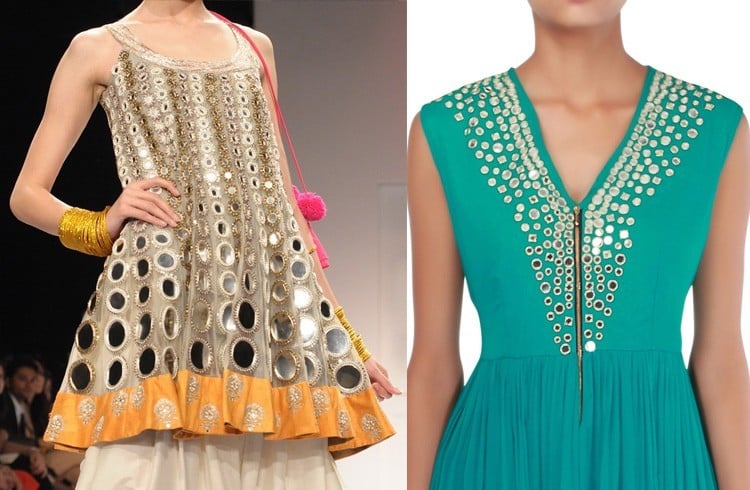 3. Cutwork Embroidery
This is the one for those who do not like too much embroidery or shiny work on kurtis. Cutwork is simply amazing and yet decent for formal as well as casual events. This embroidery design for kurti looks better on plain fabrics rather than printed material. You can use cutwork in your kurti's border or let your entire dress be filled with cutwork. In the latter case you can choose a different colour inner to make your work more prominent.
[Also Read: How to Style The Black Kurti]
4. Kantha Embroidery
This kind of embroidery is famous for saris with all over work. This work is speciality from West Bengal. However, kurtis with this kind of embroidery look gorgeous. The motifs in this work are mostly flowers and nature related themes. Sometimes it has geometrical designs also. The work is done in simple way and it gives a wavy texture to your fabric. Honestly Kantha embroidery design for kurti takes it to the next level. You can even wear a kantha embroidery jacket on your plain kurti.
5. Chikan Embroidery
Chikankari embroidery is the pride of Lucknow and has originated since the era of Mughals. It is beautifully done with white colour on fabrics which are light in weight. Nowadays you can find Chikankari work done in different colours along with different embellishments like sequins, mirror etc. It looks absolutely stylish when done in a kurti. Usually it is an all over embroidery done in beautiful freehand motifs.
[Also Read: Aari Work Designs]
[sc:mediad]
6. Kashmiri Embroidery
This magnificent embroidery comes from the most beautiful place in India. Kashmiri embroidery is not only known within India but across the world. It is an absolutely must have. Usually, done with different colours and appropriate shading, it is irresistible. Kashmiri embroidery designer kurti usually takes inspiration from nature with its theme revolving around flowers, trees, creepers, fruits, birds, etc.
7. Kutchi Embroidery
This world renowned embroidery comes from the state of Gujarat. What is stunning in this form of embroidery is its vibrant colours. It is usually done with more than three colours and embellished with mirror or patches. Because of its grandeur it looks beautiful on any kind of attire. Whether it is a designer kurti or a lehenga or a sari, it adds definitive charm.
[Also Read: What To Wear In New York]
These were some incredible embroidery kurti designs. Don't you think it should be a part of your wardrobe too?