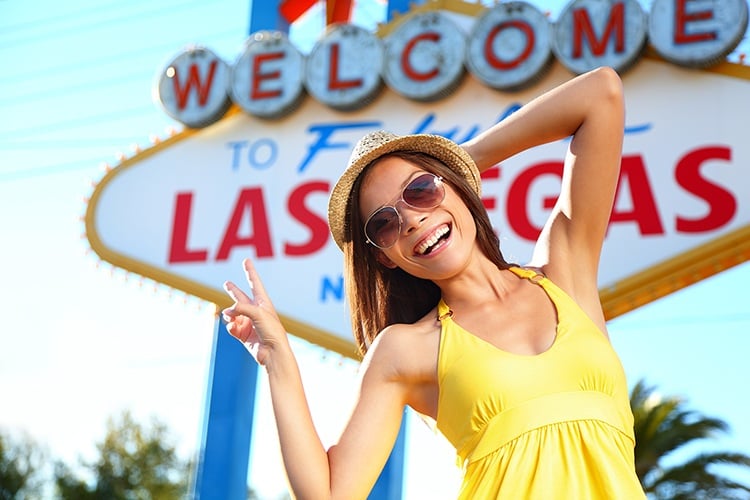 The credit for the diversity of Las Vegas primarily goes to the sudden upsurge in the "gaming" community that was set up a few decades ago, bringing in millions of visitors every year. And when there are casinos, clubs, and tourists from all over the world, at a single place, you would want your outfits to do the major talking. It's a place where you would want to look attractive. Whether it's the men jumping over counters to reach you, random strangers buying you drinks to impress you, or clubs allowing free entries to women, it's one place where the ladies are pampered to the full extent.
LETS CHECK OUT SOME LAS VEGAS OUTFITS
The question of what to wear in Las Vegas can get intimidating quite easily, and that is why we bring you some of the best tips regarding Las Vegas outfits.
Reduce The Luggage
Usually people make a weekend trip to Las Vegas, but under the immense pressure of looking fabulous, they get so confused, as to which outfit to pack and which to not, that they end up throwing in everything, just to be on the safer side. But on the contrary, over the 2 days you stay there, a-dress-a-day will be your principle, as you'll probably be sitting by the pool in your swimsuit all afternoon, and would perhaps not even touch the heaps of clothes you brought, until it's time to hit the clubs.
[Also Read: Ways To Dress While On A Beach Holiday]
It's Hot And Cold
Even though the face of Las Vegas changes at night, ultimately it's only a desert town. And deserts are moody. The temperatures during the day can get high enough to melt you, while at night you might end up shivering. This is why women can be seen wearing short skirts and light tops. Light colours are excessively used as it eases the pain of the ever rising temperature. It's also advisable to have a jacket at hand, just in case the mercury unexpectedly plunges down (damn you deserts!).
Footwear
Just as mentioned in the above, Las Vegas has two lives, one which is active during the day, while the other's alive at night. Unsurprisingly, these two different worlds lead to two separate kinds of Las Vegas attire, and every woman knows that if you "give a girl the right shoes, she can conquer the world". During the day, women prefer to put flip-flops or flats on, as it is the time to roam around the town just relax. So you need your outfit to be as comfortable as possible. But at night, Las Vegas witnesses all the ladies flaunting the best of their stilettos and wedges.
[sc:mediad]
Casinos, Clubs Fancy Restaurants And Las Vegas Shows
It might be your first encounter with such a thing, but many of the clubs and casinos in this town require you do abide by their dress codes. While casinos have a laid back approach towards the strictness of rules, clubs might simply deny you the entry if you are inappropriately dressed. Sport typical Las Vegas outfits like an all over sequin dress or body suits paired with jeans and the perfect footwear to burn down the dance floor. Casual wear like sneakers and torn-down clothes are a definite no-no. These places also see a huge number of people turning up in dresses that come under the category of "business casuals".
You can find many high-profile people in the casinos, which sometimes makes the environment a bit formal, even though it's not intended to be that way. Obviously, beat-up clothes and shorts are unacceptable, while on the other hand fancy dresses, blouses, skirts are a few things considered fine.
Not all restaurants have dress codes, but looking presentable has its own charm. Again, as usual, "Business casual" is the principle to go by when you are not sure about what to wear in Las Vegas. Completely opposite to this, the day and night time shows are entirely casual. The best way to not feel out of place, is to gel in with the local Las Vegas style dresses which are completely informal and funky.
[Also Read: Bollywood Actresses Vacationing]
Accessories
This town must have been given the status of "sin city" for a reason, but the crime rates have effectively come down. So, if you stay away from the dark places of this city, you are safe enough to flaunt delicate jewellery. In addition to this, a pair of cool sunglasses and a hat will not only give you a fashionable touch, but also forbear you the punishment of the scorching heat.
Don't forget that Las Vegas is all about creativity and expressing yourselves. Questions on what to wear in Las Vegas & costume ideas you are confused about, can be answered by just one line. Wear whatever makes you feel like a headliner!!