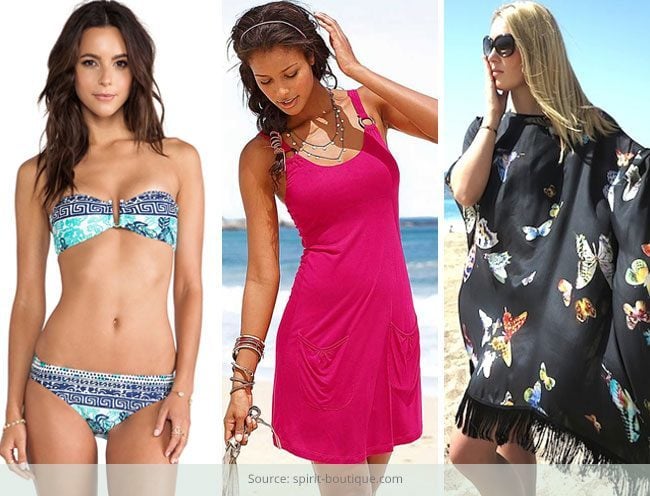 Beach vacation by all means gives a high. It's a passport to playing with waters, sea food and most of all indulge in a sea of adventures with family, friends, and dating partners. Think Miami or Goa, dressing up for a beach holiday is the most looked forward to event, right? The best part is the packing too. What to cart and how much varies from person to person considering the varied tastes we all have.
Couple of things are a must to enjoy the beach holiday. And that goes from a beach bag to sun hat to flip flops, you name it.
Style Code for Beach Attire
To enjoy a beach vacation, a bathing suit is given. However, easy dresses can double as an outfit and as a cover up too. Try shorts with a bikini top. Also wide leg pants can be super chic with a bikini top or a blouse. When it comes to basics, T-shirts and tanks in soft cotton are a key item, since they can be paired with almost anything. To maintain versatility, keep graphics to a minimum while solids and stripes do the trick every time.
1. Swimsuit
Going to the most favored beach holiday needs a good bathing suit because this is what you will be wearing most often. Check out this timeless white cool crochet cut out swimsuit to stand out at those pool parties. With tie side fastenings and removable padding for an added boost, it will look all the more lovable when worn with a floppy hat for added glam.
2. Kimono
This River Island Longline Lace Kimono has enough material to spend a lavish beach holiday in. The Black swirl and ombre tassel fringe makes it a fashion forward choice for beach and beyond.
3. Beach Dress
This beach-time khaki beach dress looks divine when split into three sections with a khaki skirt, pretty pink waistband and a white upper. The braided straps feature a stylish ring detail, and the V-neckline enhances the bust beautifully.
[sc:mediad]
4. Kaftans
Hand embroidered and embellished with a starfish motif on the hemline, this Elika Starfish Beach Kaftan Top can be worn as a short Beach Cover-up over a bikini or as an outerwear top over jeans or trousers. The three-quarter length sleeves and drawstring neckline add style and comfort. The unique V-shaped hemline hides the inner thighs whilst slimming the hips.
5. Beach Trousers
Slip into this gorgeous looking brown beach pants that have illuminated effects with colourful accents. It's a great style that drapes well to create clean, sharp lines. Perfect for swimwear, there is a smock insert on the leg and an elasticated waistband at the back.
What to Carry to Beach
Beach Holidays should be about relaxing and enjoying yourself. Whether it is beach dress, oversized sunglasses, wedges, you should be ready for anything the seaside holiday has to give to you.
Imagine yourself on the beach. What are the things you think need to be carried? Sunscreen is essential and so are beach towels.
Think about the duration of your stay and how quickly you change your clothes.
Take as many tops as you can for the beach trip.
Keep yourself prepared for the unexpected rain by packing minimum one pair of three-quarter cotton trousers as they dry up easily when wet and are comfortable to wear.
Pack in at least one pair of shorts (non-denim preferably) to use for going in the sea.
As a woman if you are self conscious about your bums, try wearing short style bottoms.
Be prepared for the monthly periods. Carry tampons with you as sanitary pads will make you feel sticky on the beach, and that will thwart you to go into the water unless you are wearing a tampon.
Dressing for a beach holiday can be made simple and fun. All you need is a mind of your own!