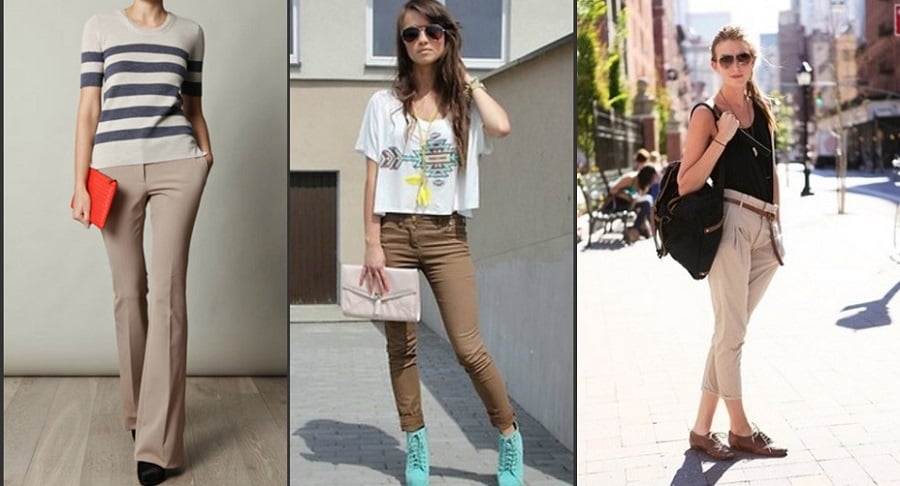 If you are looking for something fashionable for your corporate wear that can not only enable you make a style statement, but even give you a serious work wear look then khaki pants are your ultimate solution this summer. If you thought these trousers are a passé now and that they are only considered as unconventional business attire then I suggest you to read this post to understand the versatility of this fabulous pair of bottoms.
Outfit plays a major role in creating an impression at workplace. The way we dress up tells a lot about our personality, which eventually reflects in our career graph. Neither we should be too modest in dressing only to get a 'boring' tag nor should we go for casual wear and disrespect our corporate culture. Well, you can still afford to be caught by fashion police but not by your HR atleast for your dressing sense.
Over time, the humble khaki pant seems to have become a sort of accidental poster child for this homogenized business casual aesthetic.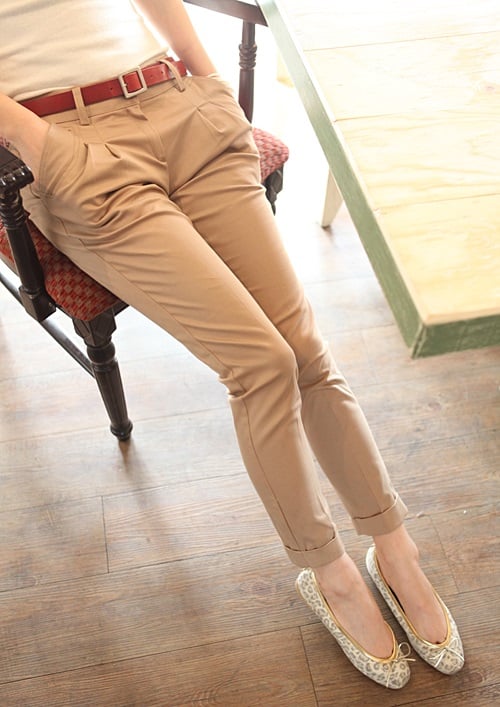 This is arguably true. The monotonous pairing of khaki pants with a polo shirt and pull over followed by a pair of loafers or even the less sartorially-feasible pair of sneakers by less fashionable females has actually been an inspiration for a perfect corporate wardrobe collection.
Today, even the fashion forward ladies working in MNC's, are opting for such humdrum sartorial statement which they believe to give them scoring points for their style quotient.
Even many a times, I too have showed up at my office in above mentioned set with khaki pants along with my pair of geeky glasses and statement-making watch!
Can you keep a secret?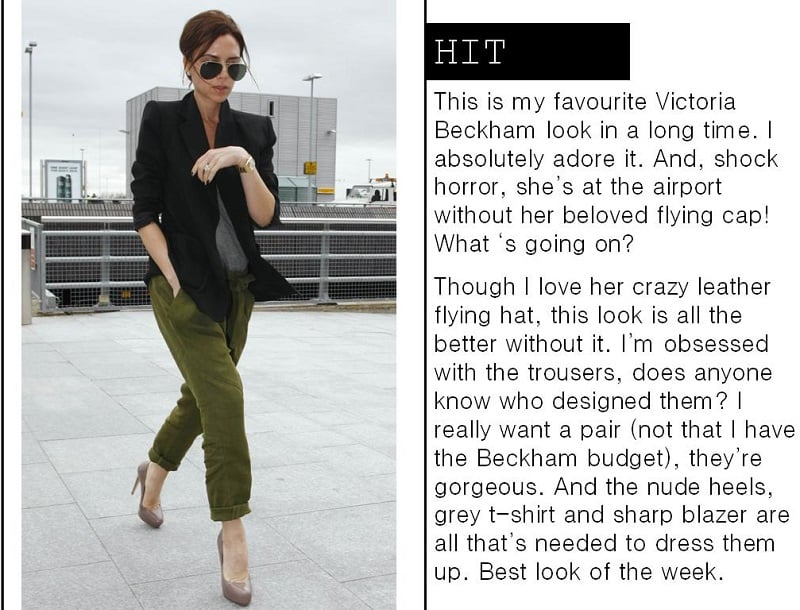 Just as celebs, even fashion editors (unless you are working for Vogue or Haper's Bazaar) inspire their readers hugely from the way they dress up. Even if they have just pulled out a mundane outfit with undone hair, their readers assume it to be the latest fashion they are unaware of and start following the same. And this is how a trend is born.
Keeping aside all the stereotypes, this niche of corporate fashion has eventually turned out to be classic in its sense.
In this post, I offer you three tips, which might give you some cues in styling your khaki pants in a whole new avatar. Continue reading!
Modern Cut – Take It As A Thumb Rule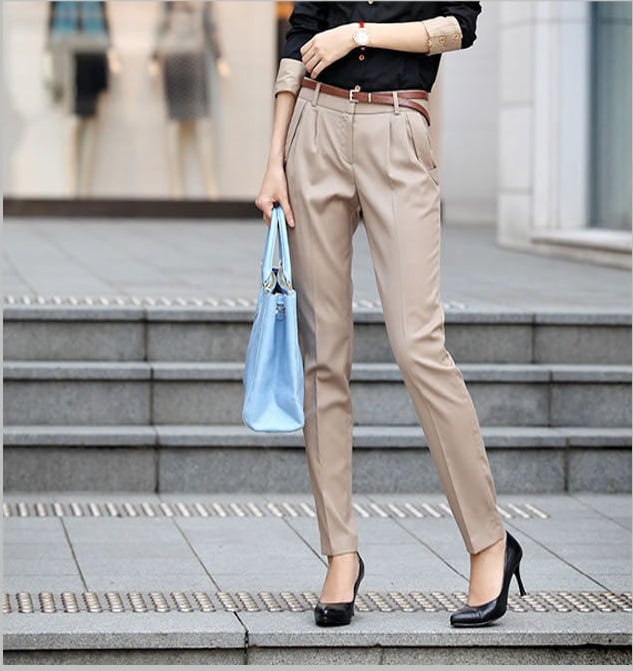 Buttoned-down pants are a strict no. The only way you can make khaki your classic wardrobe staple is by going with the cut that is trending and suits your body type.
You can take inspiration from the array of runway designs or even more convenient is visit your nearest fashion street. At street shops, you'll find everything from khaki skinny jeans to loose, billowing wide-legged trousers – there's something for everyone. So, pick the one that best suits your personality.
Ankle Length Cigarette Style
If you're looking for something that is both trendy and has stood the test of time then ankle-length cigarette-style khaki pant is the best option. This pair of bottoms incorporates the new age likeness of cropped trousers with a more classic slim silhouette that can be worn in several occasions, from dressed-down weekend outings to a business lunch.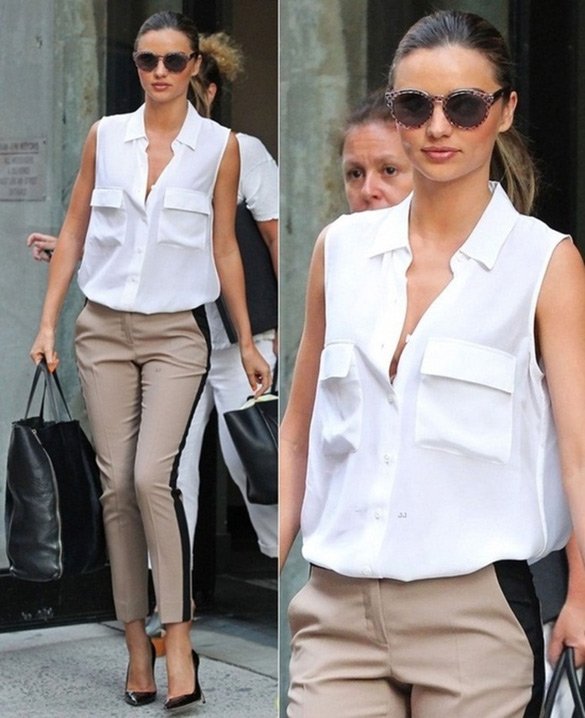 Go Pleat-Free
And if you're more interested in detailing then go for pants without pleating that gives an edge to your overall look. The sleek, fitted look of a pair of khaki pants or shorts with flat front in place of pleats is not only quite hot at the moment, but also figure-flattering.
Revamping Old Khakis
With a little know-how and bit of creativity, you can give your old pair of khakis a complete makeover. Take your pants to your reliable alteration shop and ask them to give it boyfriend style, distressed look.
Scroll down to find out how to wear khaki pants and what all you can pair it up with.
Casual And Chic
For a casual outing, wear khaki pants for women with a floral printed shirt. Roll up the khaki pants from the bottom and wear your favorite pair of ballerinas.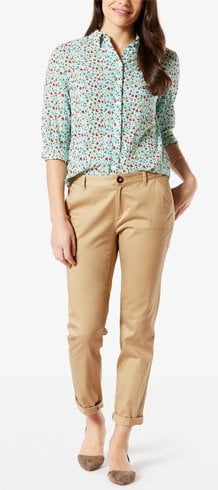 Perfect Lunch Date Style
Just like how a khaki pant is a staple wardrobe item, similarly, a denim shirt is also a staple wardrobe item. Mixing both these clothing items can give you the perfect khaki pants outfit.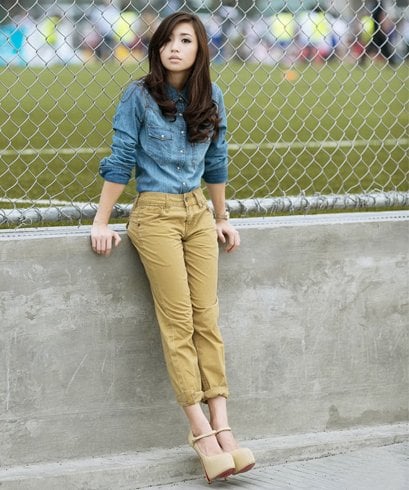 Work It Out At Work
Owning one pair of khaki work pants is a must for all working ladies. This is because it can be paired with almost all the colors. So whether you want to wear your black formal shirt or your red blouse or your blue top, the khaki pants would be ideal.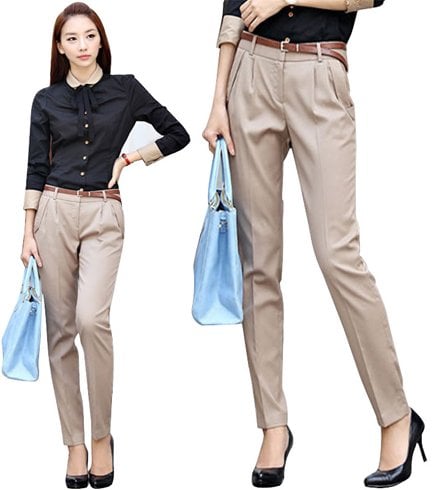 Hot And Chic
Put your best fashion foot forward by wearing a pair of skinny khaki pants teamed with a colored crop top. A slim belt and sneakers would complete your look.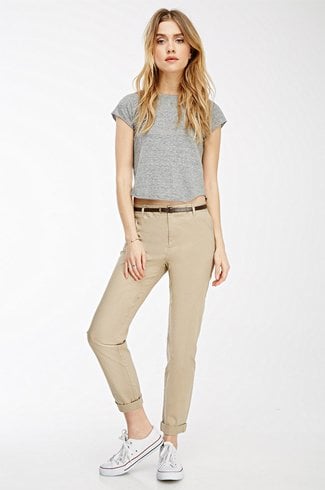 Street Style
If you don't like skinny pants then khaki cargo pants can be your best friend. Opt for a casual and tomboyish look with your cargo pants.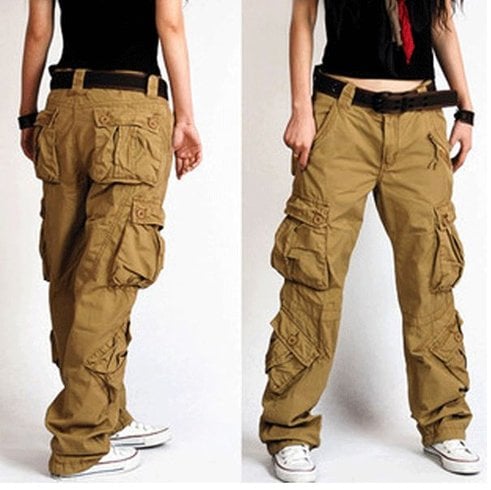 Whites On Khaki
Have a white shirt? Here are three different outfit ideas for khaki pants with white shirt.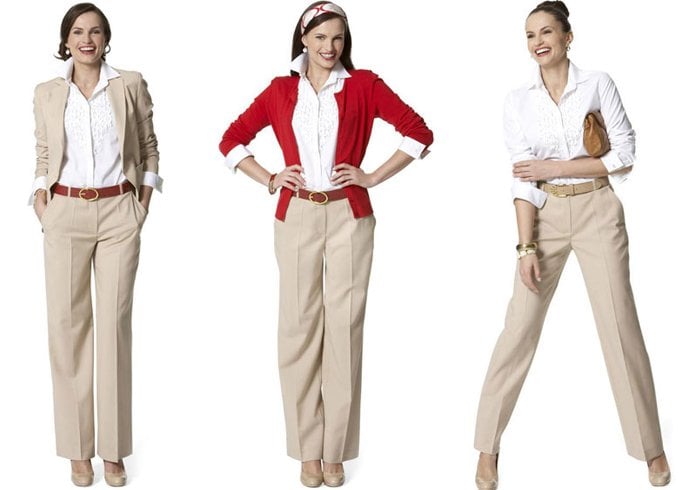 Biker Style
If you have a pair of khaki green pants, then wear a black t-shirt tucked in with a black leather jacket. Definitely and edgy yet classy look to flaunt!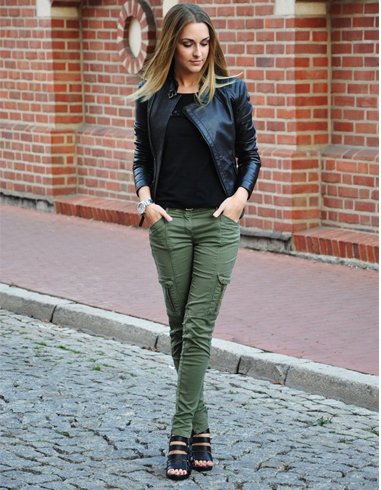 Smart And Elegant
Pleated khaki pants are perfect for office wear and would give you a more professional look at work.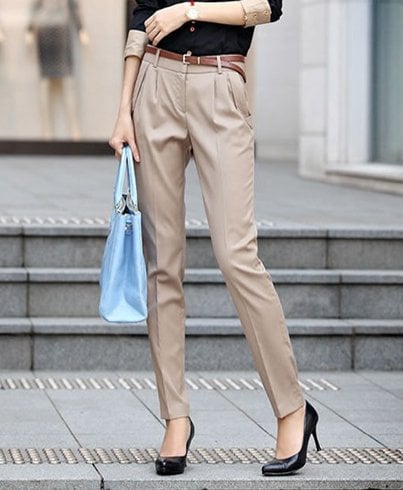 Shoes To Pick For Khaki Pants
Wondering how to choose and decide on shoes for khaki pants? Here is your guide!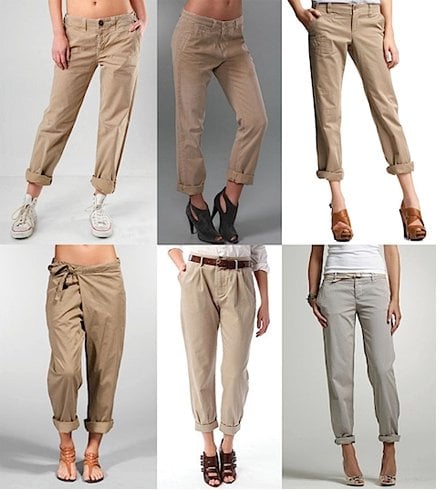 We love playing with the staple wardrobe items rather than splurging on new wardrobe items all the time. Khaki pants and black shoes are one of the most classic combinations.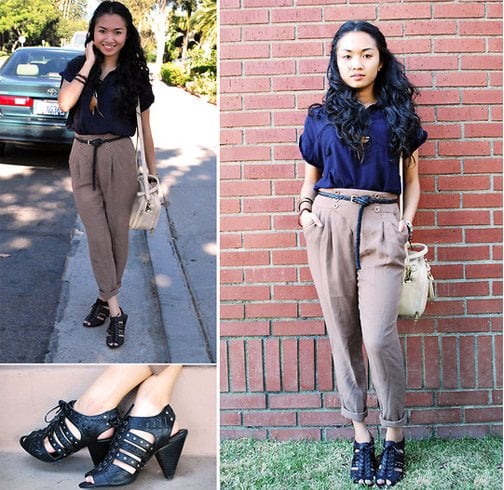 Now that you know all the various khaki pants combinations, do invest in a good pair of khaki slim fit pants or pleated pants or cargo pants.
Hope this helps!
Images Source: pinterest.com