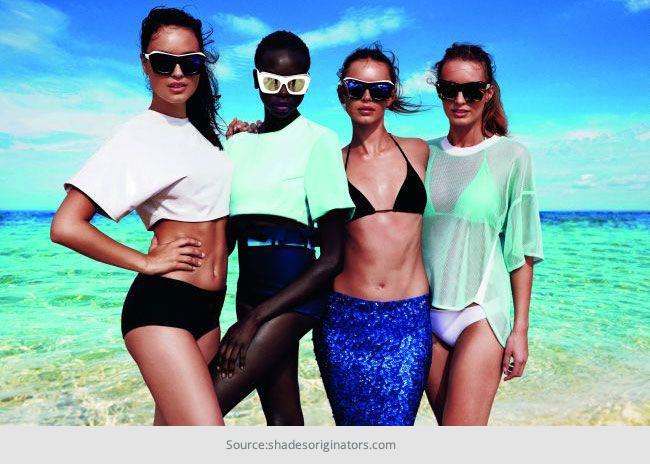 Think of your favourite celebrity, let's say Olivia Palermo, and answer with yes or no. Have you ever drooled over a pair of sunglasses your celeb has worn? Have you done this more than once, drooling over all pairs of sunglasses your celeb wears? Ever wondered how come she nails her shady look each and every time? Here's the answer to all your sunglass desires and dilemmas: no matter how spectacular some spectacles might be, they will never look good on you if they don't fit your face shape. Here's another question for you. Didn't you notice how Olivia Palermo has an eye for the cat eye design? Well, it's not only because she's a sexy kitten inside, but most importantly because she knows this design complements best her face features.
Here's how to do it yourself, finding the sunnies that look so good on you that will make others whistle & wink at you. We asked the people from Shades Originators for help, since they are so passionate about eyewear and spend all day long amongst curated frames, browsing through latest news and designs to complete their sunglass collection.
We listened, they recommended. So go grab your shades as follows:
SQUARE FACE SHAPE
Congratulations, the Ovals, Rounds and Hearts will get jealous of you for having the shape of most runway models. Your well defined face features make you stand out from the crowd. Do you see how your forehead, cheekbones and jaw are equally wide? Love that and learn how to put yourself out there with the right accessories.
Now Lady Gaga has the same face shape as you. You wouldn't say that from these pictures, right? That's because she softened her angular lines with her curvaceous frames.
Think how opposites attract and complement your square jaw line with oval or circular sunnies. Your perfect fit could be: round, aviators, cat eye, wayfarers.
Shades Originators DOs:
1. Go for normal to thinner frames and watch out where the temples are set. You might want to opt for frames that have the arms fixed at the center
2. You could also try frames that have the arms fixed higher, connecting at the top of the frame. Choose frames that are slightly wider than your cheekbones
Shades Originators DON'Ts:
Besides the obvious no D-frame, rectangular or square frames, avoid anything that draws attention to the lower part of your shades like color accents at the bottom rid or low set arms.
OVAL FACE SHAPE
OK, you don't have to brag about it to the other face shapes, but you can practically pull out any frame style you want. Your egg shaped face, wider at the cheekbone area and slightly narrowing towards the top and bottom, is good to go with… you name it… round or square and anything in between, coloured, clear, tortoise or accessorized, mirrored, gradient or plain smoky lenses.
To all the oval face shaped league, you take it easy like Kate Moss there, looking perfect in a classy look with her black cat eye glasses or take it easy on the eye like Beyonce, sporting a more dramatic tortoise look.
In theory you have high compatibility with any sunglass design, but pay attention to the next dos and don'ts…
Shades Originators DOs
1. We love how over-sized glasses look on an oval face. They cover the area between the eyebrow to the cheekbone
2. Always pick the frames that are as wide or wider than your cheekbone
Shades Originators DON'Ts:
Say no to narrow frames, they don't do your egg shaped face any justice uncovering your full cheeks and narrow eyebrow line.
ROUND FACE SHAPE
You lucky one, the round faces hardly show any signs of aging over time. So hello cheeky beauty! Celebrate your curvy facial features by complementing your full cheeks and well shaped jaw line and forehead with the proper shades to shine through.
Just like in Michelle Williams case here, where there is too much sweetness in a face contour, one tends to balance it with sharp lined accessories.
The soft angles of your face are the perfect fit for D-frames, square, wayfarer, rectangles, basically anything in angular design that eyewear has to offer.
Shades Originators DOs:
1. First look for designs wider than your face. Then match your roundness with sharp angle frames
2. Make sure the bottom rim is above your cheekbones
3. Watch for the arms on your sunglasses, you want to choose ones with high positioned sides
4. Or those connected at the top
If the arms are chunky, coloured or decorated, it's for the best.
Shades Originators DON'Ts:
Don't go round and round and round. Remember, opposites attract so don't repeat your features with the glasses on your face. Big no for small frames, they will give you a flat, dull look. And you might want to stay away from shades with colour or décor emphasis on the lower rim.
HEART FACE SHAPE
Did you know that Reese Whiterspoon, Scarlett Johansson, Marilyn Monroe, Olivia Palermo and Naomi Campbell have the same face shape as yours? Welcome to the league of the hearts and make the most of your greatly structured cheekbones! Your face contour, widest at the temples and narrowing as it descends towards a pointy chin, puts them into spotlight.
So here is why Olivia Palermo is mostly spotted with cat eye sunglasses: as a general rule, one always has to wear frames equally wide or preferably slightly wider than their face. And since the heart shape has its widest line in the upper part, why not outrun a wide forehead with a design that brings an extra rim at the temples? Besides cat eye, the perfect fit for your heart face would be aviators and wide wayfarers.
Shades Originators DON'Ts:
Run away from sunglasses with chunky, wide decorated sides or upper rim. Also narrow lenses won't do you any good aesthetically speaking.
Shades Originators DO's:
1. Frames wide at the upper rim
2. Lens with round bottom edges, slightly elongating downwards
3. Slim to normal rims and temples
4. Our best bet is that aviators, will go straight to your heart