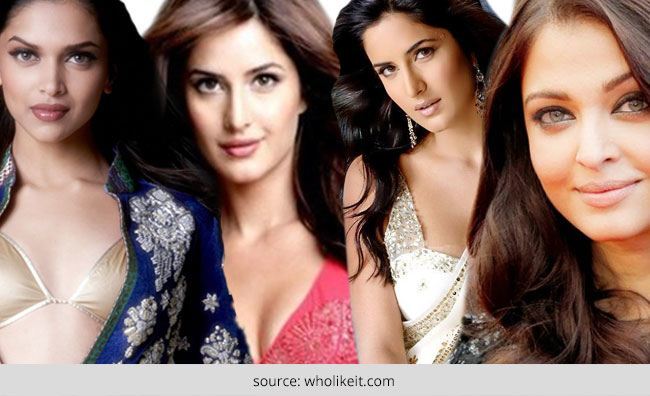 We all know how much an IT professional earns per annum, at least we have an idea. Lately, we have also got to know how much money every Bollywood movie is making. But do we actually know how much the breath – taking actresses are demanding for their flaw-less acting in these blockbuster movies of 2014?
If I am not wrong, Bollywood is the second most powerful film industry in the world with maximum number of movies being released every year. And it's pretty obvious to see the films making crores of rupees by being released in India and overseas alike.
From my experience, I want to add one more layer here. When we are talking about the grandiosity of Bollywood, I have seen how in multiplexes of Canada, where only 1-2 Hollywood movies would be running, there are at least 3-4 Hindi movies running in different screens of the same multiplex.
Have you ever thought when movies are making in millions, how much the Bollywood actresses would be earning? Let's find out the highest paid actresses from Bollywood and their paychecks. Continue reading!
1. Deepika Padukone
Rs. 8 to 9 Crore per Film
When the supermodel turned actress debuted opposite SRK, everybody knew that the girl's career was set, but who had imagined this South siren would one day rule Bollywood by taking the highest paycheck. And with back to back super hits like Chennai Express, Yeh Jawani Hai Deewani, Ram Leela and upcoming movie Happy New Year, Deepika Padukone is surely the most bankable actress in the industry.
2. Kareena Kapoor
Rs. 8 to 8.5 Crore per Film
I cannot say the Begum is Bollywood's undisputed queen, but she has certainly been ruling the industry for more than a decade now. Right from her 'Poo' days and her zero figure sensation to her big budget movies and her marriage to Saif Ali Khan, Bebo's life has been outlandish. And when Bebo reportedly charged 8 crore for her Heroine movie, she proved her power in the industry.
3. Priyanka Chopra
Rs. 7 to 8 Crore per Film
Looks like Priyanka Chopra aka Piggy Chops is in the limelight for all the right reasons nowadays! After becoming the first Indian model to endorse Guess and releasing her third music single and being voted as "Maxim India's Hottest Woman of 2013", Piggy Chops is now all set to release her much awaited movie, Mary Kom.
For her Guess photo shoot, Priyanka was shot by none other than Bryan Adams. Piggy Chops had this to say on Bryan Adams,
[sc:mediad]
"It was exciting to shoot with Bryan. He was so much fun to work with. Watching him in action as a photographer was very inspiring. We both seem to love to push the boundaries of our crafts. He is a successful global artiste and an accomplished photographer. He chased his passion, tried new things and is hugely successful in all his chosen fields… in some way, it made me feel like I wasn't crazy for trying all these new things after all."
The former Miss World cum actress cum pop singer is now riding high with her glorious career. We wish PeeCee luck for her upcoming movie.
4. Katrina Kaif
Rs. 6.5 Crore per Movie
Katrina's career took a peak with her blockbuster movie Namastey London, for which her personality and British accent perfectly suited the character. From Namstey London to Jab Tak Hai Jaan, there has been no looking back for this girl. While she is now busy shooting her new movie with Hritik Roshan, she is claiming 6.5 crore per film apart from charges for endorsements and promotions.
After having paired with almost every superstar and with back to back hits, Katrina Kaif is certainly one of the most bankable names in the industry.
5 Aishwarya Rai Bachchan
Rs. 6 Crore per Movie
Once who ruled the Hindi film industry and was considered as the best bait by the producers, Aishwarya Rai Bachchan today is ranked at 5th in the list. With a paycheck of 6 crore INR these days, Aish is all set to make a comeback after a long gap of enjoying her motherhood.
So this is the list of top 5 highest paid Bollywood actresses of 2014! Hope you enjoyed!!