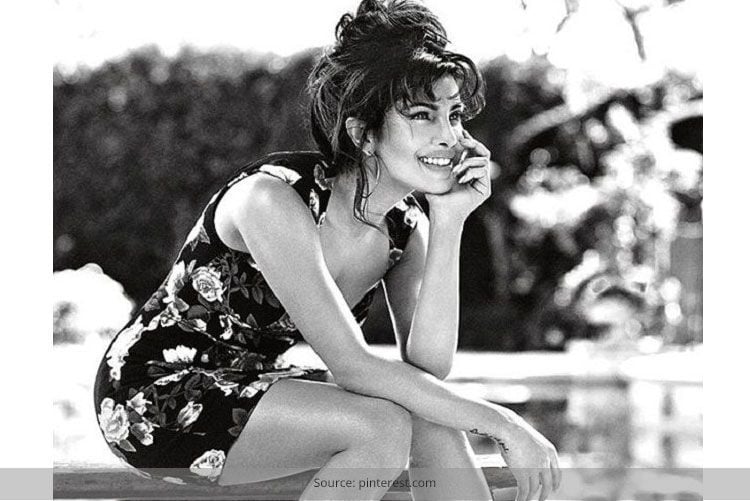 Even though the year 2013 could be the darkest year in her life for losing her father to cancer, destiny also has given Priyanka Chopra a reason to smile, making her late father proud of her. The plunging neckline goes deeper while bringing out the best poses ever given by Piggy Chops before the lenses. Absolutely, when the photo shoot is for Holiday ad campaign by Guess and the photographer is none than the ace musician Bryan Adams, it's obvious to find a picture perfect Priyanka.
For me, the former Miss World never looked as seductive before, flaunting her Indian curves and femininity. Apart from recording musical hits like Exotic with Ft. Pitbull, the Bollywood diva has gone a step ahead by becoming the first Indian face to model for Guess.
It seems India this year is blessed by the fashion gods and goddesses. Even though Guess was on nail point by critics like Joan Smalls, the fashion house made it a point to welcome Indian beauty to endorse their brand. For this Priyanka Chopra was given the privilege to enroll into their homogeneous clique of models by breaking the cord this time.
Piggy Chops was hired by none other than Paul Marciano, the co-founder of Guess for a groundbreaking turning point for both the company's brand value and Indian market at large.
Until November, Guess had struck to their traditional way of promoting their brand by roping in archetypal blond and voluptuous models for their ad campaigns. Chopra's campaign is going to be the first ever ad shoot modeled by an Indian face.
[sc:mediad]
The 31 year old actress has now joined the elite list of Hollywood celebs including Kate Upton, Paris Hilton, Drew Barrymore, Adriana Lima and Alessandra Ambrosio to endorse this top notch fashion brand.
Now talking about the photo shoot, while the images are smoking hot, Priyanka is completely smitten by being clicked by the Canadian pop star Bryan Adams. The actress, who was last seen in an item song for Ram Leela movie, look stunning in the Guess signature look with beehive hairstyle and cat eyeliner in  striking black and white shots against the backdrop of a Mediterranean villa.
On Bryan Adams, Priyanka had this to say,
"It was exciting to shoot with Bryan. He was so much fun to work with. Watching him in action as a photographer was very inspiring. We both seem to love to push the boundaries of our crafts. He is a successful global artiste and an accomplished photographer. He chased his passion, tried new things and is hugely successful in all his chosen fields… in some way, it made me feel like I wasn't crazy for trying all these new things after all."
When the actress was asked by an international tabloid about flaunting ample cleavage in extremely plunging necklines, Priyanka flaunted off her nationality and said that she had come from the land of Kama Sutra, where people are conservative by culture but not in pop culture.
Apart from these ad campaigns and music records, the actress will be seen in an Yash Raj movie titled Gunday opposite Arjun Kapoor and Ranveer Singh. Besides, she is also shooting on Mary Kom's biopic.
By the way is there any reason Priyanka is seen with hands on her face in every shoot? Just a thought! Do let me share your views!
Hope you enjoyed this post!