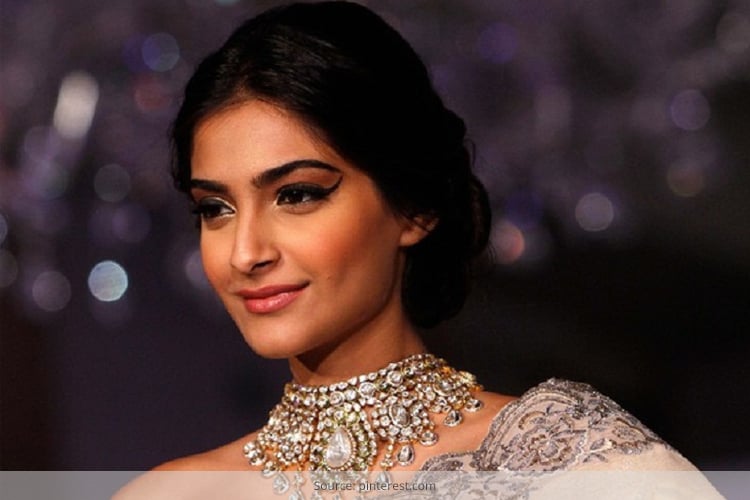 You can never ignore Sonam Kapoor when you are talking about Indian fashion divas. The girl makes her way to my blog someway or other and this time she is back in my blog only to make us and the whole nation proud of her. Ever since this fashion diva has come into limelight, her life has been on a roller coaster ride.
It's not like she was born with a golden spoon, so she is just enjoying her fate. Apart from stepping in her father's shoes and having some great movies in her basket; the 28 year old actress has some groundbreaking achievements in the world of fashion as well.
Sonam Kapoor gets featured in Business of Fashion
The Ranjhana actress is not tagged as the 'most fashionable Bollywood diva' for nothing. She is not only the best dressed in the industry but takes fashion quite seriously. Name a brand that Sonam Kapoor hasn't worn so far and name a designer who isn't aware of her. She is the first actress to bag a seat in the front row of Paris Fashion Week and she is also the first Bollywood celeb to get sketched by renowned illustrator Gladys Perint Palmer.
And if this is not enough, the glam diva has now given us another reason to her father and the entire industry to take pride on her, as she has been listed in the list of 500 people, who influence the fashion industry by the global magazine, Business of Fashion. Interestingly, she is the first Indian actress to be featured in this international fashion journal. The survey which is done across the globe has finally included a Bollywood actress into the elite list, which is curated by the jury of The Business of Fashion and powered by social media.
Her Bollywood influence
As per Sonam, there are only two religions in India i.e. Cricket and Bollywood, which is arguably true. This is the nation where cricketers eye upon Bollywood and movie stars on this multi-million dollar sports club for IPL. Both these industries are power houses in defining India's economy in a roundabout way. To summarize, entertainment is power, where fashion cynosures like Sonam Kapoor have volunteered to become the representative of next generation Bollywood and Indian fashion alike.
If you browse online, you'll come across millions of websites reporting on Bollywood events, whilst fashion bloggers jostling to tap the fashion quotients of the Bollywood stars. Because of their enormous mass popularity, these handful of celebs have become the bull's eye as they directly helps in sales. And with Sonam being consistently tagged as the 'best dressed in the industry', it was obvious for top leading brands like L'Oreal to hire her as their brand ambassador.
While the style Goddess is dominating the cover pages of Elle, Vogue, GQ, Harper's Bazaar etc. she is now featured in the Business of Fashion, giving an elaborate interview about her life, career and not to mention fashion quotients.
Nation's Fashion Sweetheart
Impelled by her sculptured face, unabashed laughter, great fashion sense and a spunk that captivates rather than alienates, the daughter of Anil Kapoor is quickly becoming the nation's fashion sweetheart.
Apart from having some mega budget movies under her belt, it's the fashion industry through which this 28 year old diva wields maximum power and virtue. She has earned such a position that whatever she wears spreads like wildfire becoming the hottest trend among the fashion enthusiasts who take cues from such celebs.
And why not, she is the one who receives invitation to sit in the front row judging high end fashion shows by Dior, Chanel, Louis Vuitton, Burberry and Dolce & Gabbana. Even these fashion houses have understood the girl's influence over the Indian mass, so these days she is eyed upon by every top cosmetic and fashion brand for endorsement.
Mass-market Phenomenon
Her debut Cannes red carpet appearance can be marked as her groundbreaking moment, from where her fashion journey rose to prominence.
[sc:mediad]
Here is an excerpt from Business of Fashion,
"My sister Rhea, who was styling me, sent emails to many international designers. There were a lot of designers who didn't know me and we didn't hear from them at all. But to my delight, Jean Paul Gaultier responded and sent an archival couture piece," she recalls. "Gaultier took a chance on me and somehow, in a strange way, I feel his dress pushed me into the limelight. I got great reviews that year. The next year I wore Alexander McQueen."
International labels have realized her global panache, which is tugged behind her redundant Indianness. Her mass-market phenomenon was proved, when she toggled between high end outfits by Chanel and Dior for her movie, Aisha. The Lady Dior handbag, which was largely popularized by Princess Diana, soon became a household name in India after Sonam flaunted it in her movie.
Sonam had this to say,
"I was told the sales of Lady Dior went up exponentially," she reports. "You know, being honest about what you love pays off. I don't look at clothes as just clothes; I consider them as art, as well. And because I have such respect for fashion, I keep it real. I don't think I'm bigger than fashion; I think fashion is bigger than me."
Her commercial power
Nobody can deny her commercial influence. She is now one of the most sought after showstoppers for every Indian designer. There are millions to reasons behind this one being – In the recent bridal fashion week, Sonam was the showstopper for Rohit Bal and amazingly the wedding lehenga which she had worn got sold on the spot, 25 times over.
Having more than 5 million followers across Facebook, Twitter and Instagram, Sonam is quickly becoming a fashion power house in the world of social media as well.
The actress has been lucky enough to successfully straddle between the mass and class in India. However, behind all these glamorous fracas, the actress understands the fact that the key to her fame lies in her Bollywood box-office achievements.
What do Sonam Kapoor, French former First Lady Carla Bruni, Karl Lagerfeld, Jean Paul  Gaultier and Kanye West have in common?
If the BOF was not enough, the actress has given one more reason to make father feel proud of her. She now rubs shoulders with the above listed top cheese, as she is going to be immortalized by the world famous illustrator and writer Gladys Perint Palmer.
Gladys met Sonam at the recent Elie Saab show during Paris Couture Week. Being smitten by the charm of this Bollywood beauty, Palmer was seen asking Sonam if she would like to be sketched.
The actress was totally stumped by the artist's approach, as she has been a great fan of her illustrations. Palmer, who is a renowned illustrator is also the Executive Director of Fashion at San Francisco's Academy of Art.
While the actress continues to woo her fanfare through her glamorous triumphs, I bid adieu only to return with another interesting story!