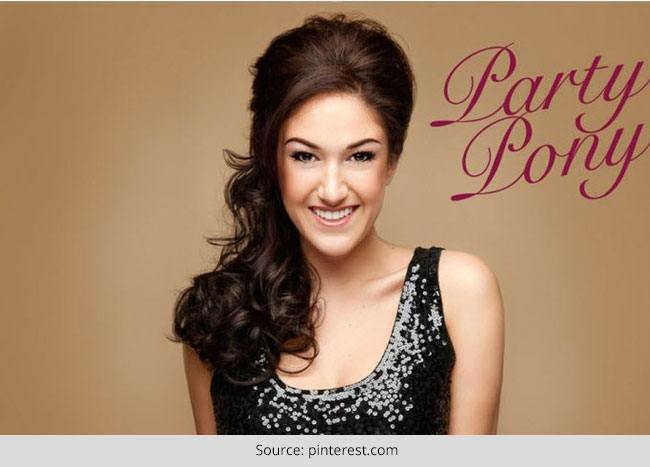 Isn't it always boring to wear the same clothes everywhere? Similarly, it gets monotonous wearing the same hairstyle – be it leaving the tresses loose or trying it up in our most comfortable and favorite hairstyle to work, college, get-togethers or at parties.
Today, let me share with you a smart hairstyle that you could flaunt at a party; It could be an office after-party or an evening out with your friends or on a date with your boyfriend.
This hairstyle can be adopted by those who have short hair as well as those with long gorgeous tresses. But, the short hair women might have to use hair extensions for an additional bouncy-full look.

Let's look at a step by step tutorial for a stylish ponytail for you to wear at a party.
1. Protect your hair with a serum by liberally applying some on your damp hair. This helps when you are using heating products such as straitening irons, curlers or hair dryers.
[sc:mediad]
2. Take the crown region of your hair and use a curling iron to make medium curls in small sections.
3. Tie up your hair into a pony by securing the latter part of your hair and use securing clips for the hair in the crown region.
4. If you have long hair, you can make light curls in the ends of the hair, but those who have shorter hair will need hair extensions to cover the ponytail. Once done, bring your hair over one of the shoulders.
5. Once the lower end is managed, it's time to start working on the hair in the crown region. Divide that hair into two sections. Use the second half (the section closer to the ponytail) to give a pouf look by either back-combing the hair lightly or by using a hairspray. Next, gently comb the hair and place it above the ponytail to cover up the elastic band.
6. Now bring the front of the hair towards the side where your ponytail rests on the shoulder and gently run a bobby pin to hold them in place.
If you are unable to do this by yourself, get your sister, mother or friend to help you out.
Wear on your favorite party dress, strap up your heels, wear the perfect make up, flush your cheeks with the blush, full up a perfect pout and you're ready to make heads turn!