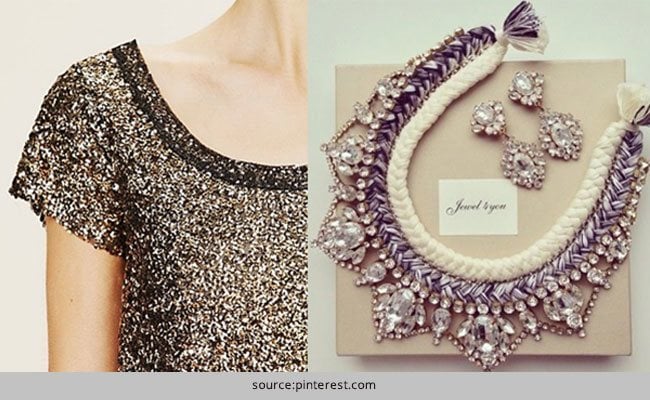 Wearing shimmer and glitter at night is by far the best and the only option that we pick. It's safe since it's be night time and wearing it to a party or a function just justifies the bling. But with different trends in fashion, the new trend is to wear the golden even in the sun.
It's definitely a bold sight if you don't wear it right, but pairing it with the correct clothes, shades and colours, you'll do it fine. Now, bling could be categorized in two ways: one the shimmer on your clothes and other is jewellery. But not to worry, in this article I have ideas for both. You can now wear your statement necklaces and jewellery for your lunches and casual outings. And your shimmery blouses too, Read Ahead:
1. How to Wear Jewellery?
Decide what look you are going for. For example, the bohemian look would revolve more around your wrists than your neck, something classy would require a statement piece around your neck. So the trick here is to do it just right. No more no less.
You need to pick the right jewellery according to the occasion, since morning affairs can be tricky.
A pastel colour blouse with a solid piece of neck jewellery just cuts it right. Look how the bag and sunglasses don't draw much attention because their purpose is to balance the act.
Sometimes an ordinary outfit can be partied up with some accessories and of course bling. Its revs up your outfit and gives you a stylish edge. Most people would want to math their neckpieces to some earrings, but for a morning event that would get heavy, so ditch either of them and go with what you like more. Big statement earrings are also a good option to go with.
Accessorizing for a beach party just got more interesting, I would suggest some waist bling, some on the hair and well, some on your feet too. A good way to get that suns reflection reflected back. Since you're at the beach, you're bound to wear something on the lines of a skirt or a shirts, mix and match fun accessories and experiment.
2. Bling on Clothes:
[sc:mediad]
It's not every day that you decide you be the center of attention, hence when you really want to, you could pick up a piece of clothing that does all the talking.
Look like a vision at an event or function that happens in the morning in a dress so exquisite that the eyes follow you wherever you go. A little high-fashion, so choose an appropriate occasion to go this dressed.
Casual in bling is a great option for those days in the sun. So, you could opt for a top, a full dress or just a skirt in something glittery and striking. This will keep the bling quotient no too flashy yet very fashionable and stylish.
Always when wearing bling, keep in mind to not overdo it, especially for the morning. Team it up with clothes that will subtle it down and also less accessories of course. You want the top or the skirt to take most of the attention so keep all the other elements of dressing to a minimum.
A nice pair of sunglasses, understated accessories and makeup to a bare minimum is what the look requires when you carry shimmer on your clothes.
If you think a dress or a skirt would be too much bling for you, and then go for other options like a nice belt, a scarf or a stole. It will add the bling to your look and not look like you're overdressed. Play the 'Less is More' card.
This New Year, give up to those temptations and wear what you like whenever you like it. I say there are no rules in fashion and clothing, if you have the confidence, you can dress up the way you want. And I say that you must.