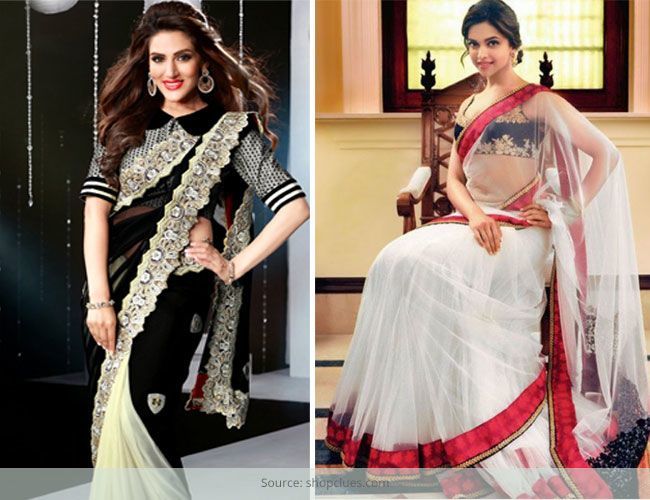 There is more to a nine yard wonder than just traditional weaves and embroideries. A Sari is a form of attire that has always made the Indian woman look mysterious and enigmatic. But with the retro trends coming in, sari is assuming high street style and is becoming the new attire in cocktails and night club parties.
Sari has evolved into various styles such as Lehenga Sari and now Cocktail Sari which is getting to be quite popular these days. Check out some of the handpicked Cocktail Saris showcased below and get ready to adorn the new fashion cult.
Black Cocktail Saree
Be prepared with an irresistible charm in this dazzling replica saree in black designed on net fabric worn by Katrina Kaif. This piece is beautifully embellished with resham and sequins embroidery all over.
Red Cloud Sprinkle Saree by Nakul Sen
Slip into this awesome looking heavily embroidered stitched blouse that has dense embroidery at the back and front. The opulent detailing in this gorgeous red pure chiffon sari with heavy pallu covered in sequin work and thin border would surely steal the limelight.
Cocktail Beige Embroidered Sari by Ritu Kumar
A beige color sari in soft nylon net, this cocktail creation by Ritu Kumar looks dapper and perfect for evening occasions.
Cocktail Beige Embroidered Sari by Manish Malhotra
Here comes a beautiful contrasted sari designed by Manish Malhotra that's perfect for party impression. A subtle party look is certainly in command through this elegant dress.
Cocktail Sari by Jyotsna Tiwari
For brides who long for beach weddings that spell glamour on the sand, sea and under the moonlight, the designer has created luxurious cocktail dresses.
[sc:mediad]
Pink Net Saree with a Black Sequin Border by Mandira Bedi
Drape yourself in this one third Orange Georgette and Pink Net Saree made of antique Gold Flat Chiffon with pleats that have Black & Gold Sequin Border.
Black And Off-white Cocktail Saree
Designed on faux chiffon fabric, this saree is enriched with black striped borders on the first half of the saree. Accentuated with decorative cutwork border and embellished with resham, sequins and zari embroidery, the black and white creation is irresistibly striking.
Hand Embroidered Solid Dyed Georgette Saree
Solid dyed georgette saree embellished with crystals and sequins from Satya Paul's Festive'13 Collection. This saree comes with an unstitched blouse material.
Cocktail Sari by Fuchsia Designs
Heading out to your best friends cocktail? This pink hued saree with an exotic lotus print is the perfect choice to stir up the evening. In shades of flirty pink, it has hints of warm red and deep green. Wear the drape with titillating gold peep toes and statement accessories to double the impact.
Recently ace designer Pallavi Mohan made her debut in the cocktail sari range. Known for her classy and comfy ensembles, her maiden cocktail sari collection highlights the essence from the effervescent tradition.
Designer Tina Tahiliani in her suggestion to a fashion magazine has her own opinion when it comes to draping a cocktail saree. According to her, the sari should be draped in such a way that it highlights your choli. After all that's the purpose of wearing a fancy designer saree. Most cocktail sarees are designed to reveal smartly. So a sexy blouse which is backless or with a halter neck can accentuate your sex appeal much more. This also helps you show off your shapely arm, midriff and back by just altering the design of your blouse.