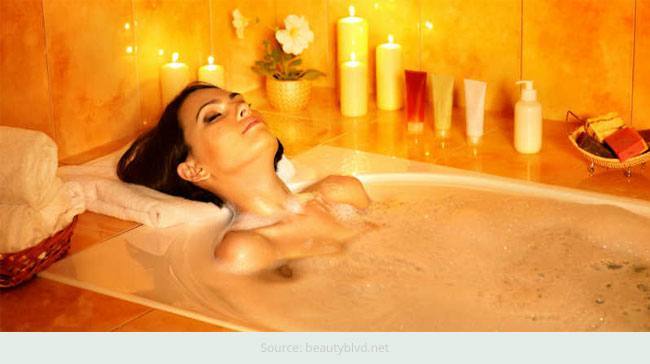 By now we have discussed about bath essentials that not only help the skin rejuvenate but also add glow to the skin. How about you get a perfect exfoliation along-with complete relaxation? After a long day's work , a relaxing bath will not only rejuvenate your body but tired soul as well. So here are the top 7 essentials for a relaxing bath. Now gather these essentials and enjoy a relaxing bath like a royalty.
1. Scented Candles
Scented candles offer a subtle aroma that not only enhances the ambience but also your mood with their sweet and mesmerizing essence. Cinnamon and apple smells are quite popular. You can also go for lavender and vanilla.
Those scented candles instantly give you a soothing feel during bath. Plus, they set your mood, as they create a romantic and happy atmosphere.
Make sure you have set your candles a few feet away from yourself and enjoy their lovely fragrance in dim lighting.
2. Bath Salts
Bath salts help in exfoliation. They are among the best exfoliating essentials you can look for. Of all the bath salts available, go for Epsom salts.
Epsom salt is named after a bitter saline spring present in Surrey, England and is not actually a salt. Instead, it is a naturally occurring pure mineral compound of magnesium and sulfate. Apart from removing dead skin cells, it is also used as an amazing face cleanser as it easily removes blackheads.
Next time when you go for bath salts, do pick Epsom salts to get a relaxing bath.
3. Bath Pillow
While you enjoy soaking in your bath tub, make your towel as a pillow to rest your head for a few seconds. This way you can ensure a complete relaxed bath.
4. Favorite drink
If you have time, say during the weekend, plan for an extended bath i.e. take along a favorite beverage and enjoy the sip along-with a good soak. Cold beverages are more relaxing than hot beverages. Since you will be taking bath in hot tub so do not go for a hot drink as it can be too much. Also, don't go for chilled one either. It can create friction in your body. A best drink would be a green tea which can be enjoyed and also be healthy than the other carbonated sodas.
[sc:mediad]
5. How about a good book
If you are into reading then nothing could be an ideal time pass as you take a good soak. Pick a romantic novel or quotation book and enjoy the pages as you take a sip while you are soaked in the bath. And if reading doesn't interest you then simply tune in to your iPod and enjoy your favorite music.
6. A luxe bath robe
Invest in a plush bath robe to get a luxury feel soon you step out of the tub. You do not have to go for a luxury brand, but a good fabric robe would do.
7. Apply lotion
The next thing you should do after getting into your bath robe is apply body lotion to ensure retaining moisture content in your body. Since you have used bath salt for exfoliation, the pores are now open and can quickly dry up. Body butter is much better so never forget to moisturize after taking a bath.
So those were the top 7 essentials for a perfect and relaxing bath. Hope you enjoyed the post!