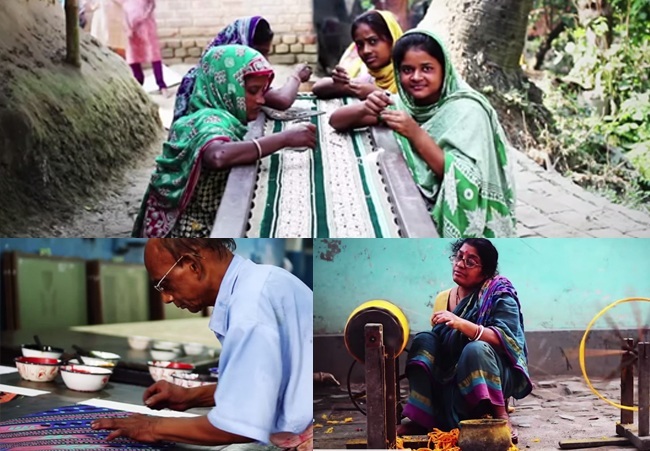 Latest designer sarees, bridal lehengas, new blouse designs, embroidered salwar kameez, intricately embroidered pouches and potli handbags, are all seen with much awe and appeal by all of us. But how many of us have actually gone deeper into thinking about the hands that actually initiate the manufacturing of these ensembles in forms of weaving, printing and embroidering of the raw cloths?
The veteran Ritu Kumar is a well-known name amongst most women in India and abroad. Be it a college student, a soon-to-be bride, a house wife or a shopaholic; every woman at least once in their lifetime comes across the name Ritu Kumar. She is one such designer that has made India proud at the various Bridal Fashion Weeks and other Fashion Shows in India and across the globe.
In this article, FashionLady will share some deeper insights into her campaign called 'Beautiful Hands'. This initiative was primarily done to showcase the hard work of the craftsmen who have been working with Ritu Kumar since 1960s. Be it screen printing, embroidery work, weaving or hand embroidery, these craftsmen play a vital role in giving her the products to which she adds life by using her creative ideas and thus making her collections exclusive and beautiful.
What is Beautiful Hands?
The main reason for Ritu Kumar to initiate this campaign was to showcase behind-the-scenes of the basic manufacturing of the cloths for the designer. In the outbacks of Calcutta is where her groundwork starts with continuous hard work and dedication by the craftsmen. She has been working with these craftsmen since the time she incepted her brands.
Let's look at what Ritu Kumar has to say more about 'Beautiful Hands'

Weaving
Phulia and Shantipur are the villages that are almost as big as a state in the country. These two villages are where the woven paars and boarders are made. These villages are also famous for the fine Bengal cotton sarees of Jaamdani and Tangail.
Here is a video of the artisans involved in the weaving works.

Embroidery
Ranihati and Uluberia are the hub villages along the Kolkata highway that are known for the elaborate hand embroidery works. The total stretch is not less than 60 miles. It is believed that these skillful craftsmen had the backing and encouragement from the Nawabs of Bengal and also from the Kingdom of the Awadh. These handicraftsmen are absolute geniuses as they skill in the elaborate and stunning taar work embroidery to make khilats and intricately embellished clothes.

Here's an understanding of what happens inside Ritu Kumars' factory.
Printing

Like we have just seen all the works that go behind the fabulous creations of Ritu Kumar, let' also see some real people who have been committedly working for the brand since the last few decades.
1. Sk. Hasim Ali
Age: 53 years
Expertise: Hand embroidery
The hand behind all the intricate Bridal work embroidery is Sk. Hasim Ali. He nearly supports 50 families in the village by being in charge of all the Bridal ensembles for Ritu Kumar.
Ritu Kumar says,
"He was very young and could not even afford the bus fare to Kolkata from his village.In the initial years, he used to travel on the top of the roof of the bus to save ticket fare, to bring the potli of fabrics to me. I did not know how impoverished his family was till I went to the village to see him once. This is when I decided to support him to set up his own entrepreneurial venture and he has never looked back since."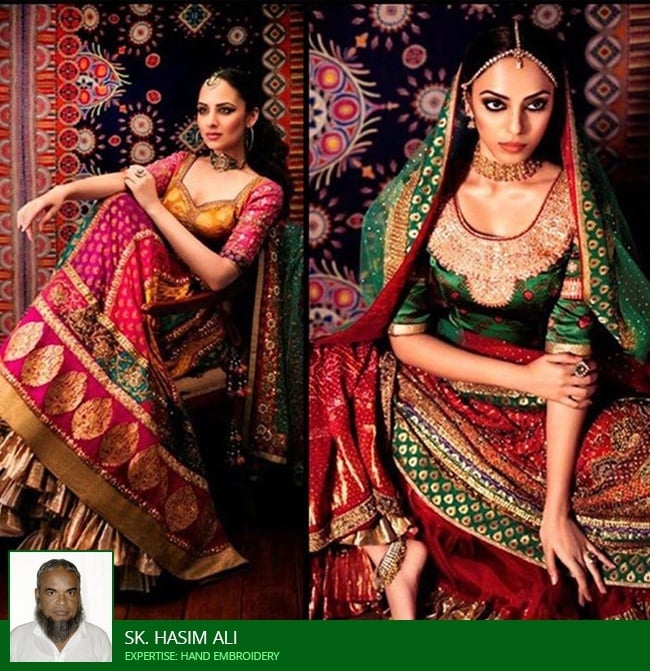 2. Md. Nisar Ahmed
Age: 55 years
Expertise: Hand Embroidery
Nisar has an eye for detail and today has a team of embroiderers working with him and aims to keep the tradition of hand embroideries alive.
Ritu Kumar says,
"I remember giving him a really intricately printed panel with the image of the 'Devi', which he worked on for over a month. What came back to me was a master craftsman's interpretation of the goddess, in intricate thread work, the likes of which should be in the realm of art and not only craftsmanship."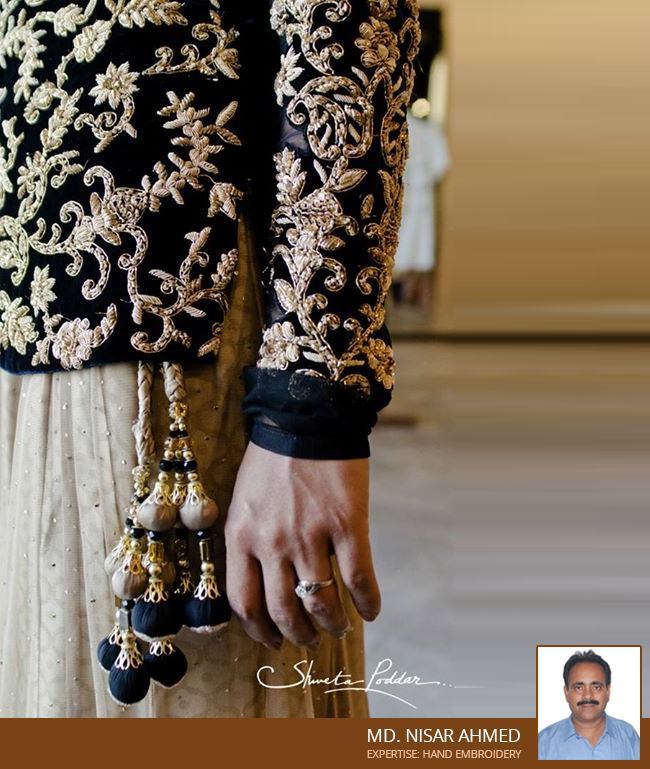 3. Sk. Israfil
Age: 55 years
Expertise: Hand Embroidery
Sk. Israfil works and manages the export division in Kolkata. On any given day, he has a team of 120 artisans working for him but during peak seasons he has to employ and manage 300 artisan's to complete the work.
According to Israfil, Ritu Kumar will always remain his source of inspiration.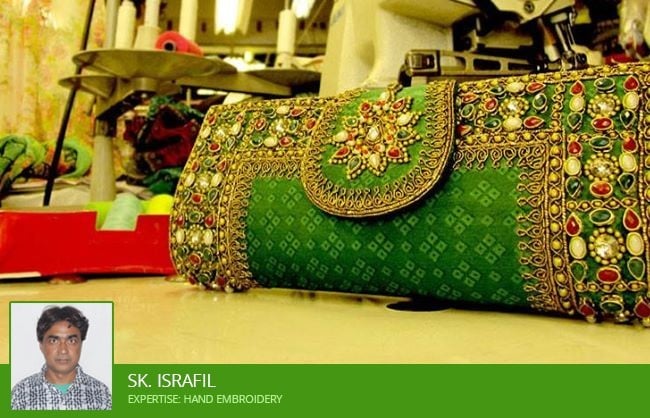 4. Kantu Goroi
Age: 63 Yrs
Expertise: Screen Printing
Working for not less than 37 years with Ritu Kumar, has an inherent passion for crafts and has been dedicatedly working for the ace designer since 1977.
Ritu Kumar recalls,
"I never really had to worry about the execution of the colours he used, or the end result of the printed sari as he knew instinctively what was and what was not aesthetically appealing."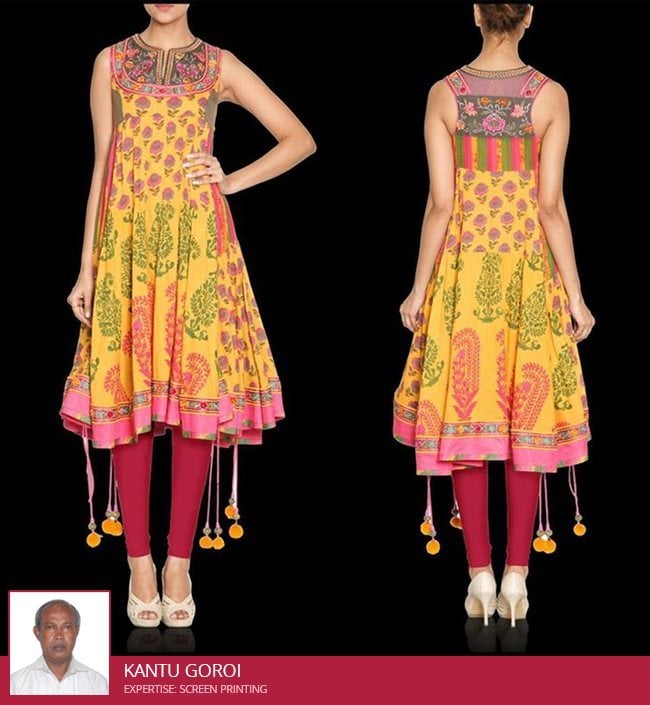 Let's look at some beautiful Bollywood Celebrities in Ritu Kumar Collection