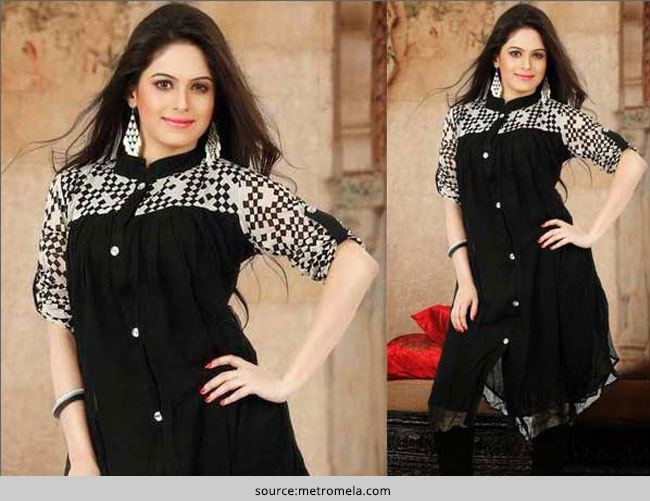 Everyone should have a black kurti in their wardrobe. A garment that is so versatile, which can be worn and played around with a plethora of choices. To top it all, since the shade is black, it is safe to say the black kurti would gel and adapt with almost anything and everything you plan to wear it with. All you have to do is to let your imagination run amok and you'd find plenty of choices to doll up in. Here are a few ways which we have tried and would like to share with you.
Embellish the kurti
With a black background to its name, the humble kurti would play canvas. Feeling bored wearing a plain black kurti on Friday to work, pep it up with poster colours or grab a few threads in bright colour. Create your own funky designs or go all ethnic and traditional with the creative instinct; the sky is the limit here.
Wear it as a tunic
Follow the fashion statement; so chic and presentable by Aditi Rao. Aditi, for a formal event wore the black kurti-tunic and embellished it with just one accessory – the statement necklace. With black, the best part is you do not need to overdo with accessories and embellishments; just a touch of mighty bling in one piece brings out the essence of the garment.
For your BFF's engagement
Should you choose not to wear the 'run-of-the-mill' BFF clothing at your BFFs engagement; think tunic-kurtis with gotapatti designs. Grab hold of a karigar and ask him to help embellish the plain black kurti with a lean line of gotapatti designs on one side. The results would be astounding, and for sure you would steal your BFFs thunder at her engagement ceremony.
High team tinsel talks
White dress pants or skinny-white-jeans with a black kurti; embellished with silver or white embroidery and sequins on the chest, sounds fun and perfect for the evening out on high tea with BFF and friends!
Chikankari black
[sc:mediad]
For the bridal shower and just because it is your BFFs all-girl-afternoon gathering, you still need to make a statement. Chikankari black kurtis with light coloured linen trousers or pure white dress pants would do justice for the day!
[Also Read: What to Wear To a Baby Shower Ceremony]
The afternoon siesta
Off to pick your son from school? Yummy mummy needs to dress to kill, which is why a high slit black kurti with light coloured trousers and minimal accessories or nothing at all, should be the style to flaunt!
A retro touch
Remembering the golden era of Hindi cinema, a retro touch to the black kurti brings out the chic seventies look. Taper the collar and the sides of the kurti with a light coloured (blue if possible) lace, and match the same colour to the belt for the waist. Wear it with light blue leggings or jeans!
Sheer below
Get to the karigars right now and give them the task of stitching black sheer fabric to the hemline of the black kurti. The cuffs and hemline can be embellished with white flowers as shown or maybe sequins and silver flowers as well.
[Also Read: Summer Kurti Styles we Cannot Get Over With]
Shopping time
To the mall and back, and you do not want to be all over-the-top dressed up? A simple black kurti with a pair of orange leggings and kohlapuri chappals would be trendy enough to help you sail through the crowds.
Make it sexy
Flare the shoulders and the arms of the black kurti with a little extra dark blue fabric, and wear the new ensemble with hot pants and stripper heels or black heels tonight. Pubbing would be an all new experience in this avatar!
These were some of styles; few but quite happening to follow at the moment. If you have styles of your own to doll up the black kurti in, do write in and let us know. We would like to share your creativity, sense of style and fashion along with your imagination too! Have fun!