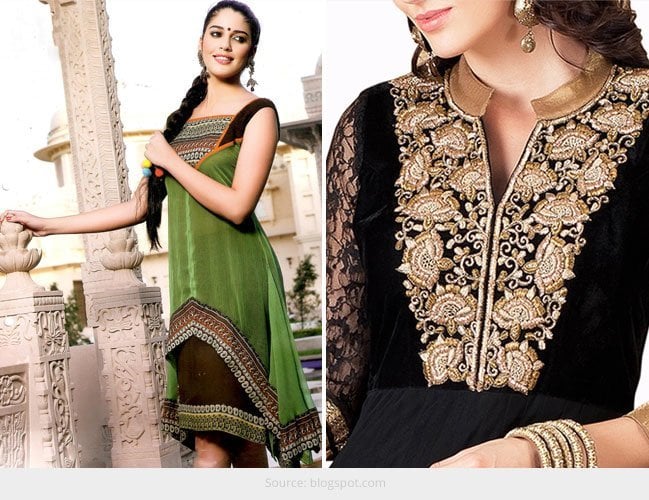 Summers are here! Time to get your summer style on! For most Indian women, the best way to beat the summer blues is to dress up in some beautiful and chic kurtis. And what's even better is, there are so many designs and colours to choose from. But this summer, don't just wear anything and everything that is in fashion! Make sure you wear something which will give you an edge over others.
Kurtis are available in a few designs, but you can always add a different touch to them. If you are the more adventurous kinds, you can pair up your cotton kurti with jeans or different leggings and even colour block them. The rage this summer is colour blocking with mirror work. You can see a lot of this on Manish Malhotra's runways. Don't worry, you wouldn't have to spend a fortune to buy a kurti, your local tailor can do the same job in a much lesser price!
[Also Read: Styling Jackets with Indian Wear]
Read this to know more about summer kurti styles we cannot get over with.
1. If you are looking for a western edge:
Most of the premium designers are now coming up with designer wear that mimics a lot of western wear. The good thing about these kinds of kurtis is that you can wear them alone or can also wear them as kurti paired with leggings. During night time they can also double up as a dress. These kurtis are popular with a lot of young girls because it serves two purposes. You can find most of these kinds of western wear kurtis in Biba, W and Global Desi.
2. If you are looking for something asymmetrical:
Sleeveless kurtis are such bliss in those hot summer months. But sleeveless designs are so passé. If you could give a twist to those plain sleeveless designs, you can have asymmetrical kurtis. These are not only similar to your sleeveless kurti designs but they are also a lot fashionable.
3. For something ethnic:
Indian traditional kurti designs are the most popular with a lot of people. Ethnic designs can not only be worn as daily wear, but the more gorgeous ones can also be worn in weddings and special occasions. You can even have ones with mirror work or zardosi and they can be worn on special occasions.
[sc:mediad]
4. Oriental Kurti Designs:
A new trend in today's kurti market is the kurti which is inspired by oriental designs. Not only do they look pretty, but they can also be worn at different occasions. You can pair up the oriental kurtis with leggings and even trousers or plain stockings. They would look good with almost every design. Oriental design kurtis are a little expensive but you will see that a lot of local tailors mimic the exact one for you and they won't even burn a hole in your pocket!
5. Funky Kurtis:
What's a kurti without some funk in it? The latest trends doing the rounds right now are kurtis with a lot of fun prints. So, why go for floral or pastel prints when you can have your favourite cartoon characters printed on them? The trend started with sarees, but designers have also started coming up with funky printed kurtis.
Summers are the best time to flaunt your way into the fashion circuit. So, if you want to look a little cut apart from the rest, you can try out the above summer kurti collection this summer.