Indian wear is like the most safest option for us when we are a little not sure about how to dress for a certain occasion, May it be an interview, an office party or just meeting a close relative – you wear a saree or a kurta to look informal and decently Indian.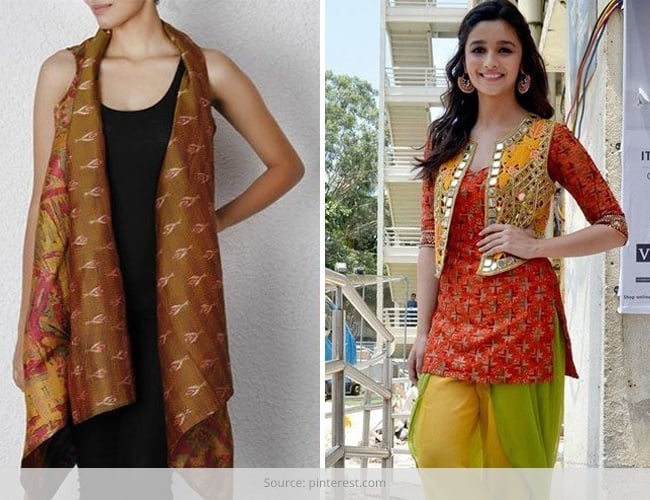 But when these kurtas or sarees start to all look the same, especially with our brands like Biba, W etc, one particular piece has 100 copies, and you want to look different. Add some classy jewellery, colourful dupattas or jackets.
Here, I have a few ways that you can wear your jackets with your Indian clothes and look amazingly wonderful. Simple hacks to get fashionable with your kurtas and saree this season.
As fashion obsessed we may be, we ever-so-often get back to our roots to wear Indian and things alike that make us feel connected to our cultures. Whether it is our saree, suits or lehengas, they all look magnanimous when we put in that extra effort to dress up. So, let's give ourselves those extra moments to look from good to great and beautiful to fabulous.
The Short Jacket
The waistcoat or the short jacket of these kinds has been very popular among the college goers. A pain boring kurtas with a printed or an embroidered jacket becomes the perfect alternative to a dupatta. It's smart and very ethnic looking, giving you that edge over the usual kurta- wearers. Button it or just let it loose, this smart looking look is a must try for you.
Like Alia Bhatt in this attire looks absolutely cutesy and Indian, try donning this look to your college or just a day out with friends. All you require is a short jacket and a kurta to pair them up.
The Short jacket on Sarees
Wearing a short jacket on a saree is an even better idea like these ladies did. With these three looks, one with the saree draped from side out like a blouse cum jacket, the second is a similar style with a jacket that had sleeves and the beautiful print and the third in which the complimenting gold colour of the jacket looks ravishing with the saree draped on top of it. These looks are easy and a great hack when you want to style up those saree of yours.
The Long Embellished Jacket
Embellishments on a jacket add royalty and decoration to it making you look like a million bucks. A long jacket with the saree is a slightly bold move but worth the risk. Look at our ladies, one with a contrasting royal blue jacket with maroon lining and cuffs with a white draped saree and the other wherein the cape matches the saree cream base and the golden work. Sonam Kapoor wore this lace saree with the magnificently embroidered jacket by Anamika Khanna at Cannes 2013 looking absolutely exotic.
Long Kurta Styled Jackets
A simpler option but a winter-y option is one with a long kurta-sized jacket that covers you well and looks pretty too. Try a contrasting colour with loads of work or one that self printed on the same colour, kurtas with jackets are the new in thing.
Peplum Jackets
Peplum Jackets are another new thing that you could try this season because they look wonderful. Your outfit will automatically highlighted with these jackets that you can shop on the web or just get it made according to your like., My personal favourite and a hot trend.
Embroidered jackets with Kurtas
Dress up that outfit with these elegant looking jackets that speak volumes about your taste and style. Play around with colours and fabrics and prints and embellishments on your jacket and pair them with different outfits and look different every time. It's a rocking choice when you want to look Indian and yet different for the occasion.
[sc:mediad]
Another one from Pernias pop up shop is these jackets that are long and regal looking. Wear it over a lehenga or a long Anarkali kurta and look divine.
These jackets can also be custom made according to your wants and requirements or you get these exquisite pieces online.
The left one is a Rohit Bal designed collection for Myntra, that features a delectable kurta with a jacket adorning the ensemble. Contrary to that is the one on the right, also available to be shopped online.
Jackets with Indian Wear on the Runway
These clothes shout out indo western yet look so Indian at the same time. It's a lehenga gown with jackets that add the majesticity to these wonderful dresses. A kisser common trend off-runway but if you have a special occasion, for which you want to stand out from the usual crowd, then wear attire like this paired with a jacket that is well embellished and you are good to turn heads.
The Runway:
For Lakme Fashion Week's Winter Festive 2014 collection, designer Vikram Phadnis's clothing line is what we see above. Short jackets with Indian wear are definitely the new in thing when we see it on the ramps of Lakme Fashion Week.
Similarly, for the same Lakme Fashion Week Winter Festive 2014, collections by Ekru (first and third) and Anita Dongre (second) have jackets worn with saris and one worn over an elaborate lehenga. Its looks sensational and a must try at your next function.
Bollywood celebrities have also been seen sporting the trend, wearing a jacket with their Indian attires. Since they are or fashion idols, we like what we see and tend to inculcate the same in our wardrobes. This simple trend is here to stay since the weather is wintery and the mood is stylish.
Hope you enjoyed this post on styling jackets with Indian wear. Are you already planning to buy one for yourself? Do share your views with us.