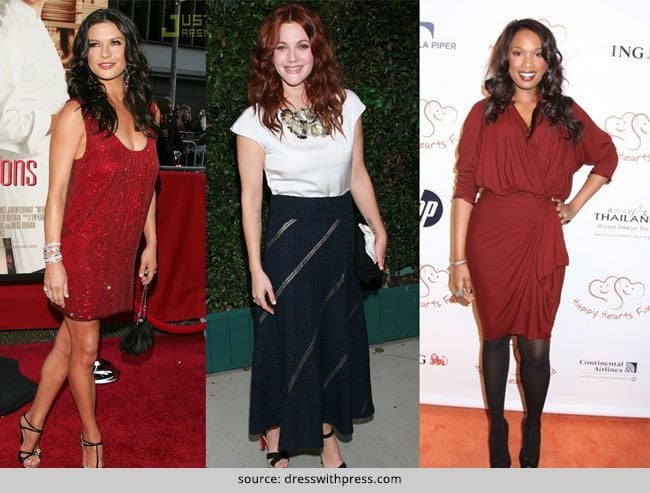 Wondering how to 'define' your waist? Does your stomach have all the weight; maybe a little too much, as compared to the rest of your body? And, is your bust size- average to large? Well, you have an apple body shape.
[Also Read: Fashion Tips for Hour Glass Body Shape]
Apple body girl
Mostly seen in women who cross their forties, but these days many young girls have an apple body too. Blame it on weight gain, an unhealthy lifestyle, eating habits galore, if you have an apple body shape; dressing up can be a challenge.
Steer clear of the following
Before we tell you what to wear, here's what you should throw out!
1. Puffy jackets (the big large ones),
2. Garments that have NO SHAPE and those that wouldn't accentuate the 'waist',
3. Trousers all too bulky and big, anti-fits with plenty of pockets,
4. Trousers that have front zippers,
5. Dresses and gowns with necklines too high,
6. Clung-on tees,
7. Solid colours
8. Sheer garments (sarees or salwars)
9. Tight pyjamas, shorts and hot pants
10. Sarongs!
What you should wear!
1. Remember, a lot of attention would be on the top part of your lovely self; so the first thing to keep in mind is all the do's and don't's while shopping for bras.
2. Pick tees and tops which would accentuate the body at its slimmest zone- beneath your bustline for example!
3. Tees and tops should be crunched in the middle, or maybe a belt would do justice to confuse the on-lookers eyes'; hides the big belly.
4. V-Necks are in fashion now, pick one that would help break the monotony of the chest to waist; brings in a leaner look.
5. Thick textured tops wouldn't cling to the bust line or the body; woven tops are best worn by apple shaped women.
[sc:mediad]
6. Wear your tops with pants and let them fall or rest just above your hipbone.
7. Patterns are best to buy; helps flatter the apple shaped body and provides camouflage too.
8. Do not hide the belly area totally; let the top or tee or blouse fall over the hip.
9. Tailored dinner jackets with a V shape should be worn
10. A tie falling to the waist would be great to hide the belly area
11. For a leaner-longer look; structured jackets help the apple shaped body when worn with V Necks.
[Also Read: The Bible of Indian Body Shape]
12. Shoulder-fitting jackets should be bought; the aim is to draw attention to the shoulder not the stomach!
13. Waistlines for dresses- below the bustline please!
14. Zippers at the side for trousers; helps keep away the extra bumps in front
15. Straight or flared, but not clingy trousers should be bought sans the pleats.
16. Flared or straight jeans should be worn, not the skinny ones
17. High-rise pants are best to wear; brings in a nice sexy touch
18. Pencil skirts that are structured till the knees
19. Skirts with side zippers
20. Skirts ending at the knee-cap with heels
All hope is not lost
If the 'apple' could bring back Snow White to life, your apple-body too can bring in the accolades as well – only if you stop covering your beautiful self in 'lose' garments! The aim here is to create a silhouette; nice and cozy, which would accentuate the body you own, and bring in more to your confidence too.
We hope you now know how to flaunt that sexy apple bootylicious body of yours with zest and zeal; go get them tigresses!