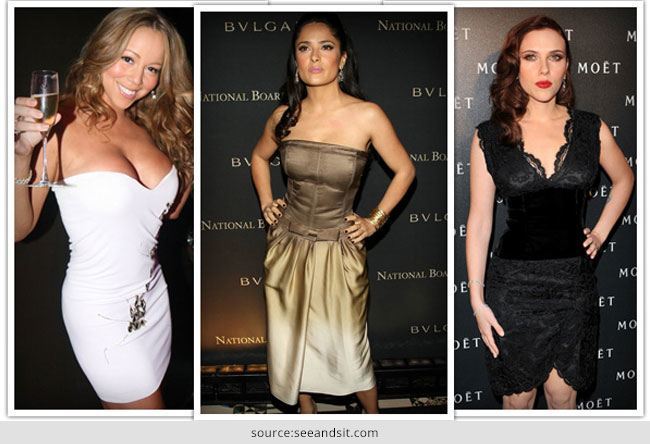 Not all of us are blessed with a sexy hour-glass figure; most women die to have. It is a dream figure, and most paintings or poetry have been composed based on that. The hour glass figure through times has been envied by all, and there have been many men who have fallen for divas with such beauty!
Traits of an hour glass body shape
The hips and the bust would be almost same size
A 9" waist or smaller (smaller than the bust)
Shapely and full breasts
Shapely legs
Sway!
[Also Read: Fool-Proof Fashion Tips for Large Bust Women]
Picking up tops
Don't hide or try to cover those beautiful curves in clothes that are loose-fitting. When you have curves, you have got to flaunt them and make others jealous.
 Trendy accessories with classy cuts would be nice
 Stay away from too many bows and ruffles, frills etc, they do not bring justice to the perfect curves on you.
 V-Necks are sexy to wear, which help enhance the bust line
 Tops with belts
 Wrap tops
 Ties with shirts
 Sheer fabrics and soft silk would be nice
 No wearing stiff fabrics and bulky clothing
 No wearing high necklines
 No turtlenecks
 One piece outfits are nice to wear
 One piece dresses would do justice to the body
 Stay away from ultra-blah accessories
 Stay away from batwing sleeves
[Also Read: How to Wear Stripes for Every Body Shape?]
Dinner jackets and coats
For a nice evening out with family, friends or someone special, the hour glass lady has a range to choose from and doll up in.
1. Tailored coats and fitted jackets would compliment the hour glass shape
2. Small pleated waist garments with simple buttons below the breast area would be nice
3. Long coats with a belt in the middle
4. Single breast jackets for the evening
5. Stay away from pocket detailing and double-breasted jackets
6. For petite hour glass figure damsels, short jackets touching the hips would be good to wear
7. For hour glass girls with big arms, short neat sleeves would hide them all.
Pants and skirts
Dress pants and skirts for the hour glass figured girl, when worn right would make her look like a diva. Here are your choices.
[sc:mediad]
1. Wide-legged trousers
2. Loose fitting pants
3. Tops that end at the buckle of your belt
4. Pencil skirts (any length) to accentuate the sexy curves
5. A –Line skirts accentuate the waist and are not too loud
6. Skirts with fitted jackets
7. Strapless dresses with fitted jackets
8. Drapy fabric trousers
9. Heels with slim skirts
10. Sarongs
Jeans
Sure an hour glass figure girl can doll up wearing jeans too; with a small waist as well. Here are your choices:
1. Jeans with smaller cut waistlines
2. Stretch denims
3. Wide legs and boot cuts for larger hips
4. Keep the jeans simple, sans detailing and pockets
5. Choose darker coloured jeans to look slim and stunning
Dresses for hourglass figure
For a cocktail event, where your aim is to look, chic, trendy and to grab eyeballs; here are your choices.
1. Minimal embellishment and patterns
2. Steer clear from beads and pearls (too bulky)
3. Yes to bodices that help accentuate your curves and the waist
4. ¾ length cocktail dresses are nice, since they help you look tall
5. Off-shoulder dresses and strapless dresses are nice to wear
Bikini choices
There are bikinis for different body shapes.
1. To lift large breasts on the hour glass figure, wear bikini with under-wiring
2. Long tankini tops that have panels for support, to help accentuate the waist line
Shoes
Check the climes and the occasion you would be dressing up for. Heels go a long way to enhance the look and to make you look tall and slim.
So that's how to dress for your body shape. We hope you now would know how to further bless your beautiful self dressing the right way. An hour glass figure shouldn't be kept hidden; if you've got it, you surely need to flaunt it – dress it up and be the reason for many head turns!