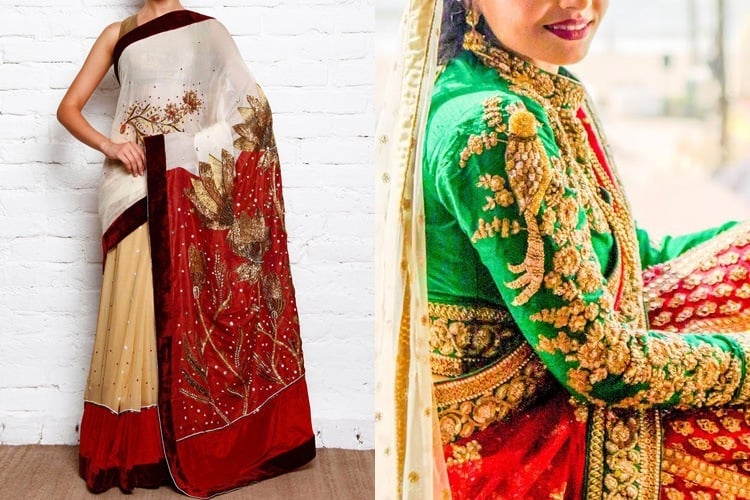 Before we tell you more about or show you the aari work designs, we would like to talk a little about it. Aari work is basically a pen like design quite needle shaped that is similar to what crocheting is all about, but very immaculate and intrinsic in detailing.
With the help of sharp edged needles, muthia and beads are woven into the fabric which gives rise to imprints forming chain-like patterns. This is how the delicate yet finest and very grand threadwork is born, and aari work designs or hand embroidery comes through.
AARI WORK SAREE DESIGNS AND MORE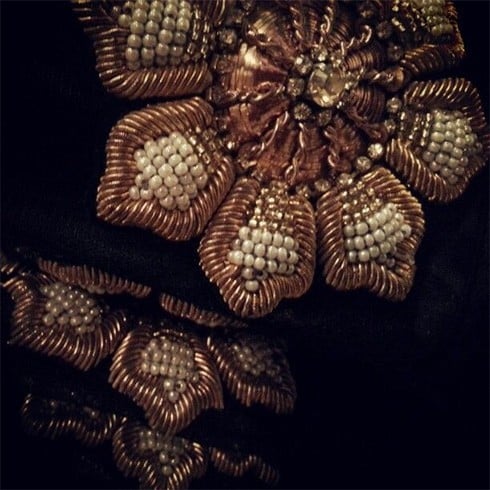 How Did It All Begin?
Talking about the historical aspect of aari work designs, one can trace its origins back to the twelfth century, when the Mughals rules the nation. Traditional floral patterns and designs back then were the norm. Aari work became very popular while the Mughal dynasty was in full-swing, and came into limelight under their bastion. Places such as Lucknow, Kutch, UP, Rajasthan and even the nation's capital, Delhi became prominent hubs for Aari work.
[Also Read: Embroidery Stitches]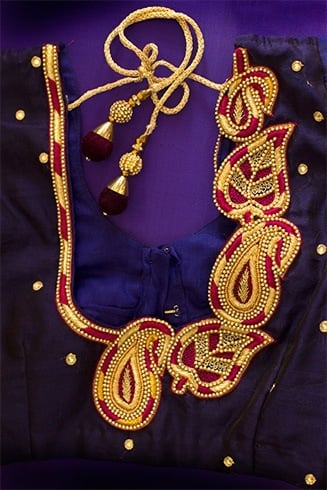 In this day and age, aari work is considered a fashion trend, quite chic and luxe since it takes hours of labor to produce one design. But thanks to modern day technological advancements, aari work saree designs found in this day and age with the help of the finest craftsmanship doesn't take years to achieve.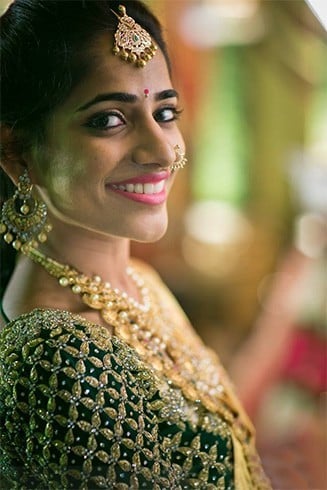 How Is It Done?
Aari work designs use simple procedures; lead pencils to begin the sketching with on the fabrics and then a sharp edged needle with which holes are pierced into the design lines are done.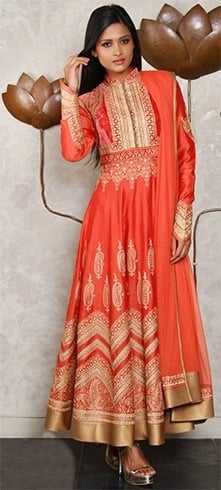 Once this is achieved, the threaded needle is inserted into the lines of the fabric and then a loop is formed. Fine stitched patterns are born which revolutionizes creativity, and this gives birth to aari work intricacies.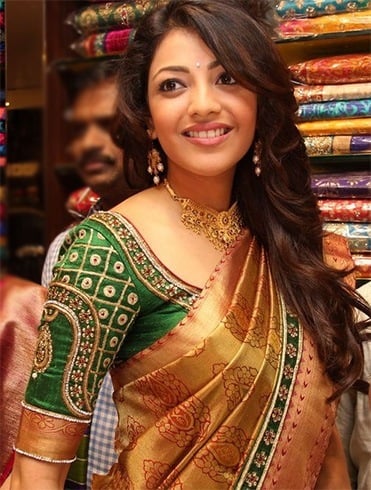 With the Mughal population quite large back then in India, mostly a hooked needle was used in those days for aari work blouse designs. Some historians say that BARABANKI or KATLA is where the essence for aari work is derived from, and this artwork is best done by the esteemed and highly experienced mocha artisans.
[Also Read: Embroidery Stitches]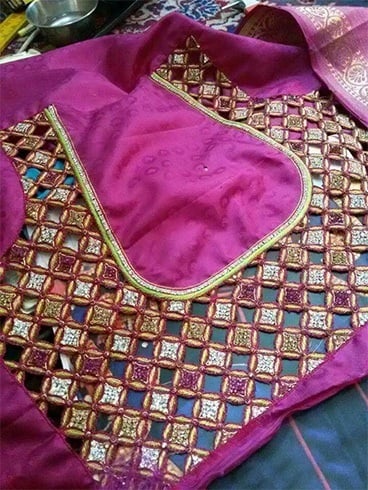 Talking About The Varieties
Aari work in itself is an amalgamation of needles and beads, and the varieties that follow are
Salma
Gota
Nakshi
Dabka
Aara to name a few.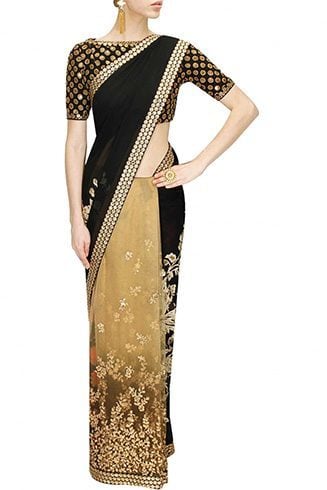 Each of the five aari work design patterns are known to enhance the grace and grandeur of the ensemble they are embossed upon. Other elements that are thrown into the making of aari work patterns, styles and designs are sitara, katori and also tikena, most of which are worn and flaunted at weddings, events and red carpet sagas.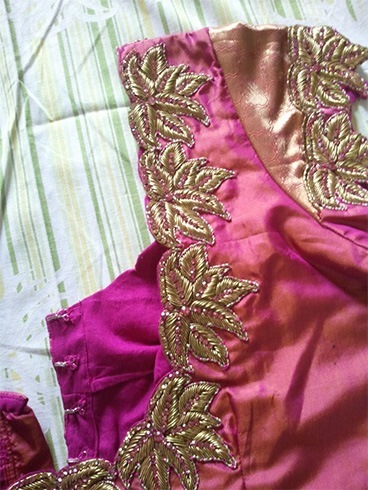 How Do You Maintain Them?
[Also Read: Tips For Hand Embroidery Designs]
Maintenance is important for any garment and design to last long, which is why when it comes to aari work we would suggest indulging in dry cleaning procedures done by an expert. A gentle hand wash and light ironing is more than enough to keep the fabric long lasting too.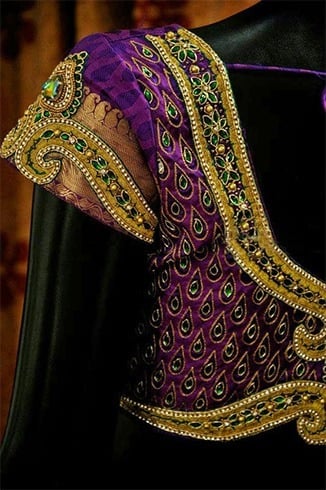 Aari work designs can be worn all year round and as per the climes too, making it one of the most appealing ensembles to wear – the western nations and designers there source bulk loads of aari work designs from India on a monthly basis, so you can only imagine its popularity.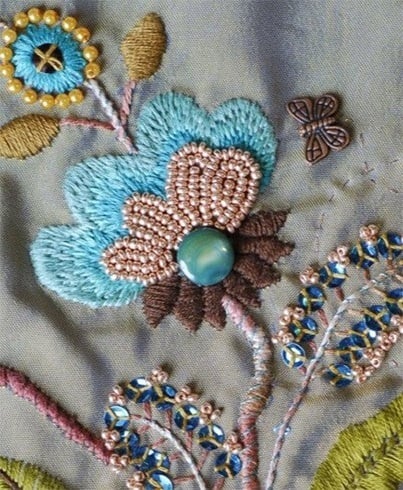 [sc:mediad]
Completing The Look
When wearing or flaunting aari work blouses and saris, you should balance and complete the look with chic chunky and traditional statement pieces. The makeup though should be low key, since the bling factor on your clothes and jewelry would be high.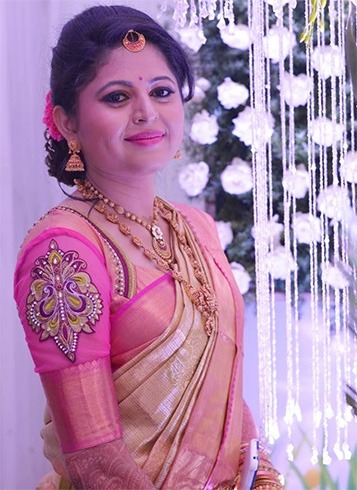 Here Is A Catalogue Of Aari Work designs
Like we mentioned before, Aari work designs is an amalgamation of needles and threads. And with the evolving embroidery techniques and the intermixing ideas, it is difficult to categorize these designs as a particular piece of work.
[Also Read: Concert Outfits]
Here are few sample aari work embroidery patterns that you pick from-
Defined Neck Pattern
This is the most commonly used aari work embroidery designs for blouses. This defines the neck pattern clearly and looks absolutely stunning. This aari work blouse neck design can be chosen for light occasions.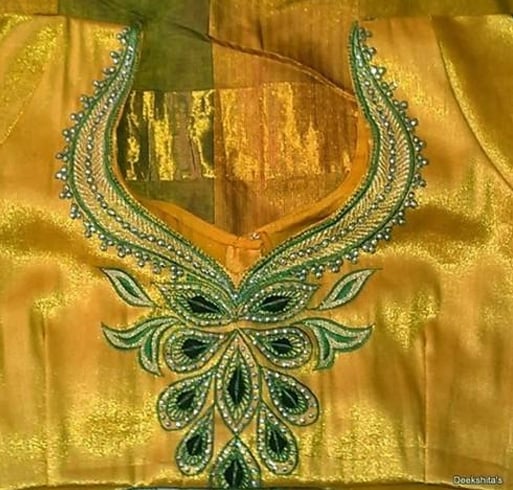 Here is one more aari work blouse design that also defines the neckline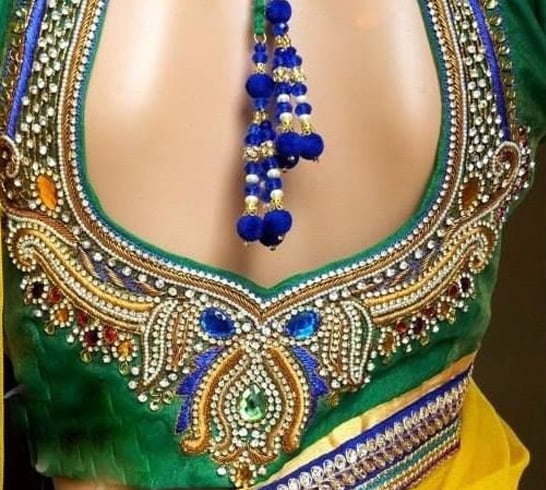 Assymetrical Blouse Design
If you are not into beads, pearls etc., go with gold based aari work frames on a deep colored fabric. Keep the work to the right of the blouse as the pallu might cover most of the left side of the blouse. That's smart way of keeping it low-budget, isn't it?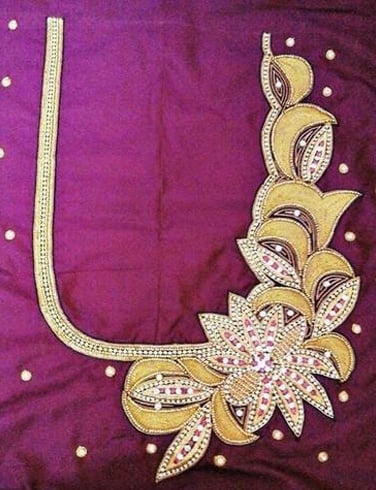 Embroidered Sheer Blouse Design
Here is a flashy style of aari work that you can try. The intricate and glitzy work on the velvet blouse with sheer neckline and sleeves looks attractive.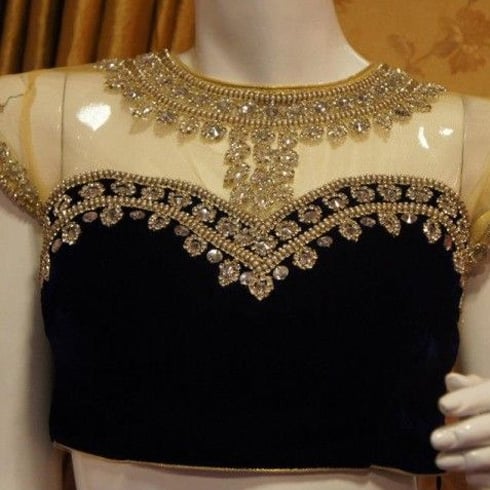 Bridal Inspired Blouse Design
This is the perfect choice of blouse design for your wedding or maybe a friends' wedding. On a classic red fabric, the gold thread and white bead work gives a touch of elegance. To flaunt such exceptionally good aari work wedding blouse designs, pin up your tresses and round off your style.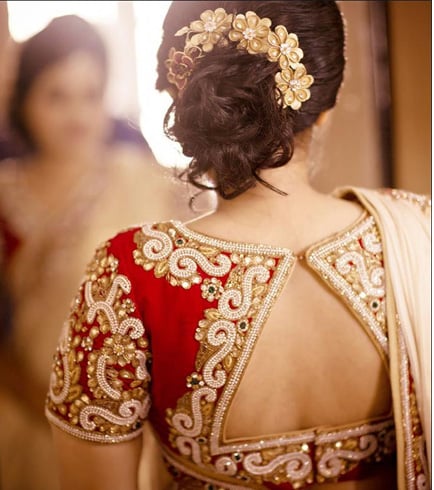 Illusion Neckline Blouse Design
A floral aari work design that defines the sheer neckline is lovely. The combination of colors plays a vital role in making or breaking a design.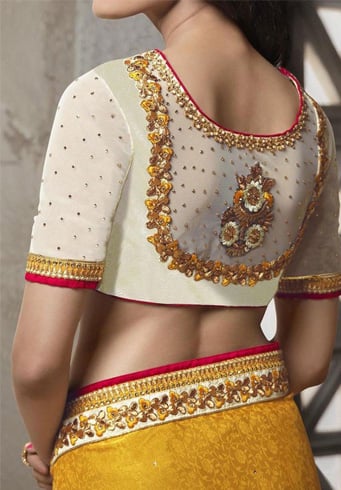 Contemporary Blouse Design
Now is the trend to add a flicker of western touch to ethnic styles. Here is one aari work blouse design that plays this note strongly. Sleeveless, one-side aari embroidery and high neckline blouse design works great for a cocktail party or a charity event.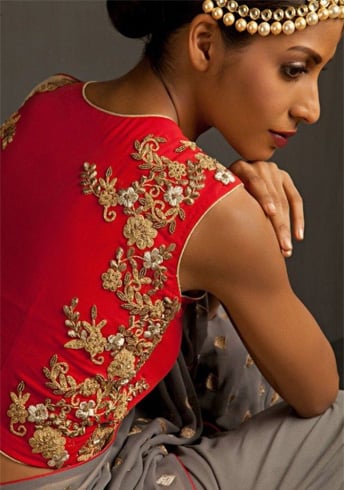 Heavy Work Blouse Design
Now-a-days saris are worn only for celebrations, weddings and grand occasions. Hence, they often need be flashy and heavily loaded with embellishments or embroidery. For a plain sari in pattu or georgette, add an intricately detailed embroidered blouse to keep the look engaging.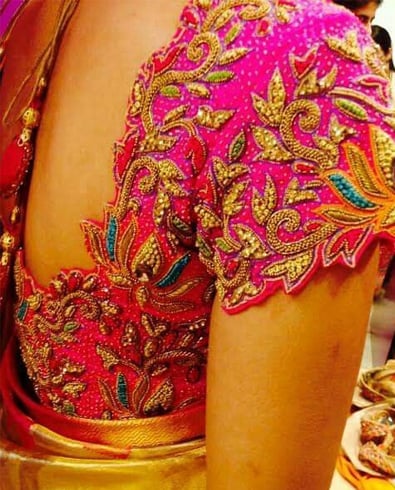 Here is one more heavily embroidered blouse design that looks gorgeous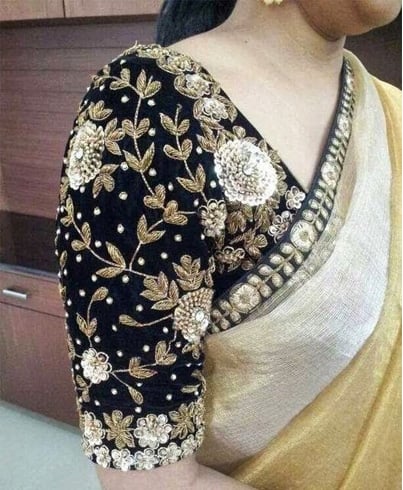 Gota Patti Blouse Designs
A contrast blouse with explicit aari work like the gota patti work can be picked to beautify the look of the silk saris.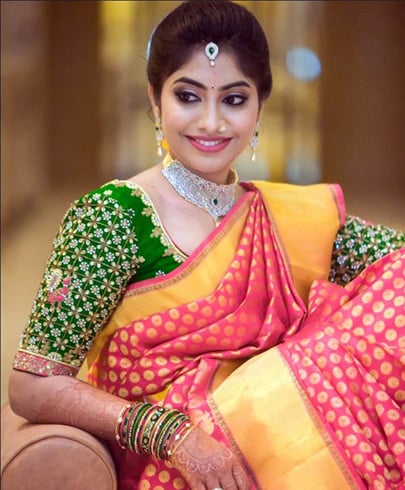 An indo-western blouse style with gota patti work is in play these days. Check it out for some inspiration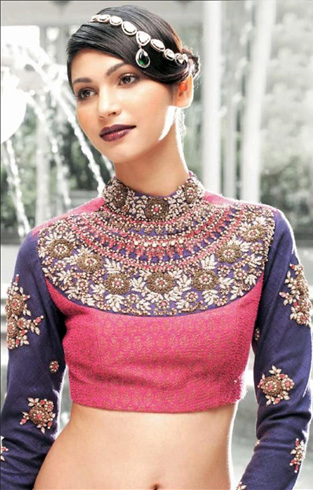 Peacock Blouse Designs
Love peacocks? Then get them detailed out on your blouse designs. Experiment with colors, styles and patterns of peacocks for the picture perfect design.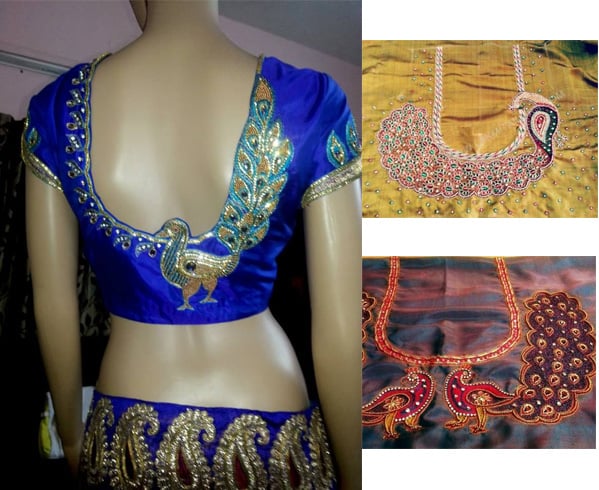 Love The Peacock Aari Work On The Sleeves.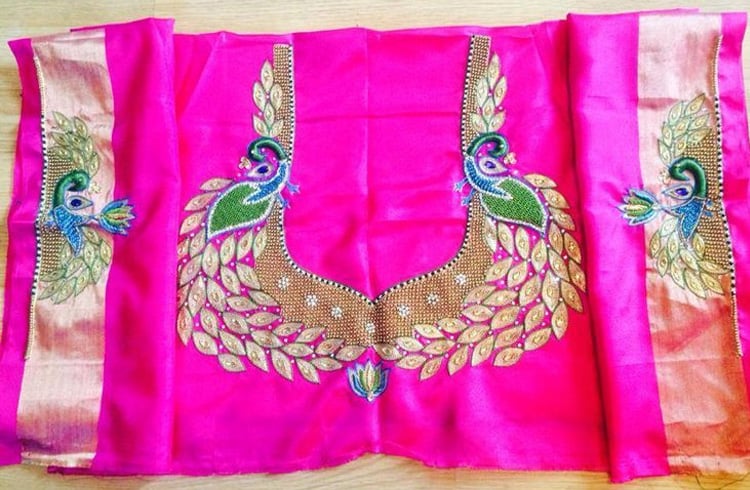 Sleeve Styles For Aari Work Designs
If you are not a big fan of heavily embroidered blouse designs, but still would like to try, go with aari work on sleeves. Confine the embroidery or bead work to the sleeves and see how beautiful it turns out to be.
Aari Work Saree Designs
Aari work embroidery doesn't confine itself to blouse designs. It can be replicated artfully on saris as well. But it's important to remember that only one, either the blouse or the sari can have the embroidery.
Aari Work Border Designs On Sari
It's an art in itself to carry an embroidered sari. If you are a toddler in this field of sari designs, go with a simple border that elevates the style immensely.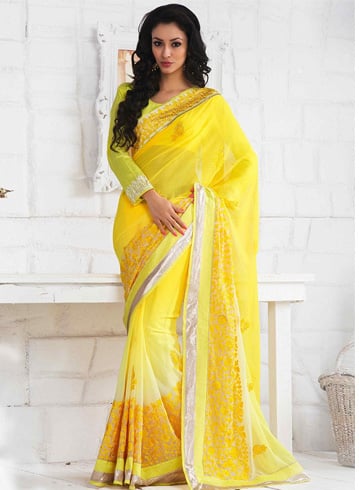 Kashmiri Aari Work Sarees
The Kashmiri work saris are always captivating and beautiful, don't you agree? Here are a couple of Kashmiri aari work on saris that you might fall in love with.
Placing the design exactly on the pallu to cover the bustier part looks quite pretty and lovely.
Undoubtedly the Kashmiri aari work on black is the bestselling piece of art.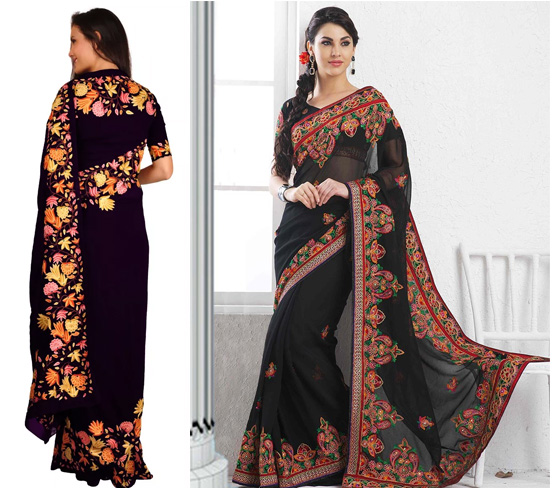 So, here was everything you could wish to know about aari work and we would love it if you could let us know where you pick up your aari work blouse neck designs from as well. Do write in and share the knowledge, because fashion needs to be spread out into the world with love, Indian fashion especially!
Images Source: pinterest