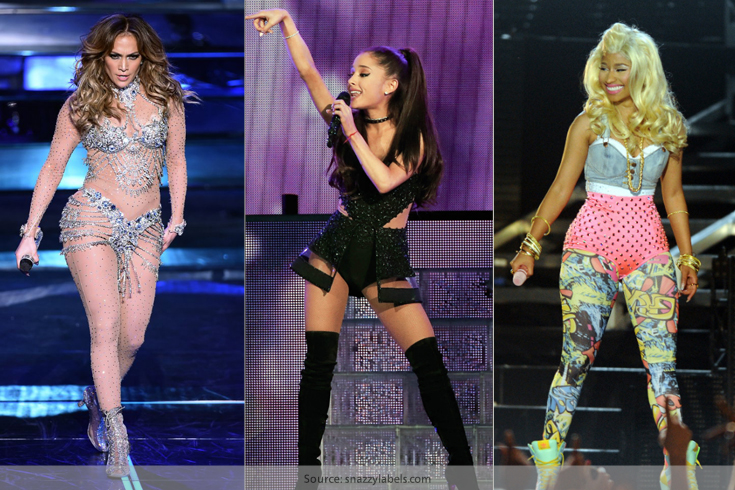 Our stars are creative, alright! But let's all agree that their dress designers and stylists can take creativity to a whole new level. At least that is what their gleaming and beaming concert outfits suggest.
Katy Perry
She is famous for her cartoony regalia and ice-cream cones, cupcakes, rotating fans have often found refuge on her décolletage, but we chose this white and red outfit she wore during her first performance at the Allstate Arena after Russell announced to break their marriage, as our favorite. The skater dress in white and red complete with spinning fans displays that Katy didn't end up divested and retained her flare following the greatest blow of her life.
Jennifer Lopez
This Latina is an embodiment of timeless beauty. J.Lo has a distinctive stage presence and her attire contributes to her appeal immensely. She looks hot in whatever she chooses to wear and it becomes quite a task to decide which among her numerous costumes should we pick? We, however, zero in on this glittery play of shimmer and sequins that sat on a nude underlay, she wore last winter at Las Vegas.
[sc:mediad]
Selena Gomez
Selena has never disappointed with her choice of wardrobe, but we pick this piece because it has everything that represents class and elegance. The black lace dress she threw on over a red strapless bodysuit for a performance at New York's Madison Square Garden, displayed her enviable beauty and looked heavenly on the 'Same Old Love' singer. Year 2013 was a year of growing up for Selena Gomez and she sure did grow up in more than one way.
Taylor Swift
Sel Go's BFF doesn't shy away from shimmering during concerts either. Swifties were bewitched as their queen dazzled in a silver leotard beaded with sequins all over during a show of her 1989 world tour.  We are loving the fringes that are rounding up in crystals giving an illusion of dew drops adorning her.
[ Also Read: Famous Celebs Wearing Women's Pants Suits And Rocking Their Edgy Style At Events ]
Ariana Grande
As much Ariana is famous for her signature half up half down hair do and winged eye-liner, she is notorious for the length of her attire that is constantly going shorter by the day. But let haters crib, fans are certainly loving her in her little numbers. This black formfitting number she teamed with thigh high boots for a show of The Honeymoon tour is our favorite without a doubt.
Beyoncé
All hail at the queen's feet so she never gets it wrong. The fierce look is from 'Made in America' concert. The 34 year old songstress owned the stage in the white racy bodysuit. She stirred up the absence of color in her outfit by slipping her fishnet hose covered legs into thigh high boot that had the most 'in your face' shade of pink.
Adele
How many of you knew that Adele covers her entire concert in a single change of dress, while every other popstar struggles the gamut of at least six changes for a 90 minute concert? So the one gown she picks up has to be extra-extra ordinary. Mostly seen in floor-length glistening gowns, Adele floored us as she took to the stage replicating the midnight sky spangled with stars. This one remains our favorite
Nicki Minaj
Don't expect this rapper to be demure, alright! It comes naturally to Nicki to entertain her fans in dramatic hair dos and loud costumes that represent everything and signifies nothing at the same time – but then, more power to the 'Anaconda' singer, she is being her own person. So here we have the performer, dressed in Disney princess hair, a denim bodice paired with bubble gum pink spiked spanks over some comic printed leggings, doing her own thing.
Madonna
Madonna's choice of wardrobe is always an excitement for the eyes – one never knows what she is going to wear next. For her Rebel Heart tour the 58 year old employed a Spanish tailoring house to create a bullfighter-inspired costume for her. Here is the look complete with an equally flashy red cape.
Britney Spears
The teen sensation of late 90s is back with a bang leaving her 'umbrella days' behind. The pop princess wowed her fans in her Las Vegas show as she rolled up in a show-stopping sheer one-piece in black complemented with drizzles of glitter on her lingerie area.