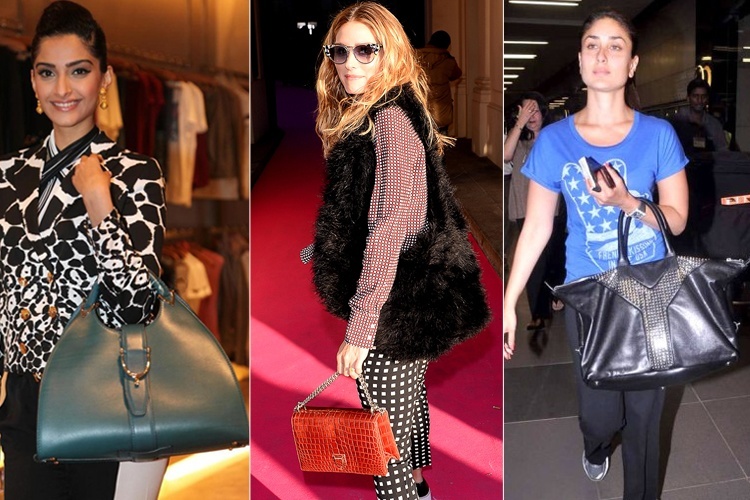 These girls don't give up on one single opportunity of making us super jealous with their glam lifestyle. Everything about them is just so over the top that we can't help but want to have their lives right now. Not only are those outfits sinfully stylish, but they don't hold back from splurging from sending some heavy cash on their accessories, shades or handbags every now and then. Let's see what hand bags our girls love to flaunt around while they are on the go.
[Also Read: Most Expensive Handbags In The World]
Kylie Jenner
When we talk about high fi fashion, we have to start with one of the slayers in the Kardashian-Jenner clan. Check out Kylie Jenner slinging that super iridescent version of Chanel Boy Bag.
Gigi Hadid
The next trendsetter we have on our list is Super model Gigi Hadid, who apparently has it all. She literally makes the sidewalk look like a runway with her panache. And the little baby she is carrying is a Leather Small Tassel Bucket Bag from Tom Ford. Those Tassels though!
Olivia Palermo
Olivia Palermo had already evoked enough envy in us by marrying the hottest male model on the planet. But then she just doesn't stop! She shows off her stunning red Dior Alligator Diorama Bag that she took to the Paris couture week Spring 2016, and we realize what more is missing from our lives.
[Also Read: How To Match Handbag With Outfit]
Julianne Moore
Julianne Moore was one of Chanel's favorite celebs to have been invited to their show at Paris Haute Couture Week – Fall 2015. The actress rocked this gorgeous shoulder bag from the brand itself during the event.
Kendall Jenner
If you have Gigi Hadid and Kylie Jenner on a list, what are the odds of not having Kendall in it? Well, none. So here we have Kendall. Now Kendall is not really a bag-switcher like her sisters, and maintains loyalty to one for a longer time. She has been spotted in this Givenchy Lucrezia Bag quite a few times, but then with a bag like that, can we blame her?
Jennifer Lawrence
The Hunger Games girl, despite being the highest paid actress in Hollywood, believes in simple living, at least that's what she claims. Jennifer Lawrence is just starting up with her handbag stash, and to begin with she is the proud owner of this Tod's Signature Tote that she picks up for travelling.
[Also Read: Handmade Embroidered Bags]
Now let's look at our desi girls, shall we?
Shilpa Shetty
Shilpa has evolved as one of Bollywood's style priests is the recent years. Everything about her is just so fancy. Look at her dressed pretty in pink at a breast cancer awareness campaign. She maintained all pink everything, even the pink Lady Dior bag!
Sonam Kapoor
The trending fashionista of this era of Bollywood is but Sonam Kapoor. And everything she touches has to be right on trend. The same goes for this Gucci Stirrup bag she displays proudly.
[sc:mediad]
Deepika Padukone
Only if you are Deepika Padukone, you can get away with wearing a drab shirt like that and still carry a Louis Vuitton like you own it. Yeah, of course she owns it, she is after all the number one actress in Bollywood right now!
Kareena Kapoor
That princesses of Kapoor royalty is now officially a Begum. And while on the go, the Begum prefers minimal makeup, comfortable Tees and her huge YSL bag.
Karisma Kapoor
While little sissy stays dressed for comfort, you will hardly find Karisma Kapoor not dressed to the nines. The make-up, the top and the black Chanel bag that rests at her shoulder, everything is perfection.
Sridevi Kapoor
Yesteryears' queen Sridevi still leaves no scope for improvement when we contemplate upon style. Here is the "Hawahawai" girl attending a Bollywood event with her two babies – her darling daughter and her pet Gucci sling bag.
[Also Read: How to Organise Your Handbag]
Sridevi was also spotted flaunting a Hidesign Amo Bag around the streets of New York in the movie English Vinglish. Now this one you and me can afford, as it comes in the very affordable price of INR 3995.
Alia Bhatt
Alia Bhatt is the official Caprese girl. And here she is showcasing the bag is she branding about. Now these bags promoted by our lovely student of the year, can be procured by all fashion crazy students if they go ahead saving their pocket money for a couple of months.
Handbags is the latest piece of obsession with our girls in the show business. Be it Hollywood, or Bollywood right here. If you follow glamor you must already be collecting handbags to go with your shoes. Now that you know what your revered style icons prefer, may be you can replicate your closet accordingly.