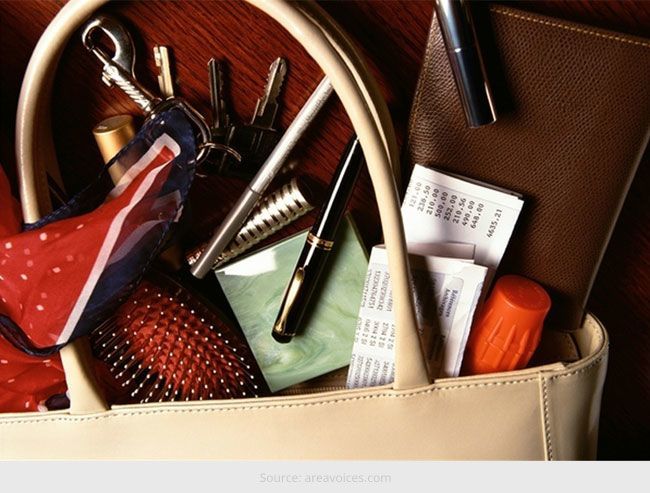 Are you one of those women who cheered when oversized totes came into trend? Do you overload your handbag to the point of bursting with things that you deem might come in handy but never really do? Then this is an intervention just for you. Take a seat and let's get down to the bottom of how to organise your handbag.
Step 1 – Empty your Handbag
The first step is to take out everything that's in your bag. Go on and dig and plough through all that clutter and get out every last item that's in there. Now get rid of the trash. This is includes any old receipts that you hung onto just in case you needed it later, that over a year old strip of chewing gum, and any expired coupons that you meant to use but forgot.
[Also Read: Makeup Organizer Ideas]
Step 2 – Divide the stuff
Essential Items in the Handbag – Once you get rid of all the trash, you need to focus on grouping the things into two groups—essentials and non-essentials. Let's tackle the essentials first. This will include your wallet/clutch, kajal and chap-stick (yes they are essentials), hair brush, keys, any medication that you're on and your phone. These are just the basic essentials that I'm listing. Of course this will differ from person to person so feel free to add other items that you may consider essential to this list. If you carry a big handbag, then finding small things in it is such a tedious process. To make this easier, get a pouch and put all your essentials in it. So anytime you need an item from your essentials list, you just have to pull out the pouch to get it.
Non-Essential Items – As far as the non-essential items are concerned, you need to take a long hard look at them to determine whether you really need all those things. While carrying a couple of hair scrunchies or a scarf makes sense, carrying your hair rollers in your handbag is not okay. Prioritise and decide which things need to go back into the bag.
If you have any loose change, it makes sense to have a small coin purse to store them in. This way, you won't have to scrape through the bottom of your handbag every time you need change.
If your bag has sections, assign specific sections for specific things. Make this a habit till your mind creates a map of sorts for where each item is. If you carry your charger or earphones in your bag then make sure to wrap it around neatly and secure it with a paper clip to avoid any tangles.
[sc:mediad]
Organizing the Wallet
While you're organizing your handbag, quickly organize your wallet as well. If you're wallet is stuffed with business cards and loyalty cards, you may want to take them all out. Your wallet should only have your cash, your license, credit card, and debit card. All the business cards and loyalty cards should be kept in another card holder.
If you are used to carrying an oversized bag, consider if the fact that there is space in your bag makes you want to carry more stuff. If this is the case, then you should maybe downsize your bag or make a conscious effort not to overcrowd your bag just because there's space.
Tip: If you don't already have one, buy a pepper spray can and store it in an easy-to-reach place in your bag. Have a separate purse for your makeup as there is always the risk of them spilling and creating a huge mess.
Organizing your handbag may seem like a boring task but once you get it over with you will realize that this one act has saved you so much time.