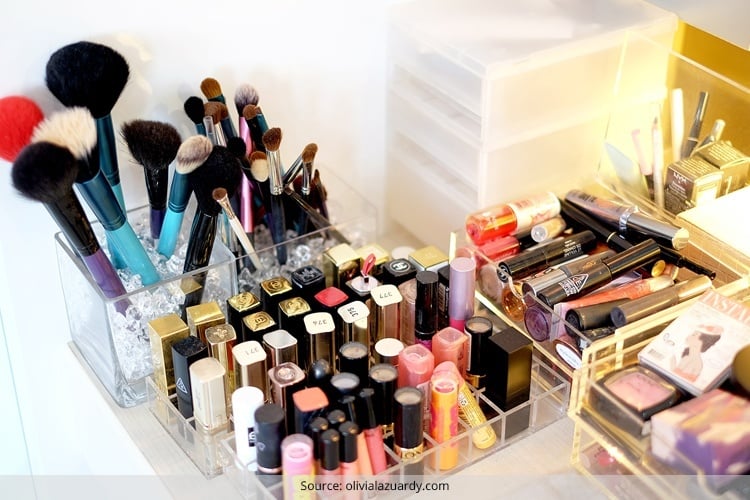 You are a makeup bird, aren't you? Then how do you stock your firangi and desi brands of cosmetics? In a usual cluttered way or a decent organised manner?
Get ready for some out-of-the-box tips on how to organise makeup in a creative way:
1. Stack perfume bottles on a spice rack
2. Cake stand for keeping perfume sprays
3. Keep your common beauty products on a revolving spice rack. Isn't it a space saving idea?
4. Put your makeup brushes in a sunglasses case whenever you are travelling. This way you won't lose them and they will be safe.
5. Get an old pencil box to stack up eyeliner pencils, brushes or mascara.
6. Take an ordinary flower vase and fill it with coffee beans. Now stick your brushes in it for convenient pick and access.
[Also Read: How to Apply Makeup]
7. A kitchen utensil tray has multiple uses other than you thought. Compartmentalise your makeup products by placing them category-wise in a kitchen tray. This will make it look like a mini makeup drawer – handy and convenient.
8. Running out of space for storing your makeup hot tools? Get a decorative magazine holder, the one we have in our homes for keeping magazines and racks. Empty it and keep your hair tools inside. This way you know where to turn to when it comes to getting ready for a party night.
9. Once again, your hot makeup tools have an innovative place for storage – your almirah. Open the doors of your wall cabinet and hang your hot tools on adhesive hooks inside. Sounds good, right?
10. Space crunch is often a problem we face when it comes to assorting our makeup products. Have a hanging shoe organiser? Use the pouches in it to keep your hair dryer and large-sized hair products.
11. Your wine rack got empty? Don't throw it away like the way you do with your wine bottles. Instead stack your hairspray bottles in a wine rack. This way you would feel happy each morning reaching out to a hair spray thinking it was a prestigious wine bottle gifted to you by your boss. Ha ha…
12. A desk file organizer isn't just reserved to keep boring looking old files. Use it to store and display your makeup shades.
13. Summers couldn't give you as good a gift as an ice tray. How you may ask? Well, apart from ice cubes, the ice tray can accommodate your eye shadows in the slots helping you see all your eye shades at the blink of an eye. Isn't it a wonderful ice tray utilisation?
14. The best thing in having a jewelry organizer is that it will help you store small makeup products that can be easily seen, not hidden in some dark hole.
15. Agreed you have a vast collection of makeup compacts. Put magnets to their back; stick them on a metal board and save space. This would be a good way to decorate your walls too.
16. Get transparent desk organisers for yourself. This will help arrange your makeup in such as way that you can easily see any makeup item and within reach.
17. Why clutter your mirror space when you can put in plastic food containers in your drawers which will help organize cotton balls, sponges, and makeup application tools in a neat fashion.
[sc:mediad]
18. Make use of an old candle vase by sticking cotton swabs inside it.
19. Got a fancy empty cookie jar? Don't throw it in the bin once the cookies are finished. Instead, put your nail polishes in it. This way, you can see all your nail enamels at one go.
20. If the travel bird in you likes to carry multiple lip shades along, then remove the lipsticks out of the tubes, and keep them in a clean pillbox. This would make carrying it easy and manageable.
21. Put your lovely lip glosses and lipsticks on the tiers of a cupcake tray.
22. Make use of a small loaf pan when it comes to organizing your lip shades or other cosmetic knick-knacks inside a drawer.
23. Have a decorative wine bottle at home? Put your hair bands on it. This way you will love to remember where you have kept them.
24. Most of us as young PYTs forget the place where we keep our bobby pins. Stick them on a magnetic strip. This way you won't end up losing them.
So you see how you can make the most of your living space in stocking up your makeup. Try it out and let us know how you found it.
[Also Read: Eye Makeup Tips]