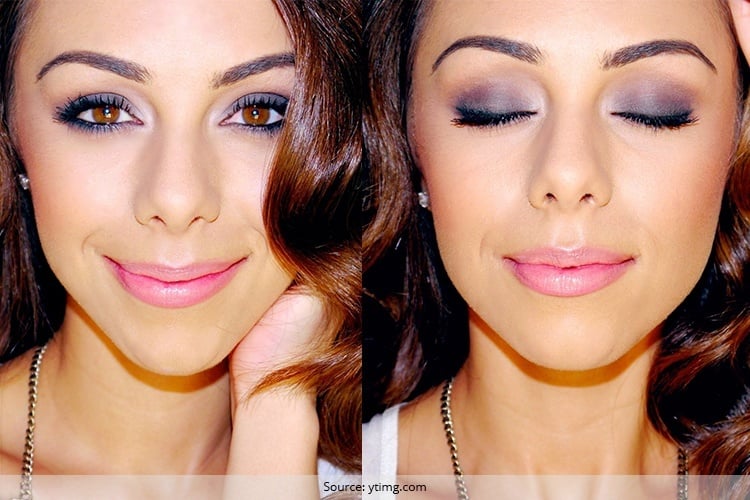 Many of you shy away from makeup because you have never really felt the need of it. Plus a lot of people think that makeup is very tough because you have to deal with so many things! Fortunately for you, we have something in mind. We are going to put a very basic, everyday look for you which can cure your fear of makeup once and for all. So, what are you waiting for? Let's get started on how to apply makeup!
Here is what you will need before getting started:
For your face: Foundation/BB cream, Concealer
Foundation is for when you need some really heavy coverage and BB cream or CC cream is for light coverage. They are basically tinted moisturizers and if you want a lot of coverage, then you should be going for foundation.
Now, foundation is available in many different forms: mineral powder, liquids or even sticks. As a beginner, you should start off with a BB cream instead. Stila Stay All Day Beauty Balm (Available at Sephora) is one such BB cream which can give you even coverage and stays almost all day long.
For those of you who have bags under your eyes, concealer can help dispel these bags to a large extent.
Hope you are enjoying this article on how to apply makeup for beginners.
[Also Read: Best Moisturizer For Oily Skin]
For your Eyes: Eyeliner, Mascara
For a beginner, eyeliner and mascara are two things which they should have in their makeup kits. Eyeliner can help define the eyes and mascara always adds a touch of glamour to your regular makeup. Benefit's 'They are real!' mascara can really work wonders for your lashes even if they are tiny! As for eyeliner, as a beginner it is good to invest in a pencil but these don't last long and easily smudge off. So, you can instead buy Benefit's eyeliner from the same range. It has an angled brush for ease of application.
For your cheek: Blush/Tint
When you use foundation for your face, your face will mostly be rendered into one single colour. Blush or tint can add some colour to your cheek and make it look rosy. You should invest in some good cheek stain which stays put over the foundation. You can also use tint to give your skin some much needed contouring and a sculpted look.
[Also Read: Makeup Tips For Oily Skin]
Tarte's range of cheek stain can also double up as lip tint. They have an extensive range of colours to suit each skin tone.
[Also Read: Blush Makeup Tips & Tricks]
For your lips: Lipstick, Lip-gloss
When it comes to how to apply makeup, and especially the lips, it is not at all rocket science. All you need is some pop of colour and you are good to go! Yes, it's that simple. Lipsticks which are heavily pigmented are usually better because they last longer and also you should choose those which are transfer proof. M.A.C's range is pretty effective.
[sc:mediad]
Now that you have your entire ammo ready, we can get started with the basics of how to apply makeup:
First and foremost, prep your face. Wash it and remove any residue from the face. If you have blemishes, cover them up with a concealer and then proceed to apply BB cream all over your face. Make sure you also apply it to your neck.
Use eyeliner to give your eyes a boost. Don't forget to add mascara! Bring the mascara wand to the root of the lash and brush it through the entire length. An important thing to keep in mind is this: If you want more volume, you will have to go for a thicker brush and if you want more length, go for a thinner brush.
Add blush to your skin. If you are using a crème blush, remember to smile while using the blush.
End the routine with some lipstick and you are good to go!
You are now all set to go! We hope your fear of makeup has vanished seeing the fact that it's so easy!
[Also Read: How to Apply White Makeup]