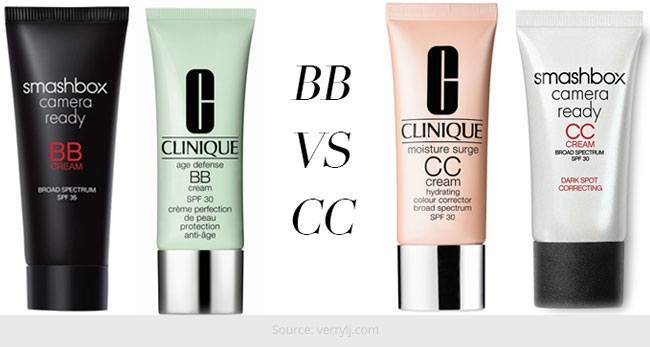 A few years back we were all swept up in the tide of the BB cream revolution. And even before the excitement was yet to die, the makeup industry came up with the CC cream and left us customers baffled and confused. CC versus BB cream, which one is better and what is the difference between the two? We tell you all there is that you need to know about the two so that you can make an informed decision on your next purchase.
BB Creams
BB (Beauty Balm) creams were made in Asia and were said to be the ultimate secret behind the flawless skin of Korean actresses. They are multitasking agents that are meant to do the work of several different products. The basic concept behind it being that you don't need to clog your skin with product after product, just one cream will suffice. The BB cream is a tinted moisturizer that contains anti-aging elements, sun screen, help fight blemishes, and give your skin a dewy smooth evened out look.
It needs to be noted that the anti-aging properties of BB cream are not enough to fight your signs of aging. So rather than using it in place of your other anti-aging products, you would do well to use it in addition to them for best results.
CC Creams
CC (Complexion Corrector) cream, as the name suggests, helps even out skin tone and get rid of pigmentation, dark spots, and other discolouration. So if you want to cover up and correct your skin's problems such as acne, redness, dark spots etc, then the CC cream is ideal for you. It offers better coverage than BB cream but is lighter than BB cream.
So BB cream is ideal for people who are not looking for coverage as much as moisturization and sun protection. CC cream works well for those who want to hide their skins flaws but don't want to use heavy foundation or concealer on a daily basis. It also needs to be noted that CC creams contain SPF and moisturize your skin as well.
[sc:mediad]
The Verdict
Between BB cream and CC creams, CC creams appear more impressive as they not only do the job of the BB cream, but also offer better coverage and take care of acne and pigmentation.
But it also needs to be noted that while BB creams are focussed on maintaining your skin, CC creams aim to conceal existing problems. So in that sense, which cream is a better option for you totally depends on your skin's needs.
Hello DD Cream!
Of course you cannot expect the makeup industry to stop with CC creams. They have already come up with the next in line, and no surprise there, it's the DD cream. DD (Dynamic Do-All) creams combine the benefits of both BB and CC creams. But their main area of expertise is anti-aging properties.
They are touted to be the next big thing in the makeup industry. They help fight wrinkles and improve the texture of your skin on regular use. They are also said to protect the delicate areas of your skin. So this cream is perfect for anyone looking to incorporate anti-aging into their daily makeup routine.
The SPF differs from one brand to another and from one cream to another. So check if the SPF offered by your BB, CC, or DD cream will be sufficient to protect you from the sun's harsh rays. If not, then you will have to use a sun screen to tackle that problem. Also, you need to remember that you won't be slathering on your cream as you would your sun screen, so will the tiny amount you use on your face offer optimum sun protection? These are some things to consider as well. While these creams are designed to be multitasking and making our life easier, they do come with their set of drawbacks. So being aware of the shortcomings is the only way to keep yourself and your skin safe.