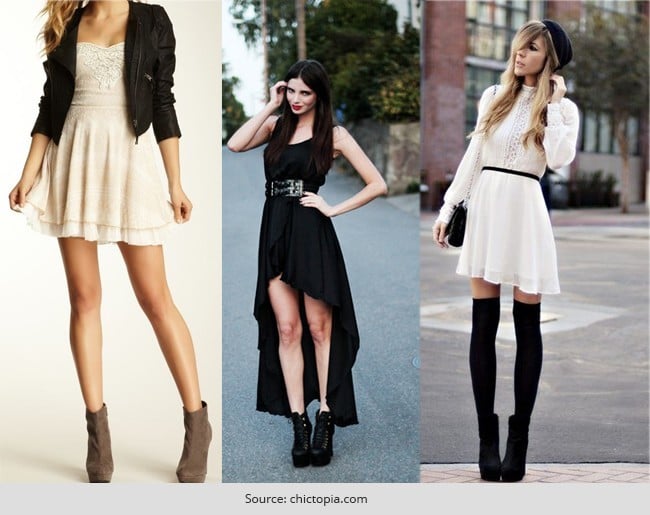 You can pair your ankle boots with dresses to give your dress a whole new look. Mixing and matching is essential to make you limited wardrobe seem endless. So this winter, gear up to wear your dresses with your ankle length boots to create captivating looks.
Dress with leg warmers and ankle boots
The first look is such a perfect look for winner. Pair up your boots with thigh-high leg warmers or socks and a dress. The idea is to create a warm look that has a subtle sexiness to it. Layer with a scarf or jacket to add some interesting textures to the look.
[Also Read: Over The Knee Boots Fashion]
Asymmetrical Dress with Ankle Boots
Wear your boots with a dress that has an asymmetrical hem. Layer it with a jacket and add some chunky accessories to complete the look. The high heels will work well with the high-low hem line of the dress and the jacket will help to tie up the whole look together.
Girly Dress with Ankle Boots
This third look works so well because we put together two seemingly different pieces together to create a third new look. Take a girly, baby doll dress and pair it with open-toed high ankle boots. The super girly dress and the super grungy boots come together to create some fashion magic.
Ankle Boots with Part Dress
Do you dare to wear boots with your party dress? Especially when all your friends will probably be wearing dainty sandals or sexy pumps? But that is exactly what makes this look so bold and edgy. It is totally unexpected and you can bet that you'll be the only one wearing stark black boots with your sequined party dress.
Ankle Boots with Maxi Dresses
Who says you can't pair your ankle boots with floor length dresses? As long as you take care not to trip over you dress and fall this is actually a very fashion-savvy look. Of course it might not work with all floor length dresses. So you need to decide whether it looks good or not.
[sc:mediad]
Simple Dress with Boots
Ankle length high-heeled boots with a shift dress has been a popular combination amongst Hollywood celebrities. It is a no-fuss easy look that takes under five minutes to put together. You don't need to accessorize or layer this look. Just the boots and the dress will suffice to create a minimal fashion conscious look.
Shift Dress with Ankle Boots
Bring in a pair of socks to peek out of the boots and pair it with a shift dress. Check out the checked shift dress, the socks and the boots in the picture below. They look like they belong with each other.
Check out how Keira Knightley and Ashley Tisdale make ankle cuff boots work with their dress.
The above photos should be used as inspiration to create our own unique style. High-heeled ankle length boots, as we have witnessed, are a great option for both dressy clothes and for casual everyday clothes. They work equally well with a floral chiffon dress as they do with a sequined gold dress. And what's more, they are definitely much more comfortable than wearing high heeled pumps or sandals as they offer more support not only to our feet but to our ankles as well.
Every girl should own two pairs of ankle length boots – one in suede and one in leather, both with high heels to up the glamour quotient. You can also make your own lacy boots and style them with dresses.
Hope this post on how to pair high heeled ankle boots with dresses helps.