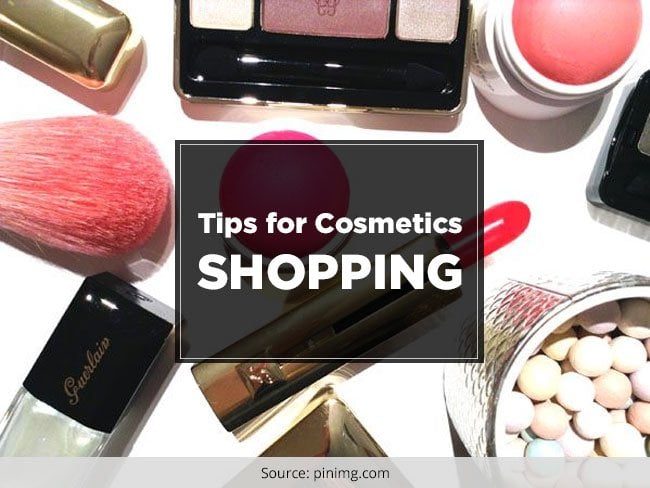 Every company boasts of having the best range of cosmetics. Now consumers like us naturally get puzzled as to which product to go far. Every product claims to have a miraculous effect on our dead skin. We of course want to get our hands on the best of products. There are zillions of products that comes out every single day and with that our confusion starts increasing.
Many of us go shopping blindly without any pre planning. We buy most of the cosmetics in an impulse, mostly just by reading the content or just seeing our favourite celebrities endorsing it.
Understandably the moment we decide upon buying for cosmetics, our mind starts looming with several questions. So to clear all such doubts, I will show you how to remember some simple yet important points while shopping for cosmetics.
[Also Read: Most Popular Cosmetic Brands]
1. Choose the right blush for your skin tone
Keeping in mind everyone has a different skin tone; I will guide you in choosing the right blush to match your complexion. For all those who have a fair skin tone, choose a pink shade blush or a peach shade. Give final touches by highlighting your skin with luminous powder.
If you have a medium skin tone, then use rosy pink or deep peach blush.
Remember anything lighter to your skin tone will make you look pale and anything darker will make you look funny. Now if you have a dark skin tone, go for rose or deep oranges. Do not opt for lighter colors.
2. Find The perfect lipstick to match your skin tone
First of all it is important to remember that dark shades of lipstick makes the lips look smaller and lighter while a brighter color tends to make the lips appear bigger. Pick up a lipstick that is next to your skin tone. For fair skinned complexion, a lighter shade of lipstick like pinks, nudes and light browns also work. Luckily for them all the shades work great on them. For medium skin tone girls, it should be a nice dose of red, fuschia pink and peaches. And finally for the darker skin tones, you can go for a dark red color. You can also go for ruby and wine colored shades. But when it comes to lipsticks, strictly avoid orange.
3. Right foundation for your skin
It is said that the perfect foundation is one which absorbs into the skin without a trace. For finding out the best foundation for your skin tone requires no hard testing. It is rather simple. But make sure you go with a scrubbed clean face and neck when you go shopping for foundation. If you have a fine skin, you can go for a light coverage. If your skin is uneven use a medium coverage foundation. The best shade for you is the foundation that disappears from your face. Remember foundations are formulated for oily, dry, mature, normal and sensitive skin all differently. So choose one that suits your skin.
4. Choose the Right Mascara
Every girl wants the perfect set of eyelashes. And to get the perfect set of eyelashes, you need to have the perfect mascara wand. For all those who want to have the long lash effect, opt for long lash mascara. Most of the mascaras today are designed to not only make the lashes appear longer but to avoid any clumps from forming. In just two strokes, you can attain the perfect eyelash. You can flutter your eyelashes away after that. For those who have thin light eyebrows, it is better for them to go for full volume building mascara. It thickens, lengthens and curls the lashes. For every day wear, it is better to opt for waterproof mascara. The water resistant mascara stays on all day without any smudging.
5. Find the right make up brush gear
You need to invest in the perfect set of makeup brushs to get that perfectly made up look. Goat Hair is one of the most popular makeup brushes as it evens out the powder perfectly. It is advisable to choose a natural hair brush for applying powdery makeup products like eye shadows, blushes and powders. Choose a synthetic brush if you have to use wet makeup like creams, lipstick and foundations. Always buy a concealer brush to get accurate makeup application. You can also test the makeup brush before buying, if you notice any hair coming out of the brush, you better opt for a different brand.
At the end of the day, hygiene matters. So make sure to keep all your makeup products clean and dry. It is better to store them away in a cabinet rather than exposing them out in the open and letting any dust settle on them.