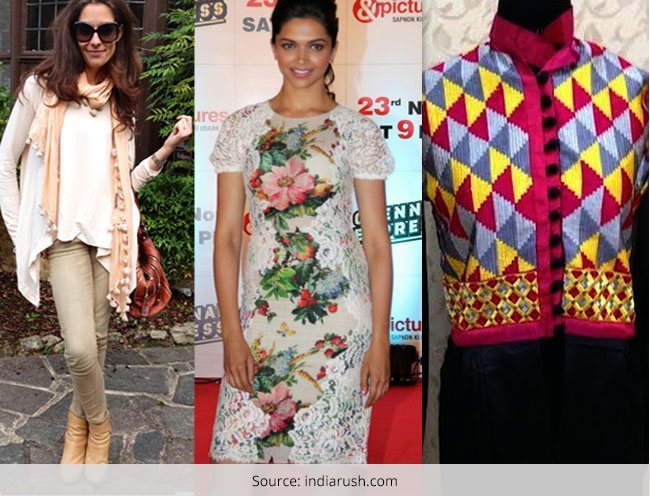 The world of fashion is a dramatically dynamic one – trends change at the drop of a hat and that "in thing" might just go out of fashion before your can get your hands on it. If you are sort of run-out from chasing all the latest trends, it might be worthwhile to invest in these evergreen wardrobe essentials that never go out of fashion.
1. The mid-rise blue jeans
This one is an all-time classic you can never go wrong with. Team it up with a tee for a casual day out, a sequined top and jazzy stilettoes for a night of clubbing, and a well-cut blazer for work. If you have wider hips, skip the skinny styles and opt for a straight leg or boot cut instead to lend more balance to your shape.
There are a million ways you can style a pair of blue jeans and make them your own. We love how Katrina Kaif sports a ripped pair with a simple tee and a black shrug.
2. Trench Coats
They have been around since the medieval ages and they don't seem to be on their way out anytime soon either. A smart trench can see you through the drabbest of winters and uplift any outfit. Wear it over dresses with a pair of knee-high boots or over colorful leggings for a chic, funky look. It would be wise to buy a nice, branded trench coat in a neutral color so that you can wear it over most of your outfits. – Blacks, ivories, beiges and tans are usually the most practical bets.
Check out how Alexa Chung works the same Khaki trench coat in so many different ways.
3. The Black Dress
As cliché as it may sound, few things are as versatile as a classic black dress. You can glam it up on tone it down depending on your mood and occasion, and they never ever go out of vogue. Choose between lengths, cuts and styles to suit your body type. For example, some ruffle detailing along the neckline can compensate for a smaller bust while an A-line or layered skirt will accentuate the waist and camouflage a pear shaped body. A heavy bust or flabby arms, on the other hand, will benefit from sheer sleeves with a cut-out detailing.
This black midi dress with a plunging neckline and an understated peplum perfectly complements Nigella Lawson's curvy frame.
4. A white shirt
Very "standard", if you will, but you'll be surprised with the things you can do with this ultimate wardrobe essential. A flattering white shirt is a lot more than an innocuous piece of garment that can see you through board meetings and cocktail parties with equal ease. You can knot it up over a pair of denim shorts to look effortlessly sexy or wear it with formal trousers and a waistcoat for a sharp, business-y look. Take a cue from these celebs who got it just right.
5. Tan boots
If you don't have one of these yet, its time to make the investment. Boots are fashionista's delight and a good quality pair will be your loyal companion for many winters. Whether you choose to go ankle length or knee high, boots add a glamorous spark to any ensemble.
6. A floral dress
Cute, flirty and feminine, floral dresses are definitely one of those clothes that never go out of style. Big or small, old or young they can be worn by anyone, anytime. Since they come in various fabrics, cuts and styles and you really have to look for one that perfectly compliments your body and personality type. If you are young and petite, experiment with short, skater style dresses for a cute, girly look. If you are looking for something more practical and elegant, a flowy maxi or midi style may be just the thing for you.
We simply adore this lacy number on Deepika Padukone.
7. Scarves
Printed, plain, silk, cotton – you really can't have enough of these! Scarves can breathe life into the dullest outfits and make for great utility items when you want to save your hair from the onslaught of a bike ride. They can make you look spunky and somber, depending on how you style them.
8. Black lowers
This one especially comes in handy during those "I-have-nothing-to-wear" moments. Be it a trouser or a skirt, having something black to wear underneath gives you all the freedom to experiment with colors, styles and trends. Go minimal with just a button down shirt or glam it up with a metallic or sequined top.
Notice how Kareena Kapoor pairs a simple black palazzo with an ethnic jacket to make a statement.
Investing in wardrobe classics doesn't have to translate into a boring style statement – you can always team them up with more trendy pieces and accessories to make heads turn.