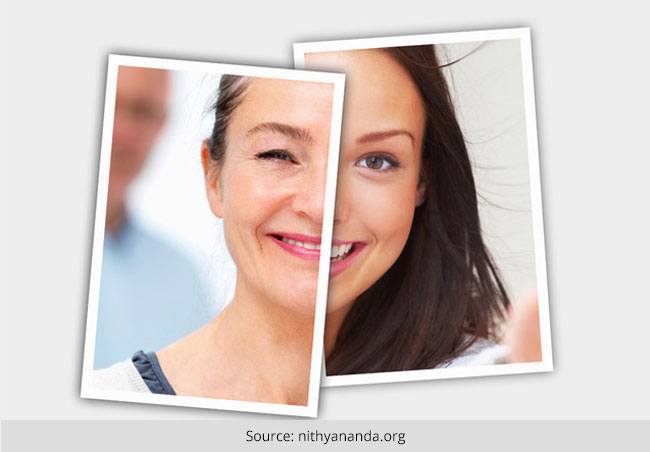 Spending a fortune on luxurious cosmetic items is not always wise. All the time you will not get the desired end results. In the worst-case-scenario your skin may even get scalded if the product is not well-suited for your skin type. The cosmetic products may work in favour for some but usually the healing power is slow. In the process of waiting for your skin to show signs of healing, you splurge on to buy more cosmetics. Same thing happens when your first lines of wrinkles or crow feet starts to appear. In an instant one can be seen dashing towards making that desperate attempt to hide all the signs of aging.
Worry signs on the face are not happy signs for anybody. There are many cures for it. Some love going the surgical way even extending to go under the needle. Sadly their faces end up looking tight and rigid rather than looking young and beautiful.
Let us now talk about how one can get immediate results using some top remedies, starting right from living the right lifestyle, to having a wholesome diet and what to use on your face without damaging your skin.
[Also Read: Beeswax For Skin]
Now let's look at some anti-aging remedies for your face and neck.
1. Avocado Face pack For Anti-Aging
An avocado helps in slowing down the skin's aging process. It is said that the natural oils in avocado contains collagen and elastin build up. You can make your anti-ageing avocado mask from home.
Ingredients:
1 ripe Avocado
¼ cup Sour cream
Method: Mix the two ingredients well in a blender and apply on you face evenly. Wait for ten minutes before washing it off. You can even apply just the avocado mash alone on your face. You will get an instant glow on your face and skin will look revived.
2. Figs For Anti-Aging
Figs are healthy fruits for so many reasons. One of the reasons is that it works beautifully on the skin. There are two constituents of antioxidants present in figs i.e. phenols and flavonoids. It contains properties that stop the signs of anti-ageing.
You can apply the paste of mashed figs on your face. Leave it to dry for 15-20 minutes. Wash off normally. It works as an excellent cleanser as it has a good amount of water present in it.
3. Kiwi & Honey Face Pack
Kiwi is another effective remedy to cure anti-aging signs. It contains vitamin C water soluble properties which produce collagen and which help in re-firming your skin. When your skin slowly starts aging, the production of collagen starts decreasing and your skin starts losing elasticity. The presence of Vitamin C not only helps to firm the skin but repair your damaged skin.
Ingredients:
¼ Kiwi (mashed)
1 tsp Honey
Method: Mix both the ingredients together into a smooth paste and apply on your face. Let is stay for 10 minutes and wash it off with warm water. Give with a final rinse with cold water to close the pores.
4. A Good Night's Sleep
Not living a healthy lifestyle will start affecting your health. The early signs of aging will slowly start showing on your skin. To start living healthy, you should start right from getting your eight hours of sleep. Not getting enough hours of sleep will result in dull tired skin. A well-rested sleep alone will give you that well-rested face. Many a times we neglect to rest our tired mind and body and in turn the signs starts showing up right on our face.
5. Say No to Smoking
Believe it or not-at least half the people around us are heavily addicted to smoking. There are no health benefits with smoking. Smoking simply pollutes our body and affects others around us. "No Smoking" slogan surely has to go out as a strong message to the people. So when we are thinking in terms of skin care, smoking definitely won't work as a remedy. People actually start getting worry signs and ageing signs as they live on unhealthy terms like this. Get rid of this habit if you want to get on life in a healthy manner.
6. Use of Sunscreen
Exposure to direct sunlight is one of the reasons for ageing skin. Applying sunscreen before going out in the sun has been promoted many a times. We cannot simply dismiss that fact. To make things simpler for you, we will show you fun ways of making your own sunscreen at home.
Ingredients:
Half a cup of coconut oil
Half cup of almond oil
2 tablespoon of raw shea butter
Half cup of beeswax pellets
4 heaping TB zinc powder
20-25 drops of carrot seed oil
Method: Mix all the above ingredients well in an air tight jar. Using it whenever you are stepping out.
7. Healthy Diet for a flawless Skin
Include sweet potatoes, papayas and carrots in your diet regime if you want to get rid of wrinkles instantly. It has been said that these three products have important components to help reduce the appearance of wrinkles. We had talked about collagens before and its effective cure for wrinkles. Now inclusion of this in your diet will help to increase the production of collagen. It will start to even out your skin and keep your wrinkles at bay.
8. Cocoa and Green Tea facial Mask
This facial pack is perfect for lifting your skin and giving you that extra glow.
Ingredients: ½ cup green tea
3 tbsp Cocoa powder
2 tbsp Honey
½ Avocado (mashed)
Method: Mix all the ingredients together to form a smooth paste. Apply the pack on your face and neck. Massage the paste onto your skin gently in circular motions. You can leave the anti-ageing facial mask for 20 minutes and rinse off with lukewarm water.
Green tea is extremely healthy for your skin.
[Also Read: Green Tea Benefits for Beautiful Skin]
9. Red Wine
Red wine contains antioxidants like resveratrol that helps build blood vessels. It is said to be an effective source for curing anti-aging signs. Blend it with your face mask to help get rid of all skin problems like wrinkles and aging. The antioxidants present in the wine will act as an anti-aging component for your skin. So using red wine definitely will help you define your face more.
Rehearse and incorporate these ideas into your daily regime. You will notice the visible difference sooner than you expect.