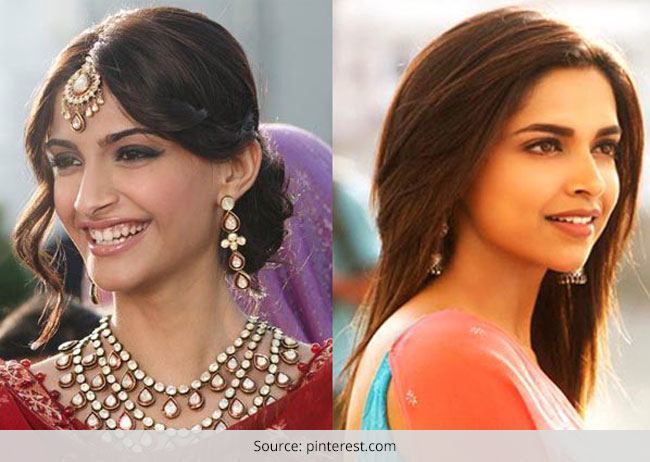 We Indian women are blessed with long, black, lustrous hair to take pride in. With our grooming tips and our home remedies we try and maintain our beautiful hair to the best possible ways, not to forget the trendy hairstyles. We oil, we condition, we moisturize, and we clean, what we tend to not focus on are our hairstyles.
With every outfit, you decide on the earrings that would complement the attire, the right footwear, the right colour eye liner, even the right bindi, and then why not experiment with new and easy hairstyles with the same. Indian punjabi hairstyles for Indian wear make a perfect combinations. They tend to make you look extremely traditional. For eg. a neatly braided Indian hairstyle goes very well with a silk saree and similarly, a side french braid hairstyle looks good with patiyala salwars and kurtas.
Indian hairstyles for long hair are plenty. these days even side swept hair in a french braid and french knot buns are being tried by women. And honestly speaking, many of these trendy hairstyles are generally started by the Bollywood celebrities themselves.
Most of us have wavy or semi curly hair that cannot be entirely left loose when wearing something ethnic like a saree, they tend to become unmanageable. So, when in such a fix, you need to tie your hair in a manner that it looks pretty and is conveniently easy to pull off.
Here I have a few Bollywood hairstyles
1. Front braided low pony Hairstyle
Perfect option when it comes to wearing a suit or just kurta with jeans. This trendy Indian celebrity hairstyle just needs a steady hand to make a clean braid from the hair in front and then just tying it all in a low ponytail. A little time consuming but will give you a very fresh look when paired with heavy earrings to match your clothing.
2. The Puff and bun Hairstyle – Hairstyles for sarees
Deepika Padukone has mastered the art of carrying this particular Indian hairstyle more than a couple of times. Its gets your hair in a bunch behind which could be beautified with flowers or a gajra. The puff in front gives your hair the volume making your face look longer, giving you an image of a longer neck. When styled with a saree, traditional jewellery and a bold colour lipstick is all you need.
Indian Hairstyles for long straight hair can include these buns made in different styles – with pouf or without. Add hair accessories to it, if you are attending a wedding or a festival get-together.
If you often wonder on which hairstyles suits on sarees, we have this perfect image below of DP that can answer this.
3. Centre or side partitioned messy pigtail Hairstyle for Saree
Long hair can sometimes seem too long to be experimented with, so instead opt for a plait. Partition your hair from the centre or a side you pick and a carefully messed plait. Bring it your side to flaunt those lock locks. You can add a strand of colored hair or the ones that you can just pin to your hair to give it that edge over a simple plait. It is sure to get you a second look. These are truly simple Indian hairstyles for long straight hair on saree.
[Also Read: Trending Hairstyles for Sarees]
4. Straight hair Hairstyle
Straight open hair just need some air to breathe, so when you are ultra confident that you hair are behaving the way you want them to, just let them fly. No pins or rubber bands for this one. It just needs a good hair day and a nice hair cut. You could never go wrong with this one. Carry off this hairstyle with salwar suits, sarees or even just kurtas with denims.
5. Messy French Braid Hairstyle with Indian Wear
Take a section from the centre of your head in front and separate the sections with 2 strands in one hand and third in the other hand, like the usual braid. Braid like a regular braid. Pull out the strands loose giving it a little messy look. Try this famous hairstyle during casual get-togethers with family.
[sc:mediad]
This may seem difficult in the beginning to make it, but once mastered this is one of the simple Indian hairstyles for long hair.
6. Side partitioned puff bun Hairstyle for Traditional Indian Wear
Looks elegant and classy, this updo is a little tedious to do because it requires neatness. Side partition your hair from the front and make a bun of the rest of the hair with a little puff. Then use a little dab of gel or hairspray to set the front hair. This may requires some help but nonetheless looks awesome when done.
7. Half back pinned hair for Indian Wear
This easy hairstyle is ideal for wavy hair, it helps keep the hair in front pinned at the back and yet the locks loose. There is more than one way to do it, which includes a side partition, centre partition or no partition look. Make sure you pin your hair neatly behind because nobody wants monkey hair sticking out from everywhere.
8. A Simple Ponytail Hairstyle for Indian Wear
Bold is what this generation is about. A ponytail on a saree exuberates self confidence and surety. It's pulled back and it's tasteful. A small puff will accentuate your forehead and you are sure to look fabulous.
9. Side swept hairstyle of Traditional Wear
This classic side swept hair do is a no-trouble piece of work. Nicely shampooed hair can just be brushed well and swept one shoulder and there you have a style that compliments most Indian looks.
Hairstyles for short hair in saree could include this style of side sweeping. You can either leave them as is, or can try a half-up or half-down hairstyle.
Let's look at more celebrity hairstyles with Indian Wear.
Deepika Padukone Hairstyles with Indian wear
Deepika Padukone chose to leave her hair blow-dried with light beach waves with this Anarkali Suit.
Deepika's hairstyle here is sleep and ironed that are left loose again with this Indian wear style.
Hairstyles for churidar can definitely be copied from Deepika Padukone.
Hairstyles for Indian women are many. It all about how you mix and match them.
Madhuri Dixit Hairstyles in Saree
Indian hairstyles for short hair and long hair can include buns. But, if you are trying to make buns in short hair, make sure they are securely pinned using plenty bobby pins. When hair is tied up, make sure you wear heavy earrings or a statement necklace to highlight the neck.
Madhuri Dixit here has left her hair loose with side swept bangs with this olive saree.
Hairstyles for bridal will need loads of hair ornaments or fresh flowers to be adorned. You can try even the french braid or the updo for bridal hairstyles.
Hope you are inspired with the Bollywood celebrity hairstyles for Indian wear and try them during your next outing too. Stay tuned for more hairstyle trends.