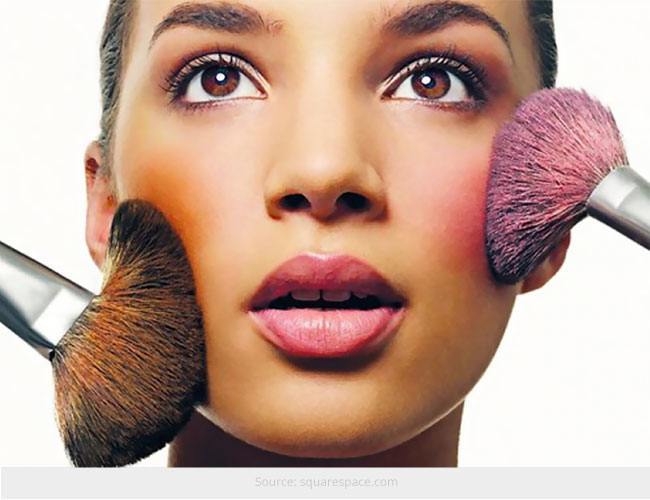 Rosy cheeks are the ultimate sign of making you look a perfect diva. However, on some days we need a little external help to get those camera-savvy flushed cheeks. It goes without saying that the right blush can make you look younger, brighten up your face, and give you the cheekbones to die for. Here are some tips and tricks on blush makeup that would make you look the Goddess.
Tricks
Choose the blush colour that is closest to your palm colour and matches the undertones of your skin. When applying blush, start in front of your ear, and diagonally towards the nose. Avoid doing it in circles.
To get that glow for long, apply creme blush while your foundation is damp. Blend it with your foundation blush while dusting it lightly with loose powder.
Apply blush on the apples of your cheek and blend in liquid bronzer under your cheekbones.
Use bronzer below your jaw from earlobe to earlobe. Also, remember to blend it under your chin.
Tips
[sc:mediad]
Get into the habit of cleaning your blush brushes with baby wipes. Carelessness on your part to do so could lead to bacteria haunting your face.
Dab a little shimmer blush on the highest part of your cheekbone close to your eyes. This will help you achieve the sexy looks.
Make it a point to clear the powder blush in one direction while using it. If you tend to go round and round with it, you can face origin marks and can end up injuring the blush brush.
Blush should look believable, unlike eyeshadows or lip colours that can be dramatic, if that's the look you're going for. When it comes to cheek colours, stick to what works and look believable, like it's your own colour coming through.
The blush should be well-blended around the edges so that you don't see circles or stripes. Choose a big dome-shaped brush to spread the colour so you can gradually build intensity, as opposed to going full-on bright circles at once.
When you're done brushing on your blush, blend around the edges with a sponge or puff as blending it down makes the colour more believable looking. In fact, you can use just a regular wedge-shaped foundation sponge to do this.
Pick blush colours that mimic the actual flush your cheeks get. The darker your skin, the deeper the shade it should be. Darker skin with blush that's too light will make you look sallow.
Save shimmer-flecked powder blush for the evening. In daylight it'll look fake and the shimmer will make your skin look more dry and bumpy. Instead, opt for really fine silky formulas.
While using the gel blush, do remember to dab fewer spots going up the cheekbone. Then try and combine the dots leading up to the hairline.
In the daytime if the blush seems to be darker than the natural blush colours, then pitch it down by covering some translucent dust over it.
To sport a wholesome suntan, you can put a little bronzer dust on your forehead, chin and nose.
If dark or bright blush is troubling you, go ahead and dilute it by mixing it with a little concealer. Remember, dark blush is great for toning down the colour of the blush.
Always begin with foundation, eye makeup & lipstick make up and then proceed to the blush as the last makeup step.
How to determine the best area of your face to apply blush often depends on the form of your face which could be oval, heart, long or square.
Never apply blush above your cheekbones because that will make your eyes look puffy.
Remember to blend the blush well to avoid the dreaded clown look. Now go out, and show off those pretty cheeks!