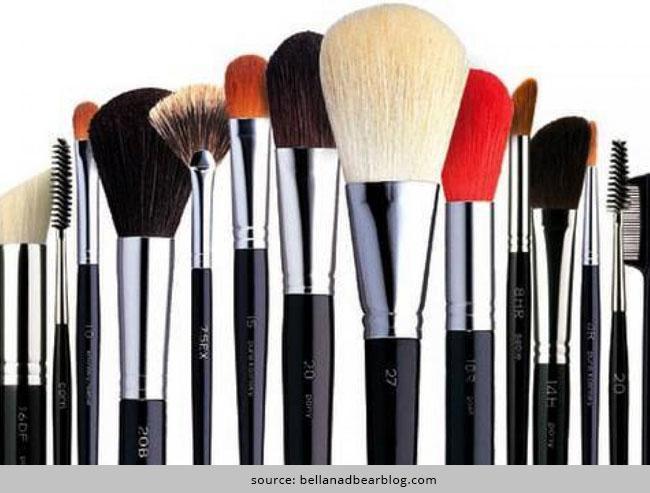 The difference between an amateur makeup enthusiast and a professional makeup artist is that the latter knows how to use makeup brushes. There are so many makeup brushes available that one cannot be blamed for feeling intimidated. Are that many brushes actually required? What is each one used for? These are some basic questions that will be answered in this post.
Foundation Brush
This is a wide-sized brush with a tapered tip to facilitate easier application. The bristles in it are tightly packed. To use it, simply dampen the brush and blot out the extra moisture in a towel. Now go ahead and use it to blend your foundation in for an even, clean application.
FYI: Use tapping and circular motions to blend in the foundation. Dragging the brush across your face will just result in a streaky uneven look, totally negating the purpose of the brush.
Blush or Powder Brush
This is a medium-sized brush with a soft and rounded tip. The bristles are little more loosely packed, allowing it to fluff out a little. This brush is ideal for applying both your compact and your blush. The rounded tip makes it easy to blend in the powder without any streaks or lines, creating a smooth result.
FYI: Always tap off excess product from the brush before using it on your face. Adding more blush is always easier than trying to remove any excess blush from your face.
[Also Read: How to Clean Makeup Brushes]
Fan Powder Brush
These are great if you're looking for a very light covering of loose powder. The fan-like shape means that the bristles gently swipe across your face, depositing bare minimum product, resulting in a very soft, light coverage.
[sc:mediad]
FYI: Use the fan powder brush to easily get rid of any excess fallout of eyeshadow around the eye area.
Eyeshadow Brush
As the name suggests, this brush is used to put on eyeshadow. It is a flat brush with short bristles and a slightly rounded tip. This allows the brush to swipe across the lids without streaking or pulling.
FYI: Ideal for swiping one colour across the entire eyelid.
Blending Eyeshadow Brush
This is a fluffier version of the eyeshadow brush with longer bristles. It is used to blend different colours together and to highlight the brow bones.
Mineral Powder Brush
This is perfect for creating a flawless look using mineral powder. Tap out the excess product and gently go over your face in a circular motion for the perfect finish.
FYI: You can use this while contouring your face. It helps blend the dark and light areas, creating a perfectly sculpted look. All you have to do is to patiently go over your face in small circles, taking care not to exert too much pressure.
Angled Brush
The angled brush is shaped to easily access the inner corners of the eyelids. It helps create clean lines and can be used to create some more complex cat-eye or other such eye makeup.
FYI: The angled brush is also great for outlining your lower lids as the angle allows it to easily access the skin past the lower lashes.
These are just some of the basic makeup brushes that will help make applying makeup easier, with more professional results.
Note: Unclean makeup brushes are the perfect breeding ground for bacteria. So clean your brushes regularly to avoid contaminating your skin. Many leading brands have brush cleansers that can be used to keep your brushes as clean as possible.