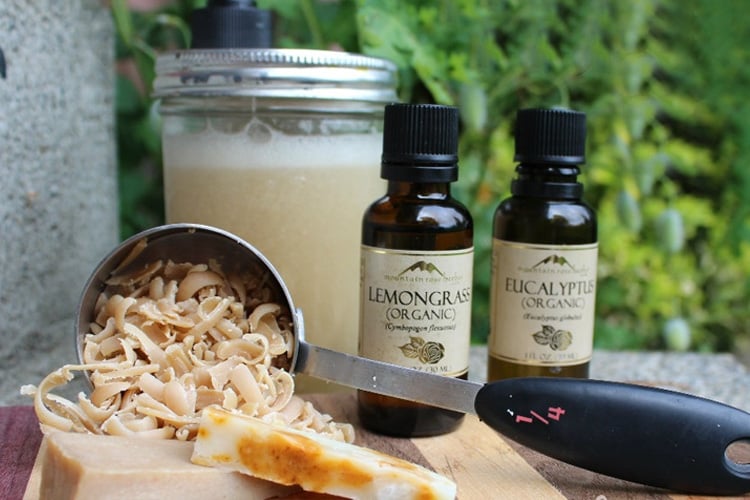 You enjoyed yourself a hearty meal. But what about the kitchen brimming with sauce splattered plates and spoons? Not a pleasant sight, is it? And to top it all, constantly doing the dishes with commercially available dish soaps can spoil your soft hands.
Are you worried and need a solution for it?
Take a look:
Why Use Homemade Dish Soaps?
Commercial dish soaps have no actual ingredients listed. So, instead of draining away your cash to purchase grease fighting dish soap brands, try your hand in making a homemade moisturizing dish soap. And you can add your favorite ingredients to this dish soap, which is fun. No inclusion of artificial colors and toxic chemicals!
Here Are 4 Homemade Dish Soap Recipes:
If you are looking to save money on top dish wash soaps, opt for natural products, and eliminating chemicals. You will love the challenge of making your own mild dish soap. Try four of these simple recipes for homemade dish soap. These recipes are simple, natural, cost-saving, and cleans dishes to make sparkling shine.
1. Borax Soap
Ingredients:
1 tsp grated bar soap (preferably homemade bar soaps like castile or ivory soap)
15-20 drops essential oils (100% pure)
Directions:
Pour water in a vessel and bring it to boil
Combine borax and grated bar soap in a bowl. Pour the hot water over the mixture
Whisk the mixture until the grated soap completely melts
Set it aside to cool off for 6-8 hours. Remember to stir it constantly in between to check for consistency
Transfer the mixture to a squirt bottle or container
Add the essential oils and shake well to combine
Tip:
Allergic reaction to dish soap isn't a concern when antibacterial essential oils are present as it naturally increases the power of cleansing. Pick from essential oils such as lemon, eucalyptus, lavender, sweet orange and geranium. Citrus based oil can help cut off grease and dish soap allergies.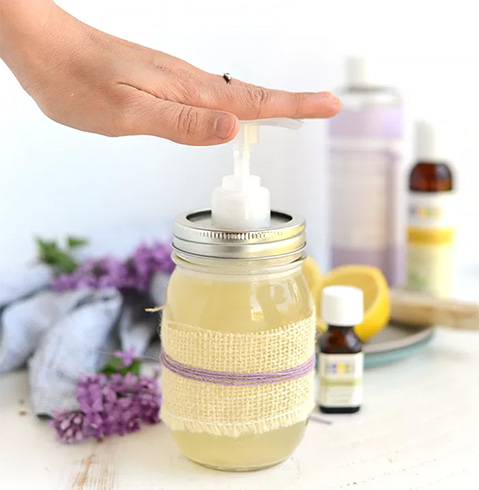 2. Jojoba Magic
Ingredients:
1 tsp white distilled vinegar (optional)
1 tsp jojoba oil or coconut oil
Directions:
Pour the water and vinegar (if using) into a squirt bottle
Shake the bottle well to combine all the ingredients
Shake the bottle gently to combine the ingredients
Tip:
You can add few drops of the dish soap to your dish wash sponge. Shake the bottle gently before each use.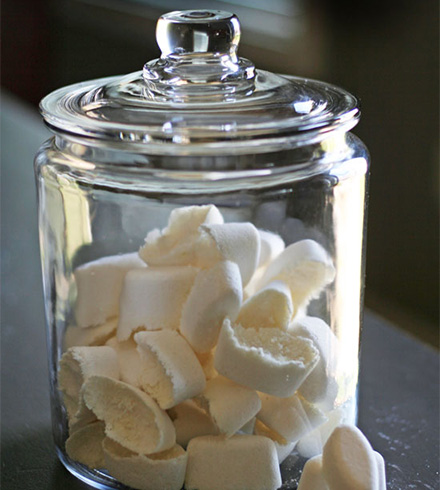 3. Washing soda and Glycerin
Ingredients:
½ cup grated bar soap, packed tightly
¼ cup liquid castile soap
1 ¼ tsp- 1 tsp super washing soda (1 additional tsp to adjust thickness)
15-40 drops essential oil (lime, orange, lavender)
[sc:mediad]
Directions:
Pour water into a vessel in medium or high heat
Add grated bar soap and whisk until dissolved
Once the bar soap gets dissolved, remove from heat and pour the mixture into a squirt bottle or a pump dispenser
Mix liquid castile soap, 2 ¼ tsp of washing soda and glycerin
Leave the soap to set for 24 hours, whisking occasionally, to check for consistency
Warm the mixture by dissolving ¾ tsp of washing soda, and set it again for desired thickness
Blend it soap turns out clumpy
Once desired consistency is reached, stir in necessary essential oils
Transfer into a squirt bottle and use
Tip:
This soap tends to thicken over a period of time and is an excellent natural dish soap for soft hands. If that happens, just add a little warm water and mix. Give the bottle a good shake before using for allowing the liquid to distribute thoroughly.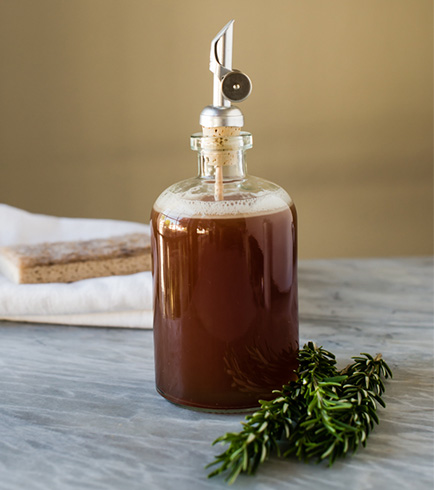 4. Lemon Trick
Ingredients:
¼ cup soap flakes or shavings
1-2 tsp distilled white vinegar or lemon juice
1 tsp glycerin (optional)
Directions:
Pour water and soap into a saucepan in medium heat
Whisk the mixture and keep heating until the soap melts down
Turn down the heat before the mixture starts boiling
Set the mixture aside to cool off, and then mix the vinegar
Keep it aside until it has completely cooled
Pour the mixture into a dish squirt bottle
Add extra drops of essential oil if desired
Tip:
Remember that there will be a variation in results depending on the soap you choose. And suppose your soap ends up too thick, use an electric hand mixer to melt it down. Or if your soap ends up runny, make a solution of 3 spoons of table salt, 8 oz. hot water, and mix until dissolved. Mix to dish soap soon after.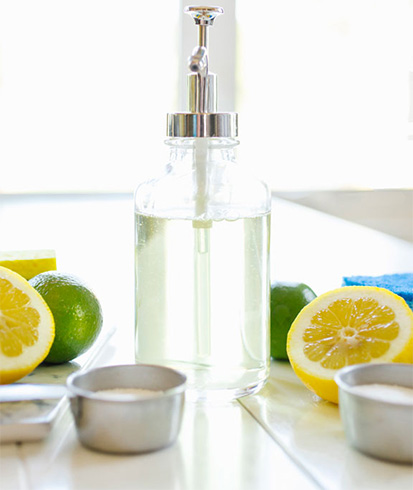 Additional Tips
Do not expect to see foaming or bubbling results in homemade dish soaps as compared to commercial ones which contain suds to create visual effect
When squirting homemade dish soap, it is natural to notice a little bubbling initially, turning cloudy
Wash silverware first, before washing dishes, glasses, pans and greasy dishes
Fill homemade dish soaps gels in the bottle. Give it a good shake and it will be ready for use
Add all the mixture into a blender and blend it for 10 seconds if further gelling is experienced. This will separate all the ingredients
Remember that homemade dish soaps are simple to make, contain few ingredients, and smell good
Vinegar can be an excellent ingredient to cut grease
Color of essential oil can change the final result and look. If you use yellow oil, like olive oil or jojoba, then your soap will have a slight yellow color. Or if you use coconut oil, then your soap will remain clear.
Using aloe vera gel or vitamin E oil can make good alternative options than using essential oils
Distilled or boiled water are best for DIY dish soaps. Using clean tap water is recommended only for short-term products
These are few ideas for DIYing your own dish soap. Your personal touch to it can make dishwashing sessions fun filled!