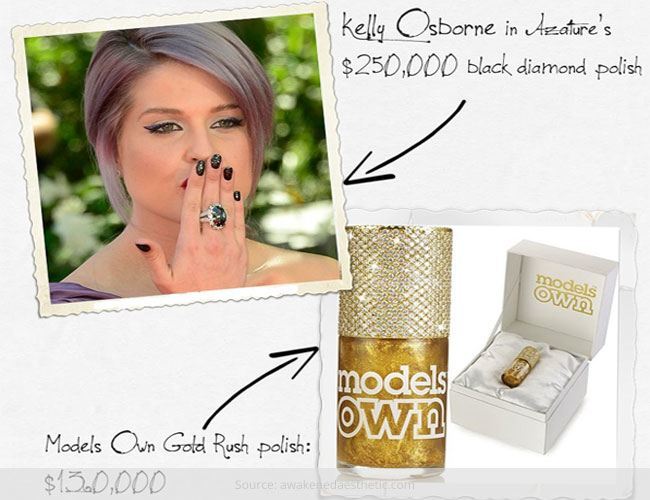 By now we have got the top 10 most expensive items in almost every field in the world of fashion. But isn't it insane to see a 6-figure price tag on makeup items? That being said, I bring to you 5 most expensive nail paints in the world that are actually purchased even though the customers are from high end class. In this post I bring to you 5 most expensive nail paints in the world.
So what's make these nail paints so insanely expensive? Well, the paint in these makeup bottles are loaded with black diamonds and exquisite crystals, which make your nails bedazzled. Let's go through these 5 insanely expensive nail polishes that enable you with a 'different glamor' brimming with energy.
1. Azature's Black Diamond Nail Polish
Price – $250,000
Azature's Black Diamond Nail Polish is the world's most expensive nail polish. With a jaw dropping price tag of 2.5 lakhs in USD, this nail polish contains 267-carats of black diamonds. Every 0.5oz of bottle contains a single black diamond.
As per the owner of this lavish nail paint,
"Black diamond is the ultimate fine jewel. One day I thought, why not showcase this style on nails? So I developed a Black Diamond Nail Polish with the same attention and quality as my jewelry in order to preserve the elegance of the black diamond."
While this nail paint is just out of the reach, you can get a replica of this bottle at just $25.
2. Gold Rush Couture Nail Polish
Price – $130,000
The Gold Rush Couture Nail Polish offered by Models Own is the second most expensive nail paint in the world. Unlike the Azature's Black Diamond Nail Polish, this nail paint isn't loaded with diamonds and the couture version is worth $7.8. so what makes this makeup bottle so expensive? Well, it's not because of the lacquer but because of the bottle itself, whose cover is made up of solid gold and is flanked by whopping 1,118 crystal diamonds. Now this can be a pretty smart deal. Even after you're finished with the nail polish you can still cherish the bottle as one of your most prized possessions.
3. I Do by Elle Cosmetics
Price – $55000
[sc:mediad]
Well not everywhere you'll find these opulent makeup items, even at Sephora store. Here is another one of its kind priced at 55,000 USD. This lavish nail polish is created as collaboration between Allure magazine, Elle cosmetics, Johnson Matthey, a British Platinum supplier and Platinum Guild International. And with such a high end joint venture, it was pretty obvious to see a nail polish created out of powdered platinum. It was launched in 2005 in Las Vegas. You can also have the affordable version which is priced at $250.
[Also Read: Nail Art Designs]
4. Iced Manicure
Price – $51,000
Offered by Cherish this nail paint is considered to be the costliest French manicure treatment as the lacquer is comprised of 10 carats of diamonds. Unlike other expensive nail polishes, this costly treatment is only availed through prior appointment from the manicurist Cherish Angual. Even the salon takes care of carefully removing the diamonds afterwards.
5. An Evening to Remember by Red Carpet Manicure
Price – $1000
Well, the last but not the least may seem to you cheaper as compare to the above 4 from the list of the 5 most expensive nail polishes in the world. But when we it consider it exclusively, it's still a pricey one to reach for!
Encrusted with black diamonds, this nail lacquer comes with a rich gel based polish that creates a holographic effect. Celebs like Katy Perry, Pink, Rihanna and Christina Aguilera swear by this extravagant nail paint.
So those were the 5 most expensive nail paints in the world. Insane or sensible, we leave it to you to decide!